SIG Roof Lines: The RIBA Journal August 2015
This week the August 2015 issue of RIBA Journal was published, complete with our fifth technical guide: SIG Roof Lines.
SIG Design & Technology are partnering with the RIBA Journal to help supply architects with impartial, useful advice on designing flat, green and metal roofs.
This issue features: Waterproofing balconies at Stanton Williams' River Walk in Pimlico, zinc shingles on the Amphibious House by Baca Architects and what you need to know about flat roofing guarantees.
In this post you will find additional resources to help you in your roof design choices.
Making Waves by the River
The RIBAJ interviewed Doriano Chiarparin, associate at Stanton Williams about how they chose to waterproof the sinuous balconies on their scheme of 116 high end residential apartments at River Walk in Pimlico. Click here to download the article.
Extra Resources:
Lets Float the Idea: Case Study: Zinc Shingles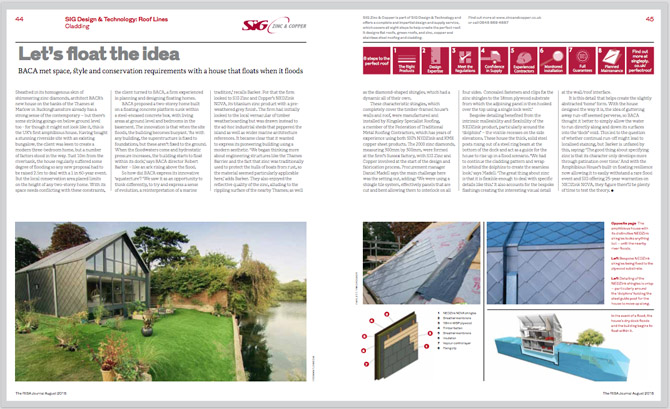 Baca architects chose to clad their iconic Amphibious House on the Thames in zinc shingles. The RIBAJ interviewed director Robert Barker about the how the scheme evolved and why the design team chose NedZink zinc shingles to completely cover the walls and roof of the building. The article includes installation details and close up photography of the finished cladding. Click the image to download the article.
Extra Resources:
Read the Small Print: Roofing Guarantees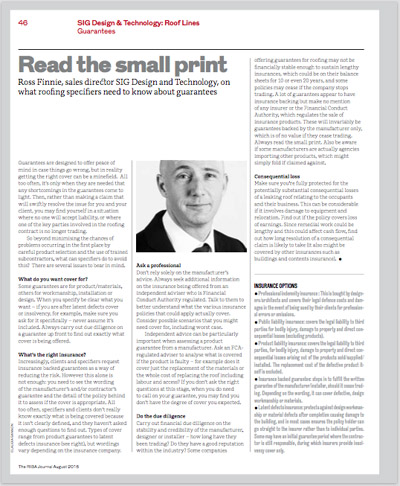 One of the most popular topics of discussion in our technical seminar last year was guarantees; so much so that we'll be featuring the topic in more detail at our technical seminar on 1st October this year.
On the back page this month, Ross Finnie looks into the topic of roofing guarantees and identifies some key questions you should be asking about the roofing on your project.
Extra Resources:
We will be covering guarantees at our technical seminar on October 1st. More details in a future blog post – sign up here to get an email when details are published.
8 Steps to a Perfect Roof
Designing a perfect roof has never been more challenging, but SIG Design and Technology have put together an 8 step guide to identify the challenges and ensure your design meets your client's requirements.
Here are our 8 steps to the Perfect Roof.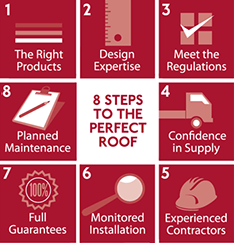 Click the links to find out why they matter and how you can tick them off your To Do List.
Keep in Touch
We hope you enjoyed the fourth SIG Rooflines edition and look forward to sharing more roofing advice in a couple of months, alongside some truly inspirational buildings. You can read the earlier issues here:
Issue 1: Green roof hobbit-house, best practice with Single Ply roofing and avoiding Metal Theft.
Issue 2: British Tobacco HQ in Bristol, best practice with Metal roofing and cladding and two zinc-clad houses in Hertford
Issue 3: Mario Botta's CorTen Steel clad chapel in the alps, best practice in Green Roofing and odourless roof repair.
Issue 4: Angled zinc cladding on Bolton College's new STEM Centre, a case study on liquid waterproofing and preventing leaks in flat roofs.
Here's a full list of SIG Rooflines blog posts.
Our technical seminar 8 Steps to a #PerfectRoof will return on the October 1st in London, put the date in your diaries!
We'll be continuing to publish technical advice and information here on our blog in the meantime, so feel free to subscribe to our blog for free roofing design advice as we publish it.
Any questions? Please do ask them below or get in touch with us.