SIG Roof Lines: The RIBA Journal June 2015
This week the June 2015 issue of RIBA Journal was published, complete with our fourth technical guide: SIG Roof Lines.
SIG Design & Technology are partnering with the RIBA Journal to help supply architects with impartial, useful advice on designing flat, green and metal roofs.
This issue features: Angled zinc cladding on Bolton College's new STEM Centre, a case study on liquid waterproofing and some down to earth advice about preventing leaks in flat roofs design and maintenance.
In this post you will find additional resources to help you in your roof design choices.
Scientific synergy at Bolton College STEM Centre
The RIBAJ interviewed James Hyde, architect studio associate at IBI Group about their choice of Nedzink NOVA for the angled standing seam zinc cladding at Bolton Colleges new STEM Centre. Click here to download the article.
Extra Resources:
Get it Right First Time: Best Practice Guide and Case Study: Liquid Waterproofing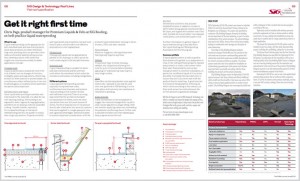 Liquid waterproofing is suitable for both new build and refurbishment projects, and there are a wide range of products on the market each with different advantages and disadvantages. Chris Page leads us through when to use liquid waterproofing and the different product options available. The RIBAJ also interviewed City Building Glasgow assistant investment manager Charlie McLean about why they are using Hydrostop EU AH-25 on their school refurbishment projects. Click the image to download the article.
Extra Resources:
Preventing Leaks in Flat Roofs: Its a Team Effort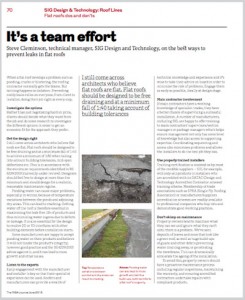 When a flat roof develops a problem such as ponding, cracks or blistering, the roofing contractor normally gets the blame. But nothing happens in isolation – preventing costly leaks relies on everyone from client to installer, doing their job right at every step. In this article RIBAJ interviews Steve Cleminson, technical manager at SIG Design and Technology, about how to prevent leaks in flat roofs.
Extra Resources:
8 Steps to a Perfect Roof
Designing a perfect roof has never been more challenging, but SIG Design and Technology have put together an 8 step guide to identify the challenges and ensure your design meets your client's requirements.
Here are our 8 steps to the Perfect Roof.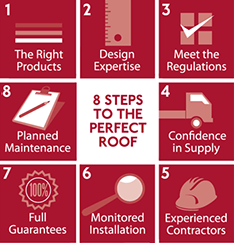 Click the links to find out why they matter and how you can tick them off your To Do List.
Keep in Touch
We hope you enjoyed the fourth SIG Rooflines edition and look forward to sharing more roofing advice in a couple of months, alongside some truly inspirational buildings. You can read the earlier issues here:
Issue 1: Green roof hobbit-house, best practice with Single Ply roofing and avoiding Metal Theft.
Issue 2: British Tobacco HQ in Bristol, best practice with Metal roofing and cladding and two zinc-clad houses in Hertford
Issue 3: Mario Botta's CorTen Steel clad chapel in the alps, best practice in Green Roofing and odourless roof repair.
Here's a full list of SIG Rooflines blog posts.
And our technical seminar 8 Steps to a #PerfectRoof will return on the October 1st in London, put the date in your diaries!
We'll be continuing to publish technical advice and information here on our blog in the meantime, so feel free to subscribe to our blog for free roofing design advice as we publish it.
Any questions? Please do ask them below or get in touch with us.