Reducing Costs & Risk on School Roofing Projects
As competition for schools construction projects remains high and costs are driven down, the needs to meet standards of robustness, energy efficiency and acoustic performance don't diminish; if anything they become more challenging. How is it possible in this environment to reduce risk and leave the client with a robust, cost efficient and long lasting building?
Here we look at a schools project from the perspective of its roofing challenges and show how a collaborative, integrated approach to the full process of product choice, design and implementation kept down costs whilst reducing risk.
School Roofing: The Project
Our clients, a main contractor, undertook a major building programme at a girls' school in London. Part of the Priority Schools Building Programme (PSBP), the project included a dedicated sixth form building, new sports hall and dining room.
The project was a legacy project; so cost effectiveness was absolutely paramount. Nevertheless, the solutions would have to be robust and long lasting, and as part of the PSBP, would have to satisfy challenging performance criteria.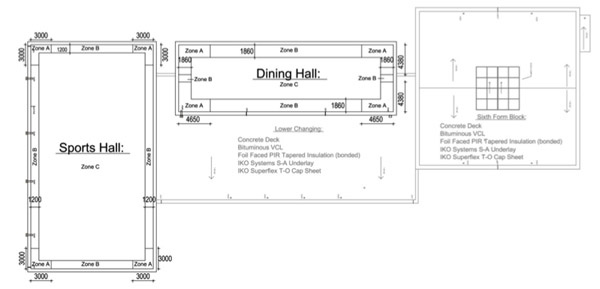 There were four roofs on the project, totalling over 2000m2. To meet the criteria in the most cost effective way, they would require two different finishes and three different build-ups. Crucially, our client was looking for one single guarantee to cover all four.
Guidance from the 8 Steps
To make sure your roof performs correctly, we have developed a set of guidance called '8 Steps to a Perfect Roof'. In the case of this school roofing project, these steps were particularly important:
Step 1: The Right Products – we needed to understand the contractor's protocols;

Step 2: Design Expertise – a single design team from the deck up would manage the risk whilst developing innovative solutions;

Step 3: Meeting the Regulations – under the PSBP acoustics were particularly challenging;

Step 5: Experienced Contractors – one single multi disciplined contractor would be required to install three different finishes;

Step 7: Full Guarantees – A system warranty was required to cover all the roof components at one single source.

Step 8: Planned Maintenance – Designing for maintenance was to be essential to ensure the guarantees were valid, and keep costs down long term.
The process isn't simply a product-related one, but it begins with product choice. If these roofs had been taken to a product manufacturer for design advice, the manufacturer would treat them in the context of the products they produce, which would have limited the contractors choice, and increase the cost, particularly as they had to supply a single guarantee.
Because SIG Design and Technology are a supplier rather than manufacturer, we are product agnostic – this means we can offer impartial, unbiased advice on a range of products. We can uniquely design, supply and guarantee based on the most suitable product, which in a project like this brought significant savings.
Four Different School Roofs – Three Different Solutions
Each of the four roofs represented a different challenge.
1. The Sports Hall Roof would be built on a metal deck and was to have PV installed.
The roof PV installation would require regular maintenance. There would be no ceiling, which would save in cost, but the roof still had to comply with the latest acoustic regulations on rain noise (aka BB93) and reverberation, so it would be suitable for both noisy sports and exams.
2. The Dining Hall Roof would also be built on a metal deck, but unlike the Sports Hall, the dining hall had no PV or roof mounted plant so would not be regularly trafficked. Nevertheless, acoustics were again an issue for this flexible space.
3. The Changing Rooms Roof was to be built on flat concrete planks with roof-mounted plant, so needed to be robust to withstand regular foot traffic.
4. The 6th Form Block Roof was also on flat concrete planks but with only a little plant, so less need for frequent traffic.
The Right Products – Changing Rooms and 6th Form Block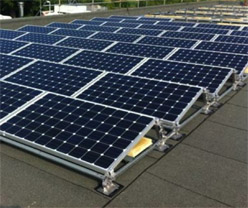 The two concrete plank roofs were to be put to falls using screed, however we omitted the screed and instead used Cut to Falls insulation. This provided a cost saving through a reduction in weight, but also allowed for a winter installation and a programme saving through a removal of the drying time associated with screed.
The considerable amount of plant on the Changing Rooms Roof led us to recommend a robust built up felt roofing system, with a slip resistant, granular finish. The result was a cost efficient, robust and well-drained roof with no ponding water, well suited to future needs.
Meeting the Regulations: Dining Hall Roof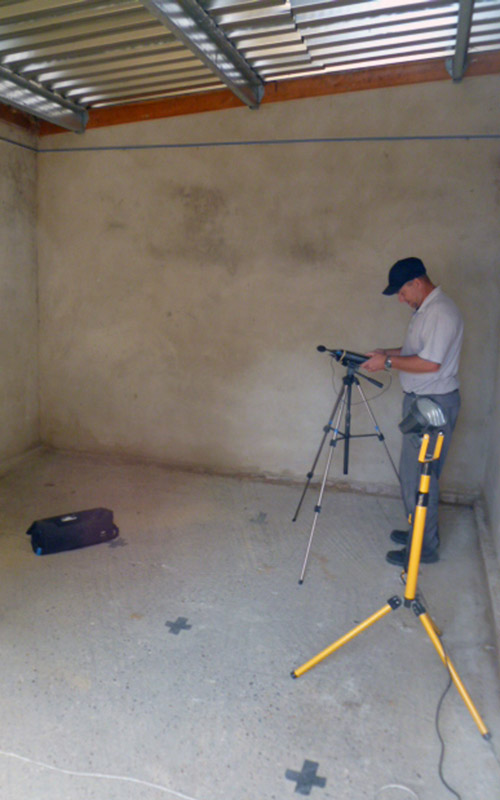 A metal deck with no ceiling creates the opportunity for reverberation and a very noisy dining hall. However we wanted to maintain the cost saving of not installing an expensive ceiling, so recommended a perforated deck with trough infills to enable the roof to meet sound absorption class C more cost effectively. However, this isn't the whole story.
Schools in the Priority Schools Building Programme (PSBP) are also required to meet more onerous standards for rain noise drumming. Each new or refurbished school needs an individual acoustic report, and each room in the school must comply with acoustic performance standards. What is more, each school roofing build up used must be tested and certificated to ensure it complies with the standards. You can read more about rain noise in schools and the standards in this blog post.
The metal decks on the dining hall and sports hall put them at risk of problems with rain drumming noise. Fortunately, SIG have acoustic specialists in the group and together with them SIG Design and Technology have developed a range of tested, certificated build ups for use with schools in the PSBP.
One of these solutions was ideal for the Dining Hall Roof as well as being the most economical:
Perforated Deck and Trough infills;
A Polyethylene Vapour Control Layer;
Our own developed 10mm acoustic mat;
Mechanically fixed PIR insulation, and
Armourplan PVC single ply membrane, again mechanically fixed.
Planned Maintenance: The Sports Hall Roof
The sports hall roof is similar to the dining hall, but with a roof mounted PV array, heavy traffic was going to be an issue.
Where there is to be heavy traffic, the contractors' protocol is not to use single ply membranes, and the preference is for a built up felt roof instead. However with a perforated deck the bitumen primer required for the felt vapour control layer would stain the decking webs and with no ceiling this would be unsightly.
In a conventional manufacturer relationship there might have been no alternative than to introduce a ceiling, but because we have good relationships with several manufacturers we were able to negotiate a hybrid system with the manufacturers. This system, which used a built up felt roof with a polyethylene vapour control layer, dealt with both the acoustic and aesthetic requirements, and was robust for high traffic and cost effective.
What is more, despite being innovative, the complete system would still be covered under our PI Insurance, like all the roofs in this project.
Delivering a Single Guarantee
The ultimate objective of this school roofing project was to deliver the roofs under a single guarantee, and for this the quality of installation was essential. The 1300 trained installers in our 397-company DATAC contractor network provide the installation expertise. SIG Design and Technology monitor all installations, reporting on visits and ensuring the roofs are all installed as specified. This is how we can be confident and provide a single Labour and Materials Warrantee with a single point of contact.
Take an Integrated Approach
We have been working as the preferred roofing supplier for this contractor for three years, and the relationship has been so successful because our 8-step process allows the contractor to meet the demanding requirements of its schools clients whilst keeping costs, and risks, minimised.
If you have a similar set of requirements with your projects, perhaps we can help you too.
More Information on School Roofing