#PerfectRoof Step 4: Confidence in Supply
A reliable material supply chain is essential to keep your project profitable. That quality product you specified must arrive on site in perfect condition and in good time. Whatever the scale of your project, if a product doesn't turn up or is damaged, the on-costs can quickly add up, particularly with a critical element like roofing.
#PerfectRoof Step 4: Be confident in reliability of your Supply Chain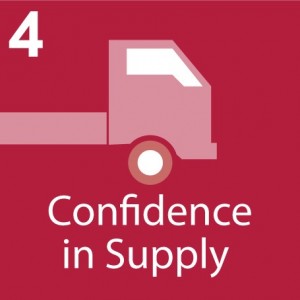 When you're selecting products for your roof, the most appropriate product is of no use at all if you can't get guaranteed delivery within your project programme.
Don't run the risk of having to settle for a more inferior product with shorter lead times that risks your roof guarantee. Choose a proven product supplier with local availability, shorter lead times and a high level of stock to counter any unforeseen circumstances.
How we can help – Unrivalled Supply Chain in SIG Plc
SIG Design & Technology is part of SIG Roofing, a division of SIG plc, one of Europe's leading suppliers of products to the building and construction industry. When we recommend a product we know our own supply chain of experts can supply it.
SIG Roofing is the UK's largest specialist supplier of roofing materials, offering a comprehensive range of over 40,000 products for use in every sector of the roofing industry. With over fifty years trading experience, SIG Roofing knows exactly what's important when it comes to supplying a building project and has built an enviable reputation for providing a smooth, trouble-free delivery service. You might not have heard of us, but your contractor will!
From a national network of over 120 outlets strategically located across the UK and a fleet of several thousand vehicles providing a just in time service, precise planning ensures the right vehicle gets the right product to the right place at the right time.
There really is no better supply chain for roofing products.
Lets take a look at Step 5: Experienced Contractors.
Want to know more about SIG Plc?  Visit the group website here or Contact us via one of the methods here.
Next