8 Steps to the #PerfectRoof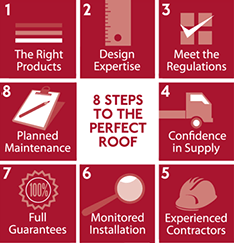 The roof of any building is key to its performance, and not just to keep the rain out. Roofing also needs to provide suitable insulation, deal with acoustic issues, even capture carbon and generate electricity, and all within the regulations, on time and on budget, and with a long, predictable lifespan.
Designing a perfect roof has never been more challenging, but SIG Design and Technology have put together an 8 step guide to identify the challenges and ensure your design meets your clients requirements.
Whether you're designing a new roof or dealing with an existing one, the same principles apply, and we can help you on your journey.
Here are our 8 steps to the #PerfectRoof.
Click the links to find out why they matter and how you can tick them off your ToDo List.
How we can help
SIG Design & Technology offer a complete and impartial design and supply service which covers all eight steps to help our clients create the Perfect Roof. What is more, all of this expertise is just part of the service for us, provided free to our clients.
We design flat roofs, green roofs, and zinc, copper and stainless steel roofing and cladding. Follow the steps to see how we can help at each stage.
If you think our advice is useful, please feel free to share:
Next