IKO Permaphalt Mastic Asphalt
IKO Permaphalt is the result of extensive research and development, and the careful selection of polymers to provide improved performance in all flat roof specifications.
IKO Permaphalt can be applied to form a continuous waterproof covering over flat, sloped or curved surfaces. It can be worked round pipes, roof lights and other projections to provide a completely seam free membrane.
IKO Permaphalt mastic asphalt is suitable for insulated warm roofs, un-insulated cold roofs and inverted/green roof configurations.
IKO Permaphalt Warm Roof System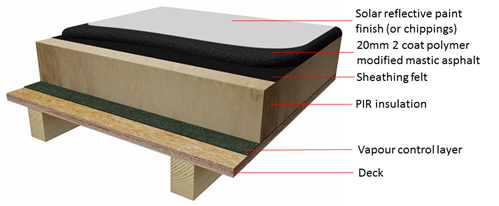 IKO Permaphalt Inverted Roof System
Features and Benefits of Mastic Asphalt
BBA certification
Fire Performance achieving BS 476: Part 3: FAA
Advanced polymer modification
Completely seamless waterproofing
Long term durability with high fatigue resistance
Enhanced product stability across a wide temperature range
Manufactured in the UK under BS ISO 9000 Quality Assurance Scheme
Mastic Asphalt Downloads
IKO Permaphalt Design and Specification Guide