Biodiverse Brown Roof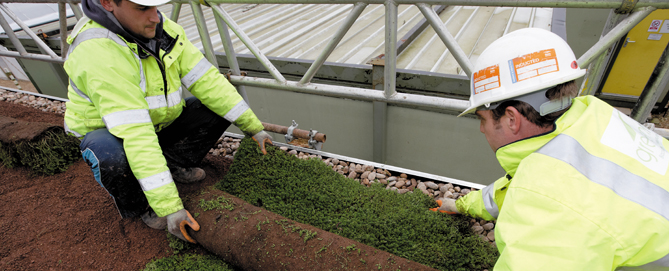 The IKO Permatec Biodiverse Roof system provides a "protected membrane" system which usually incorporates insulation. IKO Permatec Anti Root is fully bonded to the structural deck (concrete, metal deck with plywood or cement board topping, metal/insulation composite) and covered by insulation (usually XPS), separation layer, IKO Plasfeed 20 reservoir board, IKOgreen Biodiversity Growing Medium and often other items like rotting logs to create a natural habitat. The biodiversity system can be left to self seed and develop or wildflower seeds can be cast onto the surface to encourage vegetation grow. The total weight of the system is minimum 100kg/m2.
IKO Permatec Anti Root provides a unique flexible fully bonded monolithic waterproofing system usually on "completely flat" structural decks. Details (upstands, abutments, rainwater outlets, penetrations etc) are fully bonded into the IKO Permatec Anti Root system ensuring total security.
Biodiversity Brown Roof designs often incorporate "features" (walls, handrails, lighting etc) which are secured to the structural deck through the waterproofing system. These items can be securely waterproofed using the appropriate IKO Permatec Anti Root waterproofing detail.
The design and build up of Biodiversity Brown Roofs require the most robust of waterproofing systems providing long term security. Roof leaks underneath these build ups can prove to be disastrous for everyone involved. IKO Permatec Anti Root is used underneath many Biodiversity Brown Roofs on prestigious buildings around the UK.
Find out more about Green Roofs from SIG Design & Technology here
Contact Us About This Product