SM Reinforced PVC
IKO Armourplan SM is a polyester-reinforced PVC single ply roofing membrane suitable for use in a wide range of roofing applications on both flat and sloping roofs. The membrane can be installed onto most common substrates and is suitable for both new build and refurbishment installations and for specialist applications such as simulated metal roofs.
IKO Armourplan SM can be either mechanically fixed using suitable IKOfix fastenings or fully adhered and forms a sleek skin on many types of roof application. All overlaps are heat welded using suitable hot-air welding equipment.
IKO Armourplan SM is also used as the upstand detailing membrane on all IKO Armourplan SM/SG systems.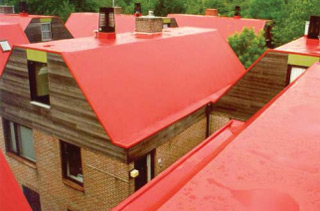 Features and Benefits
Good UV resistance and durability
Good mechanical properties and product performance
Efficient and safe installation
Secure seam welding quality
Aesthetically pleasing finish
Complete range of fixings and accessories available
Related Documents
IKO Armourplan SM120 BIM object
IKO Armourplan SM – BBA certificate
Contact Us About This Product