#PerfectRoof Step 7: Full Guarantees
Should there be a problem with the design, product or workmanship of your roof, you would want to be covered without complex delays or arguments. Don't end up hanging on the phone if something goes wrong, whilst your client is left to foot the bill for remedial works.
#PerfectRoof Step 7: Ensure your roof is Fully Guaranteed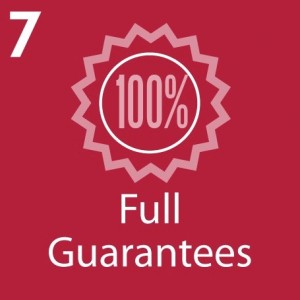 If something goes wrong with a roof you designed, the last thing you want is to find that different manufacturers are disputing with each other about who should look into the matter and who is responsible.
A Manufacturer's Guarantee can provide confidence in the quality of a product, but this is only as good as the company that provides it. To ensure confidence in the companies you choose to work with, make sure they are part of the Single Ply Roofing Association (SPRA). But with more than one manufacturer on the roof, how do you avoid falling between them into a never-ending cycle of phone calls and disputes?
The simple solution is to have your roof designed, installed and guaranteed by one entity that will take responsibility for the whole roof from the deck up. Any interfaces between products can be covered by the design without dispute. Then if anything does go wrong, you'll have a single point of contact to resolve matters swiftly.
How we can help – Design, Supply, Install and Guarantee
SIG Design & Technology was founded to help contractors and specifiers deal with the complexities of roofing, and provide a single point of contact and responsibility.
The right product choice;
A registered and monitored installation contractor;
PI Insured design, specification and good detailing appropriate to the conditions;
Technical backup during the design process;
On site support, including inspections and quality checks.
We can offer guarantees for product and workmanship precisely because our service includes all the elements that enable genuine guarantees to be given. Make sure your roof meets these criteria, and have a guarantee on which your client can rely.
Find out about Guarantees here.
Finally, lets take a look at the essential Step 8: Planned Maintenance.
Want to know more about our guarantees?
Contact us via one of the methods here.
Next