SG Fleece-Backed PVC
IKO
Armourplan SG is a polyester fleece-backed PVC membrane suitable for partially or fully adhesive bonding to flat or sloping roofs.
IKO Armourplan SG sheets are fully bonded to the substrate using Spectrabond Low Foaming PU Adhesive or IKOpro Sprayfast FMA Adhesive. Lap joints in the sheets are welded with a hot air gun.
IKO Armourplan SG fleece backed PVC membrane can be installed onto plywood, OSB / timber boarding, smooth concrete, profiled galvanised steel (with suitable overlay), woodwool slab or PIR Insulation.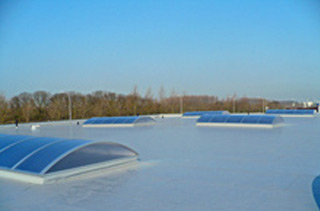 Features and Benefits
Exceptional mechanical properties and product performance
Available in either 1.2mm or 1.5mm thicknesses
High UV resistance and a long service life
Efficient and safe installation
Secure seam welding quality
Aesthetically pleasing finish
Complete range of accessories available
Related Documents
IKO Armourplan SG120 BIM object
IKO Armourplan SG – BBA certificate
Contact Us About This Product