LIQUIROOF Insulation Board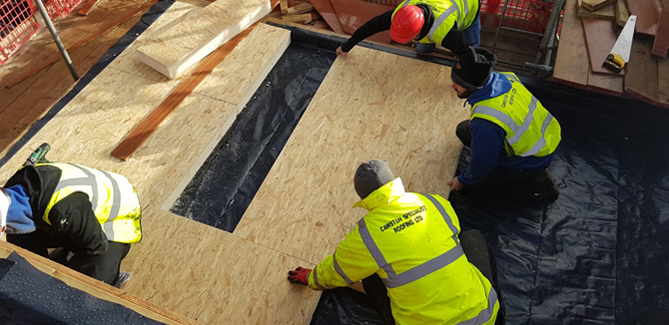 LIQUIROOF P OSB 3 from EAP – Thermal insulation and seamless sub-structure in one working step.
LIQUIROOF PIR insulation boards deliver a super-flat surface ideal for liquid and flat roofing systems. Liquid waterproofing coatings are typically between 1.25 to 2mm thick meaning even the most minor imperfections in the substrate surface can create alignment issues and stress points on the outer surface coating. LIQUIROOF fully supported boards interlock on all 4 sides, from top to bottom, to create a strong and solid surface with no raised edges, misalignment or gaps.
Faced with a lightweight 8mm OSB 3 panel on the topside, LIQUIROOF panels are designed for use on old or new boarded structures. The polyurethane rigid foam insulation core provides maximum insulation with minimum panel thickness. The serrated edges on the boards slot together easily to cover large uneven surfaces, and with minimised alignment time are quick to install.
Key Benefits
No coating stress points
No surface crushing during installation or maintenance
No delamination
No vapour escape at board edges
Compatible with; Liquid Applied Systems, felt and EPDM
Thermal Conductivity:0.022W/mK
Panels can be cut to size with standard tools
It is recommended that the deck is covered with a suitable vapour barrier and the insulation boards fixed using Guardian Thermally Broken Fixings.
The LIQUIROOF P OSB3 rigid panels can be installed over:
Concrete
Wooden boarding
Plywood panels
Steel profile sheets
Over existing roof spaces as a recovery board
Life Expectancy
Providing it has been installed in line with the manufacturer's recommendations, LIQUIROOF is designed to last the life of a building with the board retaining its U-value as well as its structural and acoustic integrity.
LIQUIROOF P OSB an Overview
LIQUIROOF P OSB uses high quality materials and is proven for use with liquid applied roofs. 
Reliable Insulation
Insulation that can be walked on and loaded
High compressive strength and dimensional stability
High-quality, water-repellent OSB 3 surface
Thermally bridged fixings
High Quality
The precision cut serrated edges ensure a rigid joint and preventing vapour drive across all elements
Double layer 100% aluminium backer – warm side and cold side
Homogeneous, full-surface insulation
PUR(E) Energy Saving
Insulating core made of PUR/PIR rigid foam
Positive building biology: Free of CFC, HCFC, formaldehyde, and fibres
High insulation values with minimum panel thickness achieves constantly
Positive life-cycle assessment
LIQUIROOF complies with BS EN 13165:2012+A2:2006
Insulation core: PUR/PIR rigid foam acc. to EN 13165, class E, aluminium foil on both sides
Facing: OSB 3 panel, 8 mm thick
Edge joints: PUR/PIR rigid foam serrated on all sides, OSB panel with rabbet edges on all sides
Sizes Available: 1200 x 1200 mm, 2440 x 1200 mm (coverage is 1 cm less). Other sizes are available.
Fire rating: Standard EN 13501-1 Class E, s2, d0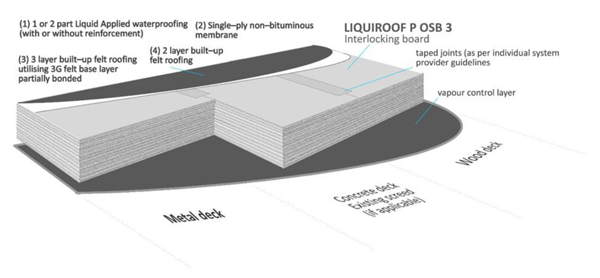 Panel Thickness and U-Value ratings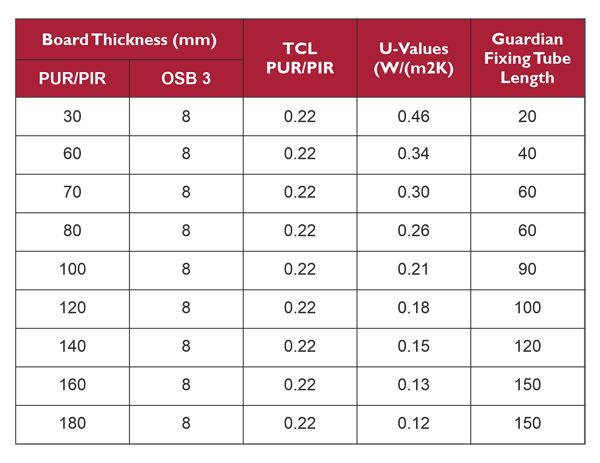 Related Documents
LIQUIROOF Insulation Boards brochure
More Information
Wondering whether LIQUIROOF PIR insulation boards are suitable for your project?
For more information contact our technical helpline on 01509 501731
Book our CPD which compares a range of roofing systems
Contact Us About This Product