SIG Roof Lines: The RIBA Journal January 2015
This week the January 2015 issue of RIBA Journal was published, complete with our third technical guide: SIG Roof Lines.
SIG Design & Technology are partnering with the RIBA Journal to help supply architects with impartial, useful advice on designing flat, green and metal roofs.
This issue features: The construction of the jewel-like Garnet Chapel by Mario Botta, Best Practice Guide on Green Roofing and roof repair using an odour-free cold applied liquid waterproofing system.
In this post you will find additional resources to help you in your roof design choices.
Austria's Alpine Gem: Garnet Chapel by Mario Botta
The RIBAJ interviewed Botta and partner architect Bernhard Stoehr of Besto Austria about the challenge of waterproofing a multi-faceted CorTen steel chapel built on the top of a mountain range in the Austrian Tyrol.
Extra Resources:
Keep Clear of Growing Pains: Best Practice Guide: Green Roofing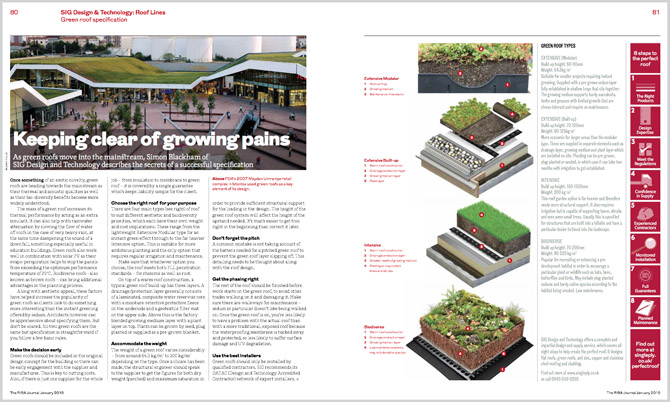 Green roofs are becoming increasingly popular. Simon Blackham, specification manager at SIG Design & Technology  sets out six top tips on successfully specifying green roofing and compares product types and weights.
Extra Resources:
Want to show your clients what a sedum roof looks like? Find out about our popular 'Green Roof Kit'. If you're an architect in the UK we'll bring you one. Apply here.
Cool Customer: Odourless Roof Repair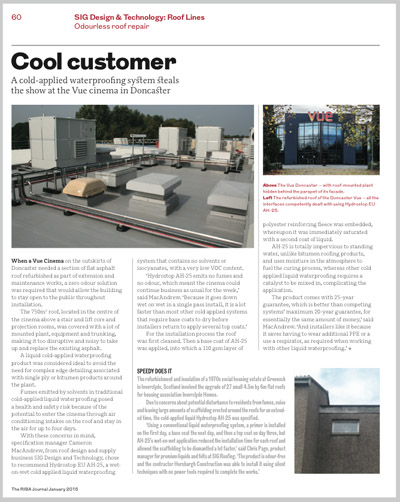 Not all roofs are pretty, and you'll often come across complex roofs needing repair. The RIBAJ interviewed Cameron MacAndrew and Chris Page about two re-roofing projects, a cinema re-roof in Darlington and the re-roofing of multiple small roofs for a housing association in Greenock.
Extra Resources:
8 Steps to a Perfect Roof
Designing a perfect roof has never been more challenging, but SIG Design and Technology have put together an 8 step guide to identify the challenges and ensure your design meets your client's requirements.
Here are our 8 steps to the Perfect Roof.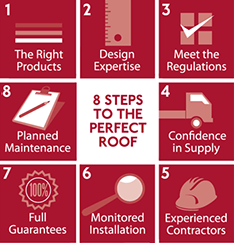 Click the links to find out why they matter and how you can tick them off your To Do List.
Keep in Touch
We hope you enjoyed the third SIG Rooflines edition and look forward to sharing more roofing advice in a couple of months.
We'll be continuing to publish technical advice and information here on our blog in the meantime, so feel free to subscribe to our blog for free roofing design advice as we publish it.
Any questions? Please do ask them below or get in touch with us.