Liquid Waterproofing – when to use it on a roof
One advantage of working with SIG Design and Technology is that we can help you choose the best products for each application, independently of any brand loyalty. In this article we introduce cold applied Liquid Waterproofing, including some suggestions as to when you should consider liquid for your roofing project.
Liquid waterproofing systems provide one of the most cost effective methods for making a new or existing roof waterproof. Correctly installed and maintained they can provide a long term life often in excess of 25 years, and in refurbishment situations liquid systems can provide savings of up to 70% on roof replacement costs. [Source: The Liquid Roofing and Waterproofing Association]
But when would you choose a Liquid Waterproofing system in preference, to say single ply membrane or hot melt? Here are our suggestions.
1. Refurbishment – when a roof is coming to the end of its life
Liquid applied waterproofing is seamless and fully bonds to the substrate, so is ideal for use over existing roofing, including single ply membranes, profiled metal or fibre cement.
2. Repair – where an existing roofing material has failed
If an existing membrane has failed, for example a single ply membrane, applying a simple liquid waterproofing overlay can be a very cost effective solution, and its bonding characteristics make it much more reliable.
In both repair and refurbishment projects, access can often be a problem. Liquid also works well with projects where there may be difficulties getting power onto the roof, or where there is limited or no available storage. The contractor only needs to bring what they need onto site each day, and there is no need for noisy generators or cabling.
3. Complex Roofs – including new build
Cold applied liquid waterproofing is also suitable for new projects, particularly those with complex detailing, upstands, edge details, penetrations and terminations. For example on a roof with a lot of roof-mounted plant, or on balconies where a single ply solution would be difficult to detail neatly, liquid waterproofing makes the job that much easier.
4. Inverted Roofs
Liquid waterproofing is also a useful option to consider with inverted roof systems where the membrane is laid under the insulation and ballast, including roof gardens. Some liquid waterproofing (such as AH-25 which we introduce below) is root resistant and FLL approved, so can be used for green roofs.
5. Pitched and flat roof applications
Hot Melt is a great solution to complex roof waterproofing, but unlike Hot Melt, cold applied liquids can be applied above pitches of 15 degrees, so are suitable for roofs with a combination of flat and pitched areas. Unlike many single ply and felt roofing systems, liquid waterproofing can also be used below 5 degrees pitch.
Introducing Hydrostop EU AH-25 Liquid Waterproofing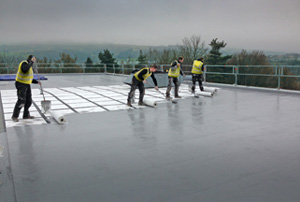 Hydrostop EU AH-25 is a wet-on-wet, cold applied liquid waterproofing product that is fully reinforced with a polyester fabric. It has significant advantages over conventional liquid roofing systems because it can be applied wet-on-wet, and being free of solvents and isocyanates, and with a very low VOC content, is fume free and virtually odourless. It is available in any colour to order so in some situations is an alternative to coloured single ply membrane.
Installers like AH-25 because it is extremely convenient. A single liquid product keeps waste at a minimum. They don't need to hang around waiting for it to dry or come back to site several times, and with no fumes it is safer and more pleasant to work with.
Clients and main contractors also reap the benefits of these installer advantages. In addition, because further coats can be applied to extend the warrantee after the initial warrantee period has expired, this waterproofing system can perform for the lifespan of the building (subject to conditions and surface preparation). Another benefit to clients looking at the long-term future of their buildings.
AH-25 is also BBA Certified and has been successfully Fire Tested to DD ENV 1187: 2002, 'Test methods for external fire exposure to roofs'. Certificates are available for download below.
Fire Testing
When tested in accordance with EN 1187 : 2002 test 4, HydroStopEU AH – 25 was classified as BROOF(t4) in accordance with Table 1 of EN 13501-5 : 2005 and will meet the relevant requirements of the following Building Regulations:
The Building Regulations 2010 (England and Wales) (as amended)
The Building (Scotland) Regulations 2004 (as amended)
The Building Regulations (Northern Ireland) 2012
NHBC Standards 2014
NHBC accepts the use of the AH – 25 Liquid Waterproofing System in relation to NHBC Standards, Part 7 Roofs, Chapters 7.1 Flat roofs and balconies and 7.2 Pitched roofs.


Liquid Waterproofing – Example Projects
Here are two examples of projects where Liquid Waterproofing was the ideal solution, and where our installers used the advantages of AH-25 to full benefit.
Greenock Housing Retrofit Project – multiple roofs on a complex schedule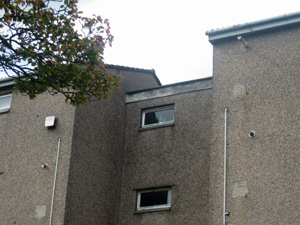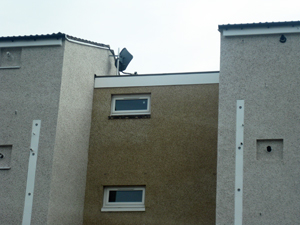 River Clyde Homes are retrofitting 186 homes in the outskirts of Greenock, to ensure they meet the Scottish Housing Quality Standard by 2016. Phase 1 of this work involves external insulation upgrades, including a series of small (under 20m2) flat roofs on individual houses. With a several dozen small roofs to waterproof, and scaffolding moving on every few houses, co-ordination with the rest of the contract was essential to ensure a cost effective programme of works.
A conventional liquid waterproofing system would have required three layers (primer, base coat and top coat) each with a 24-hour cure. However by using Hydrostop EU's AH-25, the installer, Horsbrugh Construction Services Ltd were able to complete each roof in under a day. This efficient process has impressed the main contractor, specialist retrofitting contractor Everwarm, who are looking at using the product again.
Vue Cinema Doncaster – re-roofing a building whilst in use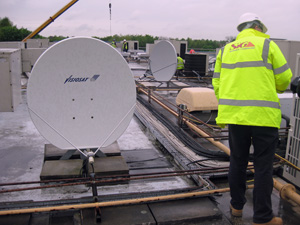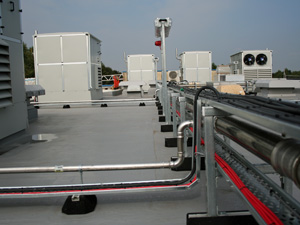 This multi-screen cinema on the outskirts of Doncaster has been extended and refurbished, including a refurbishment of the flat roof. The large amount of different plant and trunking on the roof made liquid waterproofing the ideal solution, but as the cinema was to continue in use during the works, a conventional liquid solution would have been unworkable due to the fumes.
By using AH-25 in this project the waterproofing could be carried out during the cinema's operation, removing any disruption to cinemagoers and saving the client thousands of pounds in profits.
More Information
Liquid Waterproofing is a useful option in a portfolio of products that cover the gamut of flat, green and metal roofing and cladding.
Don't forget you can always get in touch about a specific question, or ask it below in the comments. We look forward to hearing from you.