SIG Roof Lines: The RIBA Journal September 2014
SIG Design & Technology are partnering with the RIBA Journal to help supply architects with impartial, useful advice on designing flat, green and metal roofs. This morning the September 2014 issue of RIBA Journal was published, complete with our first technical guide: SIG Roof Lines.
This issue features: A beautiful earth sheltered house in Devon, Best Practice Guide on Single Ply Roofing and alternatives to Copper Roofing.
In this post you will find additional resources to help you in your roof design choices.
Part of the Scenery: Manaton, Devon
The RIBAJ interviewed the owners of a beautiful earth sheltered house in Devon by Van der Steen Hall Architects and discussed their choice of waterproofing.
Extra Resources:
Best Practice Guide: Single Ply Roofing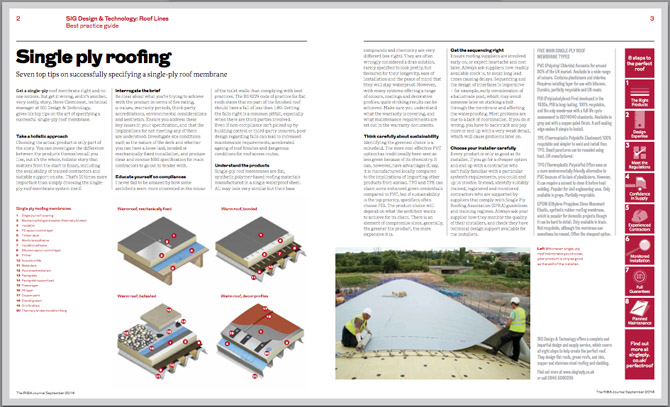 Technical Manager Steve Cleminson set out seven top tips on successfully specifying single ply roofing membrane.
Extra Resources:
Metal Roofing Theft: Copper Here in Spirit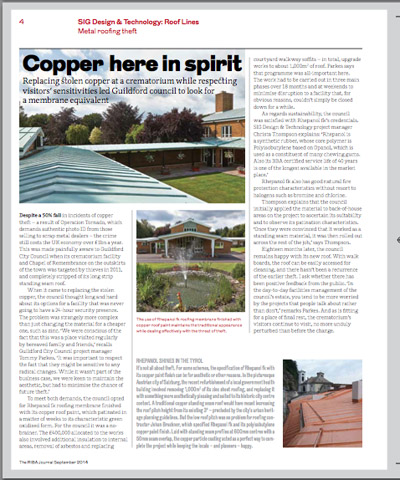 The RIBAJ finds out about an alternative to copper roofing, as used by Guildford Crematorium after a section of their copper roof was stolen.
Extra Resources:
Case Studies with Rhepanol copper roof paint:
Case Studies with Standing Seam Profile
8 Steps to a Perfect Roof
Designing a perfect roof has never been more challenging, but SIG Design and Technology have put together an 8 step guide to identify the challenges and ensure your design meets your client's requirements.
Here are our 8 steps to the Perfect Roof.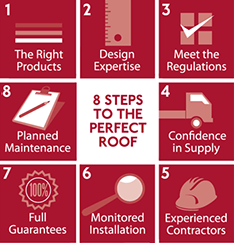 Click the links to find out why they matter and how you can tick them off your To Do List.
Keep in Touch
We hope you enjoyed the first SIG Rooflines edition and look forward to sharing more roofing advice in November.
In the meantime the RIBA Journal is putting together a technical seminar on the theme of flat, green and zinc and copper roofing and cladding, to take place on the 22nd October. If you'd like to be kept informed about the event, please contact us here.
You can also subscribe to our blog for free roofing design advice as we publish it.
Any questions? Please do ask them below or get in touch with us.