Ian Dryden's Year of Challenges Update
Here's an update on Ian Dryden's year of challenges, including details of his latest achievements.
SIG Design and Technology fundraising hero Ian Dryden, who is also our National Specification Manager for Bituminous Membranes has decided to plan for his trek to Everest Basecamp and Kala Patthar by carrying out a year of challenges.
The challenges aim to raise awareness of poor mental health in construction – a situation that causes two workers to take their lives every day. Ian was a victim of poor mental health himself and managed to survive with the help of Samaritans. Now he's fundraising to support their work.
You can keep track of all Ian's challenges here and check out his fundraising page here. But first, read about his latest news:
First Ever Marathon!
On 13th June Ian completed his first ever marathon in the time of 5 hours 51 minutes.
What was it like to run your first ever marathon?
I was really nervous beforehand, but I had trained well, mostly running back to back half marathons over weekends. I wasn't prepared for was the hottest day of the year so far, and the heat was a problem. Even the more experienced runners were worried about the heat, and the middle of the North Yorkshire Moors at 28-29 degrees with no shade at all meant we were constantly exposed to the sun.
How did you cope with the heat?
There were plently of water checkpoints, and I was carrying two litres in my pack. I still went through nine litres of water in the course of the race. We were running through local villages with horse troughs, and each one I saw I dipped my hat into it to keep me cool. Every stream or spring we passed, the hat got the same treatment! By the end of the race we were all doing it, the only way to cope with the heat. Without the heat I could have run the race an hour faster.
How about blisters?
About mile 13 or 14 my shoes gave up and I got blisters on the underside of my heels – I managed to patch them up but learned a lesson for the next race.
Ian wrote about his first marathon race here on Linkedin. Visit the post and show it some love!
First Ever UltraMarathon!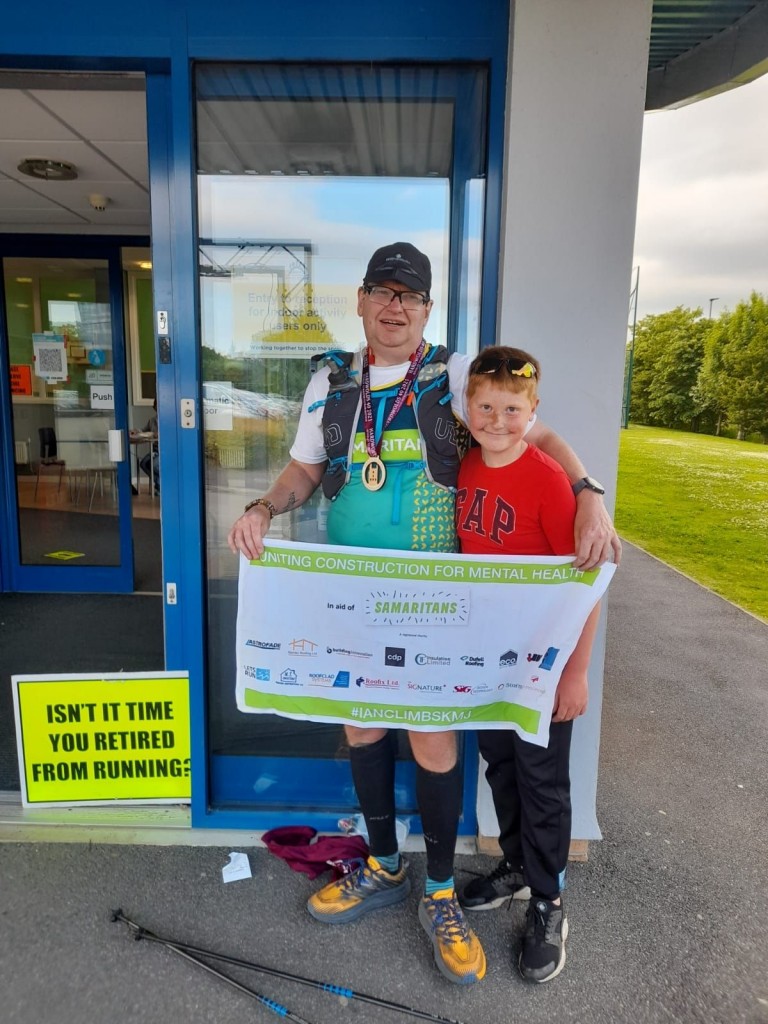 Two weeks later, Ian ran his first ever ultramarathon, 47 miles in the time of 10 hours and 36 minutes. He finished 67 out of 171 runners and even beat a relay team!
So how was the ultramarathon different?
Well firstly I bought new shoes, taped my feet up and used footglide gel to stop chafing. I always thought that I was good with footcare, but running is different because your feet get really sweaty and that's when the trouble starts.
Did you notice the extra 21 miles?
Actually I didn't really feel tired until 39 miles in. Your mind adjusts to cope with the longer distance quite easily after a while. And when you only have 10k left to do, you can just tell yourself you've done 10k before and it'll be fine!
Was it cooler on the ultramarathon?
Yes – the weather was much better, nearly perfect for running, cool and dry, until near the end when the sun came out. I passed a lot of people in the last ten miles.
I did make one mistake though – I ran through a waterstop thinking I had more water than I did and got to mile 36 in a valley in the blazing sunshine and no breeze- I'd run out of water 3 miles from the next water stop! I was light headed for around 15 minutes until I could get into a breeze and have an energy gel. Won't make that mistake again!
We saw you had a running companion at the end?
Yes, my friend Gemma met me at 40 miles to run the last 10k with me. That was such a relief – to have that support when it got really tough was brilliant. We also had a good old laugh as usually it is me bouncing around like Tigger and her struggling!
It sounds like you're learning new things with every race?
Absolutely. One thing I would do differently next time is eat more. I burned 9500 active calories on the course and only managed to eat about 2000. I would have more sugary drinks – at the water stops you can get flat cola, which can help. You can set up your own food drops too – corned beef and pickle sandwiches are my favourite, never tasted so good! But no flapjacks. You can't eat flapjack on a run, too much chewing!
What's Next?
Next week I'm doing the Yorkshire 3 Peaks challenge. Unfortunately, the Sea to Summit Snowdon is cancelled due to covid, so this is a 24 mile walking event over two days.
Then on 1st August I'll be doing another marathon, the Hardmoors 26.2. It starts and finishes at Hutton le Hole which has a marvellous chocolate shop, so I aim to be back before it shuts.
My next ultramarathon will be the Hardmoors 55 on 21st August, over the Cleveland Way. There will be a tracking app you'll be able to follow my progress with. I hope to do it in 13 hours, but it will be tough!
Mental Health Update
Ian has been making videos about his challenges, training and how to look after your mental health. Here is his latest:
If you need to talk to someone, you can ring Samaritans any time of the day or night on 116 123.
There is a list of other useful mental health resources here.
Support Ian here
So far Ian has raised well over £10,000 for Samaritans, which is thanks to your support.
He's already raised nearly £3000 in sponsorship and donations and completed over 650 miles in his training. Now it is time to encourage him in his Everest challenge by supporting him again.
You can also support Ian by following him on LinkedIn and Twitter and sharing his posts with your friends and colleagues.