Green Roofs: How to install an instant Sedum Roof (Video)
Green roofs have many benefits both environmental and aesthetic, but sometimes the process of designing and installing even a simple extensive green roof can put off small contractors and leave architects without a workable solution, particularly in smaller projects.
Now SIG Design and Technology has launched an extensive green roof system that can be installed over most waterproofing roofing systems and doesn't need specialist know-how or tools.
LiveRoof® Lite is the roofer-friendly modular green roof system from Blackdown Green Roofs and is available exclusively through SIG Design and Technology.
Benefits of the LiveRoof Lite system
Grown in the UK
Compatible with most waterproofing types
Suitable for newbuild or refurbishment projects
Successful in Commercial, Education and Domestic applications
Small quantities available (e.g. for domestic extensions)
Pitches up to 20° (with suitable retention measures)
Tray edges are concealed for a single homogeneous result
Water, nutrients and organisms are shared across the whole rooftop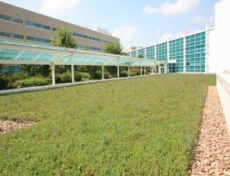 This green roofing system can help capture carbon, insulate the building, reduce summer heat in cities, reduce rainwater surge and provide a bio-diverse, wildlife habitat. It also looks great directly on installation, calming the more sceptical client.
For technical data, see the downloads below.
Simple Green Roof Installation
The roof can be installed in four easy steps, providing an instant, extensive sedum roof on the day of installation, because it is delivered with 90-95% mature sedum plant cover in self contained fully complete trays including drainage layer, filter layer and planting.
Preparation is simple. Once you have confirmed the roof is suitable*, simply sweep off, clean down and lay any necessary separation layer.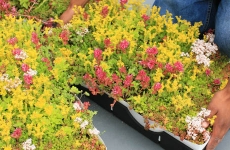 Step 1:
Loose lay the interlocking LiveRoof Lite modules onto the prepared roof surface, placing them neatly together to form a grid. The trays are specially designed with lips on two sides and instructions on the stickers guide you through the installation process.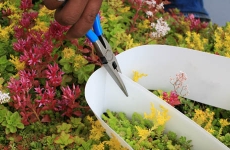 Step 2:
When laying each section of the LiveRoof Lite modules, remove the Soil Elevators for a beautiful, seamless instantly mature green roof.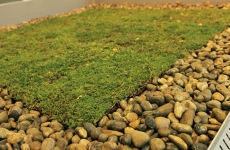 Step 3
Backfill the perimeter with a suitable decorative river washed ballast. This completes the installation, giving your roof a finished and polished look. The perimeter also acts as both a vegetation break and fire break around parapets/rooflights and roof penetrations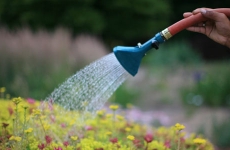 Step 4
Finally, water thoroughly to settle any loose growing medium and it's job done! Your LiveRoof Lite extensive sedum green roof is already off to a great start and it's also very easy to maintain.
Watch a demonstration of the installation on this video:
*NB Always verify that the roof structure has sufficient structural capacity to support the saturated weight of the green roof modules and any additional loading requirements and won't affect the warrantee of your existing roof – contact us for further advice on your project.
More information about LiveRoof® Lite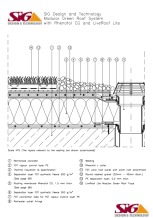 See the LiveRoof® Lite display stand at Roof Shop branches across the UK
Download a typical roof vent detail using LiveRoof Lite and Rhenofol CG roofing membrane (shown left)
Do you have any questions about LiveRoof Lite instant Sedum roof? Why not post them below, or get in touch.