School Roofing – Seven more Value Engineered Projects
School Roofing today requires a collaborative approach, robust specification and cost efficient product selection. In this case study we look at seven projects which deliver just that.
SIG Design & Technology and SIG Insulation are working with the Interserve Kajima consortium on a batch of seven secondary school projects to deliver a value-engineered, robust school roofing solution as part of the Hertfordshire, Luton and Reading Priority (HLR) School Building Programme. Four of the schools, including Stopsley High School in Luton, have been designed by London architects, Rock Townsend.
The roofing solution for all seven projects needed to use a tried and tested system to overcome a number of specific design challenges based on three core challenges:
Waterproofing of a mixture of concrete deck and steel deck substrates;
Coping with ongoing foot traffic and maintenance of M&E plant, and
Meeting the stringent acoustic performance requirements of BB93.
SIG and IKO Plc, our manufacturer partner, engaged at very early stage to provide technical liaison between Interserve and the project architect to develop the correct technical and most cost-effective waterproofing solution based on the two elements of a robust detailed specification and a simplified roof design. This early engagement also meant that the roofing team could use the roof design support the challenging thermal compliance requirements of each project.
School Roofing: The Solution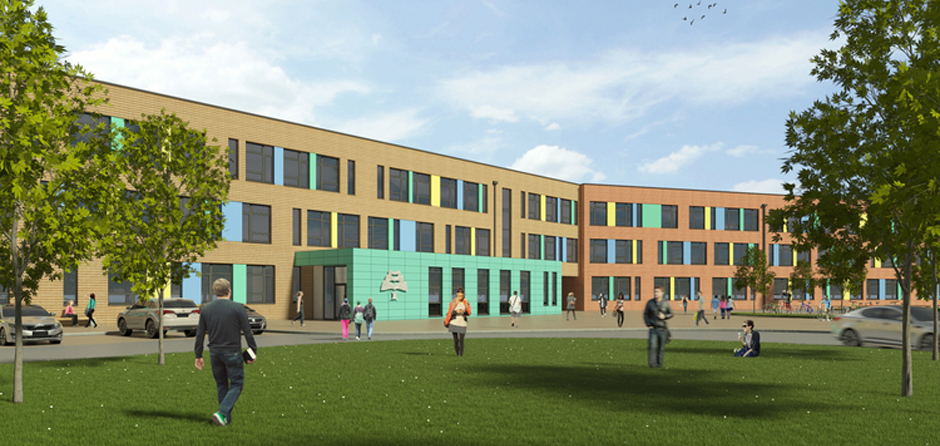 The roofs at Stopsley High School were all installed by Briggs Amasco in an approximate 16 week programme. The largest roof measures 2500m2 and was selected for an inverted roof build up using IKO's PermaTEC Hot Melt with Dow's X-Energy XPS insulation. The two lower, smaller roofs measure 1,200m2 in total and these comprise steel deck insulated with Rockwool's Hardrock Multifix Insulation and waterproofed using IKO's PreVENT Torch on Felt System.
As SIG Design & Technology is product agnostic, it was able to select the optimum mix of products, and strong collaboration between SIG businesses supports smooth project development and provides total design support to sub-contractors. Monthly site visits during installation ensure compliance to the specification and reduce the risk of future issues. These elements are part of SIG Design & Technology's unique '8 Steps' protocol, from product selection and design expertise right through to full guarantees and planned maintenance. All products were sourced from SIG as Supply Chain partner to Interserve. The four schools are due to be completed in October 2016.
More information