SPRA Launches Homeowner Guide and Home Insurance for Single Ply Roofing
The Single Ply Roofing Association (SPRA) has published the 'Homeowners Guide 2016,' a valuable resource for homeowners wanting to understand the advantages of single ply roofing for their home renovation or construction project.
The guide provides concise help on
design;
materials;
choosing a manufacturer and contractor;
insurance and
durability.
As the number of homeowners in the UK opting to renovate their properties continues to grow, consumers are increasingly searching for alternative construction solutions that have low environmental impact, but that are both durable and cost effective. The Association says nowhere is this more evident than in the roofing sector, where single ply roofing has experienced rapid growth in recent years. The Homeowner Guide 2016 seeks to meet this need.
Home Insurance especially for homes with a Single Ply Roof element
Also included in the guide are details on the new GGFi SP Home Insurance Scheme specifically for single ply roofs. SPRA has teamed up with insurance broker GGFI Limited to offer a tailor-made buildings and contents insurance scheme that provides SPRA members' customers with comprehensive cover and peace of mind knowing that their property is adequately covered.
The insurance was launched by SPRA and insurance broker GGFI Limited earlier this year in response to reports from SPRA members that the increased adoption of Single Ply Roofing has not been matched in the availability of adequate insurance policies. Underwritten by certain underwriters at Lloyd's, the new scheme is now available to domestic customers of SPRA members and their approved contractors.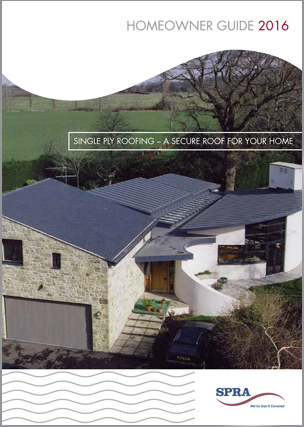 Trading Director Mike Crook said,
"Single ply roofing has grown significantly in popularity in the domestic housing market over the last few years and it has taken the insurance market a while to meet the demand. This new homeowner guide and insurance product show how the association is working hard to educate, inform and support homeowners and the industry."
More Information