Project: Imperial Court
Developer: Featherstone Homes
Roofing contractors: AJ Lucas Ltd
Roof membrane systems:
IKO Armourplan PSG PVC single ply
IKO Permatec Hot Melt
Hydrostop AH+ liquid waterproofing

Situated on the trendy Streatham high street and only 17 minutes from Central London, Imperial Court has been designed to meet the growing need for well designed but affordable developments in the competitive London market.

Previously a collection of single-storey light industrial buildings, the area was most recently used as an MOT and repair centre specialising in the repair and servicing of coaches, buses and cars. Featherstone Homes' flagship scheme, the site has been redeveloped into a gated development of 1, 2 and 3-bedroom apartments with undercroft parking and commercial units.

Three waterproofing solutions

Decisions regarding roofing specification should always be made on a project-by-project basis and one membrane will not necessarily meet the demands for the entire build. With a terraced area providing amenity space, balconies to each apartment and a flat roof area supporting solar panels, Imperial Court presented three distinct waterproofing areas. Each area necessitated a different solution.

Having worked with them on a previous project, Featherstone Homes had no hesitation in asking AJ Lucas Roofing Ltd to provide the solution and meet the high expectations for this project.

Antony Lucas Managing Director at AJ Lucas agrees "The fewer problems housing developers have on site the better. They want to work with companies who they can trust to supply and install the correct solution. It means they have one less thing to consider."

AJ Lucas is […]
Project: 59-65 Wells Street, (formerly Tasman House)
Sector: Retail & Commercial Office Development
Main contactor: Wates Construction Limited
Roofing contractor: EJ Roberts Roofing Limited
Main contract value: £19.5M
Roofing contract value: £110K

The challenge

59-65 Wells Street is an office development in Fitzrovia, London W1. It sits on the site of the former Tasman House and as a new build project will deliver 37,300 sq. ft. of commercial space including 4,500 sq. ft. of retail. Typical floors measure 5,140 sq. ft. (478 sq. m). There are terraces to the first and sixth floors and the development offers shared rooftop terrace with green roofing.

In September 2015, planning permission was granted for Great Portland Estates to demolish the existing building and replace it with a new building. The proposal included associated external alterations to include plant at roof level (with photovoltaics on top of plant). The demolition of the existing 1950s building at 59- 65 Wells Street was completed earlier in 2016.

Key points

As part of the 2nd stage tender process, Wates Construction Limited (Wates) needed to select a highly robust waterproofing system for the inverted roof covering system as detailed and specified by the architect.

The membrane system selected would need to accommodate heavily trafficked areas for following trades and routine maintenance once the building is in use. The design also features plant screen posts, glass balustrades, low door thresholds, low parapets, stone copings and linkages with adjacent buildings. Roof performance criteria specified that products be firmly adhered, free draining and completely watertight.

Wates reviewed the roofing specifications proposed by the design team and proposed IKO's PermaTEC liquid applied coatings (hot […]
Project:  Hertfordshire, Luton & Reading Priority School Building Programme
Architect:  Rock Townsend
Main contractor: Interserve Construction
Roofing contractors: Briggs Amasco, MAC Roofing and AC Plc
Membrane: IKO PermaTEC hot melt
SIG Design & Technology and SIG Insulation are working with the Interserve Kajima consortium on a batch of seven secondary school projects to deliver a value-engineered, robust roofing solution as part of the Hertfordshire, Luton and Reading Priority (HLR) School Building Programme. Four of the schools including Stopsley High School Luton have been designed by London architects, Rock Townsend.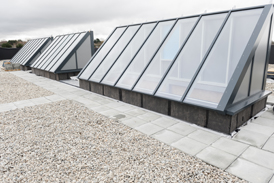 The roofing solution for all seven projects needed to overcome a number of specific design challenges based on three core challenges; the waterproofing of a mixture of concrete deck and steel deck substrates; a robust inverted roof system to cope with ongoing foot traffic and maintenance of the M&E plant sited on the roof and meeting the stringent acoustic performance requirements of BB93. The roof design needed to take into account the overall weight of the roof element, and ideally, utilise a tried and tested system.
SIG and IKO Plc, our manufacturer partner, engaged at very early stage to provide technical liaison between Interserve and the project architect to develop the correct technical and most cost-effective waterproofing solution. It attended design meetings to assist with the production of a robust detailed specification and a simplified roof design.
Critically, early involvement facilitated thermal compliance as a flexible thermal zone was created to compensate for […]
Project:  5 Broadgate, City of London
Client:  British Land / Blackstone JV
Architect:  Make Architects
Main contractors: Mace
Roofing Contractor: Briggs Amasco
Waterproofing membrane: IKO PermaTEC hot melt
When Make Architects needed a waterproofing solution for their latest project in the City of London, they turned to IKO PermaTEC hot melt. Here, we set out why and share with you some pictures of this particularly challenging roofscape.
5 Broadgate is truly a "groundscraper", a term coined by the FT as it announced the unveiling of the UBS new City of London headquarters in May 2006. Just 12 storeys of offices yield over 65,000m2 of high-spec office space, including four football pitch-size trading floors and 7,500m2 of concrete-decked roof and terraces.
Make partner, Ben Stuart was package architect for the roofing, basements, structure and services on 5 Broadgate. Ben described the roofing strategy when he presented at our #PerfectRoof seminar in October 2014.
Waterproofing such an expansive and complex roof has its particular challenges and required, as Stuart said, 'robust and reliable detailing delivered by contractors who could assure the highest standard of workmanship within the given timescales.' The choice of waterproofing was to perform for a minimum of 30 years, be cost effective and also contribute towards the building's design stage BREEAM Excellent rating.
Working closely with contractor, Briggs Amasco and construction manager Mace, Make looked at a range waterproofing options and reviewed their buildability.
These options included:
A warm roof construction – but concerns about protecting the waterproofing discounted this option;
Cold applied liquid – this was also ruled out for the majority of the roofing due to its shorter lifespan (20 years) and […]

Name of project:  Pinderfields Hospital
Location:  Wakefield
System:  PermaTEC Hot Melt System
Product:  PermaTEC Ecowrap Compound
Contractor:  Prater
Size:  15,000m2
A state-of-the-art hospital in Wakefield is one of three hospitals which have benefitted from a PermaTEC Hot Melt system, installed by national building envelope contractor, Prater.  In total over 15,000m2 of the material has been used on roof areas at the Wakefield site.
PermaTEC EcoWrap features new wrapper technology which blends into the material itself when heated, removing the need for heavyweight cardboard box packaging and eliminating site waste. The product requires lower application temperatures on site which speeds up installation and uses less energy. The product is also manufactured in the UK, which means its delivery has a dramatically lower carbon footprint than imported systems.
PermaTEC Hot Melt is only available from SIG Design & Technology and can only be installed by their IKO trained and licensed contractors.