#PerfectRoof Seminar – Ideas and Resources
It's a week since our seminar on 8 Steps to a Perfect Roof, hosted at the Building Centre by the RIBA Journal. We thought we'd look back at the highlights and share some additional resources with you. Towards the end of the post we look at the Q&A session and revisit some of the discussions that happened on the day.
The Audience
Attendance was excellent with a large number turning up for breakfast pastries and coffee followed by a swift canter through five case studies illustrating different aspects of roofing design. In addition to the delegates in the room, a large audience joined us online thanks to the live blog and tweeting by Su Butcher and our account at @SIGDesignTech.
You can find out more about this online audience and the reach of the seminar by looking at this twitter report. The 39 people tweeting with the #perfectroof hashtag (both in the room and elsewhere) shared our seminar with over 140,000 twitter users, including sharing all the links and slides, sparking conversations between participants online and offline. You can also search an archive of all the tweets that have used the hashtag.
The Speakers
We were blessed with a great line up of speakers, ably facilitated by Ruth Slavid. Here we provide additional links to their materials and contact details, and in the coming weeks we'll be blogging in a little more detail about some of the presentations. Subscribe via email if you'd like to receive these updates when they are published.
8 Steps to a Perfect Roof – an Introduction
First to speak was Ross Finnie, our Sales Director, who swiftly ran through the 8 steps to a Perfect Roof concept for us.
Ross explained that SIG Design & Technology offer a free, impartial design and supply service to specifiers and contractors. This enables us to not only recommend the right product for the job, but also provide a smooth, confident guiding hand throughout the 8 steps right through construction and into the maintenance phase. Product prices are competitive and guarantees have value because they are backed up by parent company SIG plc, a FTSE 250 company and one of the largest materials suppliers in Europe.
What was most interesting to the audience was that this service is free of charge to specifiers. This means that you can have your roof designed, specified and coordinated from the deck up by a single PI insured designer, for free.
Green roofing to a subterranean Devon home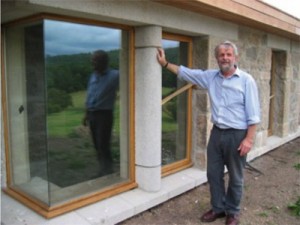 Our second speaker was Peter Hall of Van der Steen Hall Architects. Peter gave a fascinating, inspirational and at times emotional talk about leading his clients through the process of building an earth sheltered home on Dartmoor, complete with meadow grass roof.
Peter's talk was an inspiration and we'll be looking at it in more details soon.
Wave form roof in RAL colour to a Peak District water bottling plant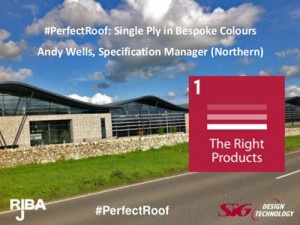 Crossing the country to another National Park, Ruth introduced us to North West Specification Manager Andy Wells, who told the story of a very different green roof.
Andy introduced Project Merlin, a bottling plant that the owners wanted to build within the Peak District National Park. This 12,000m2 roof was covered in bespoke RAL 6007 bottle green Armourplan in order to satisfy a planning requirement, and Andy also described how we met short supply times and delivered on the contractors schedule to ensure a successful completion.
Hot melt roofing to British Land's No. 5 Broadgate
Our next speaker was Ben Stuart, partner at Make Architects, who gave us a comprehensive tour of the waterproofing of the roof of one of their largest projects to date, the 750,000sft headquarters for UBS Bank in the City of London. The project is currently on site with a completion date during 2015.
There's an awful lot of plant up on that roof! #PerfectRoof http://t.co/o5HoPsBPj7 pic.twitter.com/RlMcRp2kYB

— SIG Design&Tech (@SIGDesignTech) October 22, 2014
This was an extremely informative presentation, full of detail and advice, and we plan to devote a post to some of the issues it raised.
Multi-roofing system approach at Waldegrave School for Girls Twickenham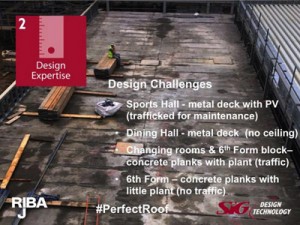 Our penultimate talk was by Steve Scottorn of SIG Design & Technology who introduced the challenge of waterproofing several different constructions on one project.
In this case it was Waldegrave School in Twickenham, one of Wates Construction's projects in the Priority Schools Building Programme (PSBP). Mixing roofing materials can often be challenging when you are working direct with product manufacturers, because they are obliged to recommend their product for every application. 
This project showed how being 'product agnostic' allows SIG Design & Technology to develop tested, hybrid solutions in consultation with our product partners, giving the client the best solution both in terms of performance and cost.
Presentations at Sig seminar are really god because get into nitty gritty of detailing. So useful #perfectroof — Ruth Slavid (@archifreelance) October 22, 2014
Zinc cladding adds to sustainability at Imperial Tobacco HQ, Bristol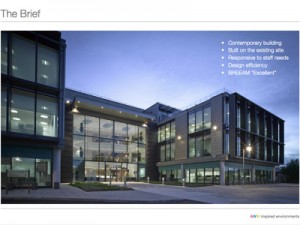 Our final speaker was Andrew Boardman of AWW Architects Bristol Office. He took us through the decision to use matt grey NedZink NOVA in beautifully flat Proteus HR honeycomb panels at the new Imperial Tobacco Headquarters building in Bristol, completed last year.
Like Ben's talk, Andrew's was full of useful advice and tales of lessons learned, this time about using metal cladding to make this building look beautiful not only on completion but in years to come. We'll also be visiting his talk again in a blog post soon.
The Questions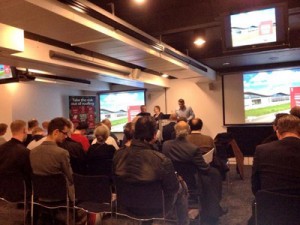 One of the great things about this seminar was the enthusiasm of the audience for the subject matter.
Many of the attendees expressed surprise that one company could supply and advise on such a wide range of roofing finishes from membranes, hot melt and liquid waterproofing through green roof build ups, to zinc, copper and stainless steel roofing and cladding. The talks certainly gave the audience plenty of food for thought.
Questions from the floor covered guarantees and warrantees, zinc weathering, testing processes, and questions about the particular products and their performance characteristics.
One topic that brought several replies was Ruth's question about "the one thing that causes roof design to go wrong".
Steve Scottorn said a common problem was lack of early engagement, and Andy Wells concurred: 'It's a good idea to get problems sorted well before you get on site, rather than bring us in later' he suggested. Putting problems right later on in the process can cause delays.
Peter Hall said he had often seen reputable main contractors put pressure on roofing subcontractors and M&E contractors to rush, as their work comes nearer to the end of the project, hoping they can make up delays. This of course can lead to far worse problems later on. The concern about good contractors was also picked up on twitter:
@SuButcher In what sense is it 'reputable' to pressure subcontractors to rush?

— Dominic Oakes (@RadicalMusic1) October 22, 2014
Ben Stuart echoed this concern and said that working with a good contractor is essential to a successful project, which is why an accredited contractor scheme with genuine monitoring is essential – such as our DATAC contractors, of which there are hundreds all over the country. You can read more about DATAC's benefits to architects here.  We've also written about what it means to be DATAC approved in a blog post.
Another group of questions focused on guarantees and insurance. A member of the audience asked about insurances, and Ross Finnie probed deeper. 'A lot of clients aren't clear about what insurance means – make sure you know what insurance you want,' he said. Ross also explained why SIG Design & Technology being part of SIG Plc is an advantage to architects when it comes to both guarantees and genuine insurance, as well as a reliable supply chain.
The discussion also introduced the value of membership of product associations. SIG Design and Technology are members of SPRA, the Single Ply Roofing Association, whose Quality Criteria reassure the customer that members have the right procedures in place.
Steve Scottorn rounded off this group of questions by pointing out that it is not just product choice that matters. You need to 'Get the spec right, select the right subcontractor, and find a competitive price – that's why you need 8 steps,' he said.
More Information
Did you attend the seminar? We hope you found it useful, do share your thoughts with us.