Choosing Single Ply Roofing Membranes – What to Consider
Single ply roofing membranes are increasingly popular in UK construction projects, both for new build and refurbishment. Selecting a roofing system is always a combination of design criteria, performance requirements and cost, and it is important to find a balance all three.
Last week we introduced the five most popular single ply roofing membranes used in the UK and their main characteristics. This week we'll look in more detail at key factors to consider when choosing which single ply roofing membrane suits your project.
Sustainability Considerations
What makes a 'sustainable building product' is still a matter of debate. The Construction Products Assocation has written a very good article about this which explains the complexity of sustainability in construction products.
In the end, any effective assessment of the sustainability of a construction product has to look at it in the context of the whole building, its life cycle and overall impact.
For the purpose of this article, we'll focus on the environmental impact of the products themselves – whether they can be recycled, and what impact they and their components have on the environment.
PVC Whilst being very durable, long lived, and in some cased manufactured in the UK, PVC could be considered the least environmentally friendly of the products due to the presences of plasticisers and chlorine in the product. For some designers, the threat to the environment posed by the manufacture, use and disposal of PVC, renders it unacceptable. It is also only partially recyclable.
EPDM cannot be recycled, though the membrane can be reused if loose laid or mechanically fixed.
TPO, like PVC, is durable, does not contain plasticisers and can be partially recycled. Some products include recycled content. However, installation may involve solvents, as mentioned last week.
TPE is 100% recyclable, and no solvents are used in its installation. It is also manufactured in the UK.
PIB is also 100% recyclable. It is the only membrane with a full life cycle assessment to ISO14040, confirming the product has no significant environmental impact from cradle to grave. For this reason PIB could be considered the most sustainable of the products.
Cost of Single Ply Roofing
Generally speaking the cost of these five single ply roofing membranes follows this sequence:
EPDM is likely to be the cheapest,
Then PVCs,
Then TPOs and TPEs, though their cost is often comparable to some PVCs,
Then PIB.
Cost can vary considerably depending on the manufacturer. For example, with hundreds of different PVC roofing membranes available to choose from, a range of prices are available, but the performance characteristics of the materials will vary too. The initial cost of the material itself is only one factor.
Track Record and Lifespan of Single Ply Roofing Membranes
Roofing membrane products continue to evolve, and whilst some have been around since the early 20th Century, other new products are being developed.
PIB was developed in the 1930s, roofs commonly have a 35+ year lifespan, but some are in existence over 50 years old;
TPO was developed in the 1980s and can have a lifespan in excess of 35 years;
TPE is a little younger but can also have a lifespan in excess of 35 years;
EPDM generally has a lifespan in excess of 25 years,
The life of PVC membranes varies hugely from 20+ to 40 years.
Depending on the product, the lifespan of the membranes can vary considerably. What affects the actual lifespan of the roof? The quality of the product itself, the quality of the roof design, the quality of the installation, and the reliability of the companies providing the assurance of these qualities.
Guarantee Reliability in Single Ply Roofing
To ensure that the product you choose will meet your client's requirements and perform as required throughout its life, your roof will require:
A registered and monitored installation contractor;
Good detailing appropriate to the conditions;
Technical backup during the design process;
On site support, including inspections and quality checks;
Guarantees of both product and workmanship.
A good supplier will provide this support network as a part of their service, as we do.
A Manufacturer's Guarantee can provide confidence in the quality of a product, but this is only as good as the company that provides it. To ensure confidence in the companies you choose to work with, make sure they are part of the Single Ply Roofing Association (SPRA).
SPRA membership is a guarantee of reliability, because members are required to meet quality criteria, and performance is monitored annually. For manufacturers these include:
Production control,
BBA or BRE Global certification for products,
Indemnification for design advice,
Suitably trained field and technical support staff,
A database of trained installers,
Minimum 10-year guarantee on product and attachment.
A system of recorded site inspections.
Conclusion and More Information
It is not uncommon to hear roofing membranes, especially in the context of 'flat roofs' referred to as unreliable, but reliability in any construction project depends upon a range of factors. Specifiers, contractors and their clients must rely on professional, indemnified expertise to ensure the right choice of products for their projects. Make sure you choose the right companies to advise you.
Here's a summary of the main characteristics of commonly used Single Ply Roofing Membranes: [Download the PDF Version]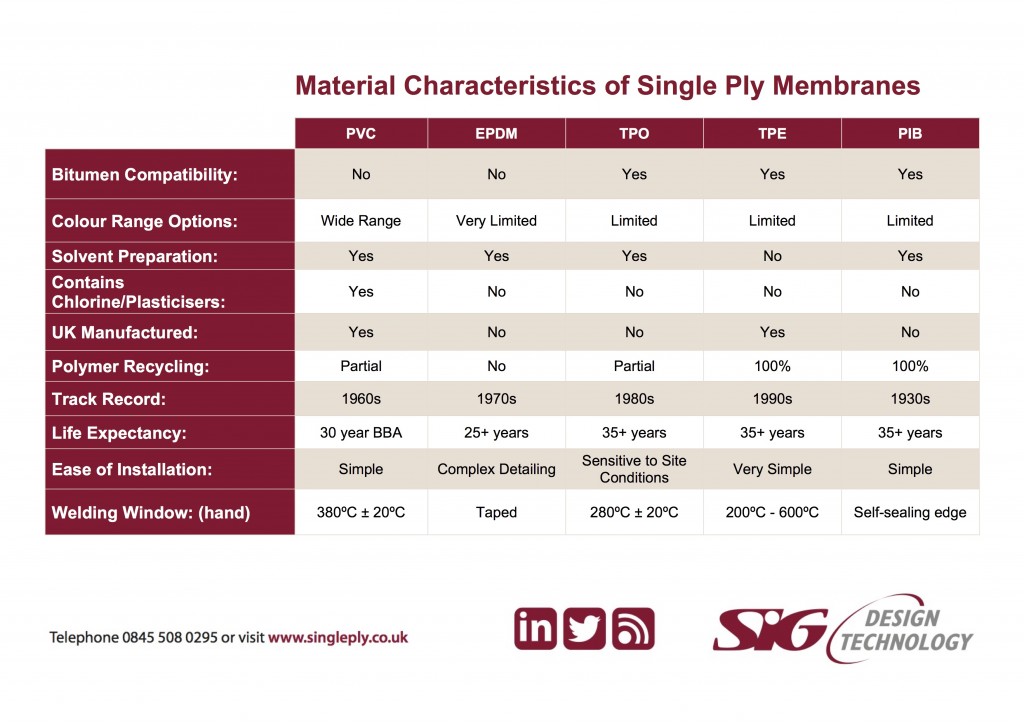 More information
To find out more about SIG Design and Technology, our products and the free support service we provide, download Download our brochure on 'Complete Roofing Solutions from Design to Supply to Installation' or visit the 'About Us' section of our website.
If you'd like us to advise you on your choice of roofing membrane, or on flat, green or hard metal roofing design, please get in touch.
You can find out more about the SPRA on their website.
We have developed an RIBA Approved CPD on these issues to help educate specifiers. Get in touch with our CPD team via this page if you would like us to deliver it in your offices, or discuss the issues with your team. For Technical enquires call: 01509 501731.
Single Ply Membranes; What's your preference?
We'd be interested in your views and questions about this article; please post them below.