Comparison of Single Ply Roofing Membranes
This article introduces and compares the most popular types of single ply roofing membranes used in the UK, setting out their different characteristics, advantages and disadvantages.
How can you tell the difference between single ply roofing products, what might be their benefits and disadvantages in terms of cost, sustainability and reliability? As a designer and supplier of roofing systems, SIG Design & Technology recommends a range of single ply roofing membranes, different materials and different brands, depending on the application, project size and performance requirements. We use our extensive experience in differentiating between waterproofing alternatives to identify the best products for any roofing situation.
Here is our introduction to the main types of single ply roofing membranes. Next week we'll look in more detail at the key factors that determine which membrane is best for your project.
What is Single Ply Roofing Membrane?
Single ply is a flat, synthetic polymer based roofing material that, as the name suggests, provides a waterproofing layer in a single sheet. Usually supplied in rolls, the material is either entirely homogeneous or contains a reinforcement layer. Sealed at the joints with heat, adhesive or mechanical means, it can be adhered, mechanically fixed and/or ballasted into flat, pitched or green roof systems.
Single ply roofs are lightweight, flexible, cost effective, swift to install and safe, which makes them increasingly popular for both new build and refurbishment projects.
Benefits of Single Ply Membranes
Over 50-year track record
A well-managed sector with its own Trade Association (SPRA)
Suitable for new build and refurbishment applications
Suitable for flat, wave form, cupolas etc
Low capital cost and cost in use
Safe, rapid and clean installation
Some products available in a wide range of RAL colours
Some products suitable for cost-effective alternative to metal roofing
Simple to repair and modify
Suitable for photovoltaic system installation
Variety of sustainability characteristics including zero life cycle impact.
Types of Single Ply Roofing Membrane
There are five main types of Single Ply roofing membrane available in the UK. They are:
PVC (Poly Vinyl Chloride)
EPDM (Ethylene Propylene Diene Monomer)
TPO (Thermoplastic Polyolefin)
TPE, (Thermoplastic Polyolefin Elastomer) and
PIB (Polyiso Butylene)
Here is a table comparing their material characteristics. [Click to Download]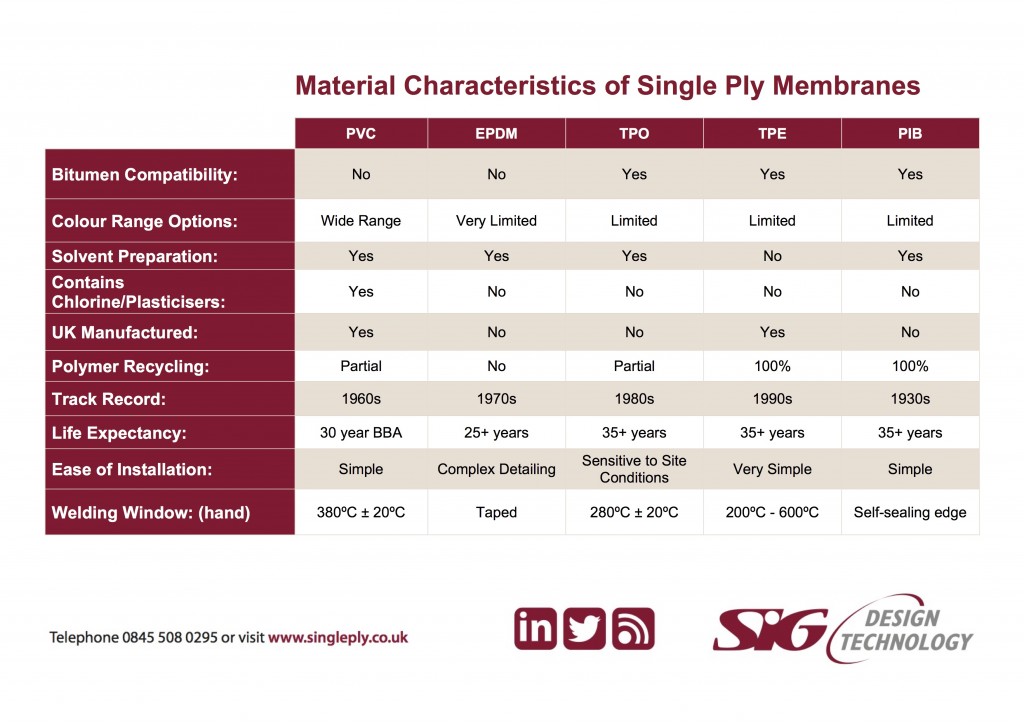 1. PVC roofing membrane – Poly Vinyl Chloride
PVC is the most popular single ply roofing membrane, accounting for around 80% of the UK market. Available in a wide range of colours, it is flexible, simple to install and generally liked by contractors. Joints are heat welded.
PVC cannot be laid over bitumen roofing without an isolating layer, so it is not ideally suited for refurbishment applications. It is also the only membrane in our list to contain plasticisers and chlorine.
SIG D&T recommend two types of PVC membrane – Armourplan and Rhenofol.
2. EPDM roofing – Ethylene Propylene Diene Monomer
EPDM is an elastic, synthetic rubber roofing membrane. Commonly used in domestic projects, an EPDM roof kit can be made up off site with penetrations pre-installed. Otherwise, welds are taped and complex detailing is required to avoid water ingress into the edges of the membrane through capillary action.
Cost effective, but only available in black, EPDM needs to be ballasted to receive a satisfactory fire rating for surface spread of flame.
3. TPO – Thermoplastic Polyolefin
Introduced in the 1980s, TPO is seen as more environmentally friendly membrane than PVC. It is used heavily in civil engineering – for pond linings and tunnel waterproofing, where the absence of plasticisers is considered an advantage. Like PVC, it can be partially recycled into other products such as walkway tiles. In the past its sensitivity to UV light was an issue, but better formulations have removed this risk and life expectancy is comparable. Unlike PVC, TPO is only available in a narrow range of greys.
One problem with TPO is that it cannot be welded when dirty, and can be difficult to keep clean on site. A solvent is required to clean the membrane before heat welding, which can counteract the environmental advantages of using TPO.
4. TPE – Thermoplastic Polyolefin Elastomer
TPE is a product developed to improve upon some of the characteristics of TPO. It is 100% recyclable and is very simple to install, without any of the 'dirty weld' problems of TPO. In addition, unlike PVC and TPO, welding is successful across a very wide range of temperatures, making installation much simpler for the contractor.
TPE also has re-healing capabilities – small punctures can be resealed using the application of heat, where PVC or TPO would need to be patched.
SIG D&T Recommend IKO Spectraplan TPE. Find out more here.
5. PIB – PolyIso Butylene
Developed in the 1930s, PIB is the oldest single ply roofing membrane in the world, and roofs exist that are still performing after 50 years. Made from Oppanol, the same polymer that is used in chewing gum and surgical dressings, it is 100% recyclable.
PIB is the only membrane with a full life cycle assessment to ISO14040, confirming the product has no significant environmental impact from cradle to grave.
PIB membrane has a self sealing edge making it simple to install. Normally only available in grey, there is a copper paint finish (copper flakes suspended in a PIB carrier) which weathers to a natural verdigis finish over time.
Rhepanol PIB is made by German company FDT. Find out more about it here.
Next week we look at these products in terms of sustainability, cost, and lifespan and ask, what factors are most important in your choice of a roofing membrane?
More information