Best Roofing Photo of the Month – February 2018
Every month our field technicians visit and inspect hundreds of roofing projects across the UK. They see some of the best examples of good practice, and we thought we'd give them the opportunity to share some of these with you. The criteria are simple. Share with us a photograph demonstrating either good practice or best looking finished roof.
February Winner: The Catholic Parish of St Thomas More in Brighton, East Sussex
Our February Best Roofing Photo of the Month winner is Jamie Dunsmore. Jamie took his photographs on a site visit to the recovering of the geodesic domed roof at St Thomas More, in Patcham, Brighton.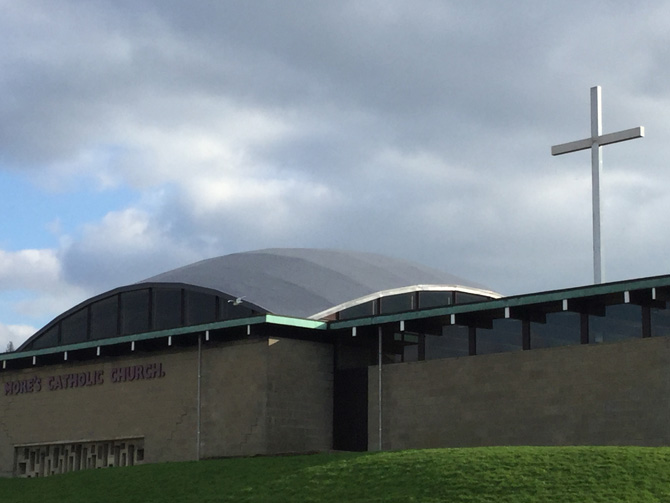 St Thomas More was built in 1963, designed by Bingham Towner & Partners in association with David Ashdown. The church is modern in layout and has a concrete frame to a six-foot grid, with the geodesic dome covering the worship area. The dome rises from four corners creating four elliptical clerestory windows.
A Geodesic Domes is a thin lattice shell based on a geodesic polyhedron made up of triangular elements, in this case built of timber. Whilst the first domes were produced by the Carl Zeiss optical company, they were popularized by the engineer and futurist Richard Buckminster Fuller, who is also known for his futuristic ideas about housing and transportation. In 1985 five scientists developed a spherical form of carbon (C60)which they named 'Buckminsterfullerene' in his honour.
Whilst domes are spatially and structurally very efficient they do have their disadvantages. One of these is that construction materials usually come in flat rectangular sheets or coils, and so the waterproofing of a geodesic dome will always be a challenge. The St Thomas More dome, which was engineered in timber by the structural engineer Simon Woolf, was originally clad in copper, though it had previously been over covered with a single ply BRAAS membrane some years prior to this new project.
The Roofing Overlay
Jamie visited the site whilst the roofing was being installed. You can see from his photographs that the main area of waterproofing had been laid, and the perimeter was yet to be completed.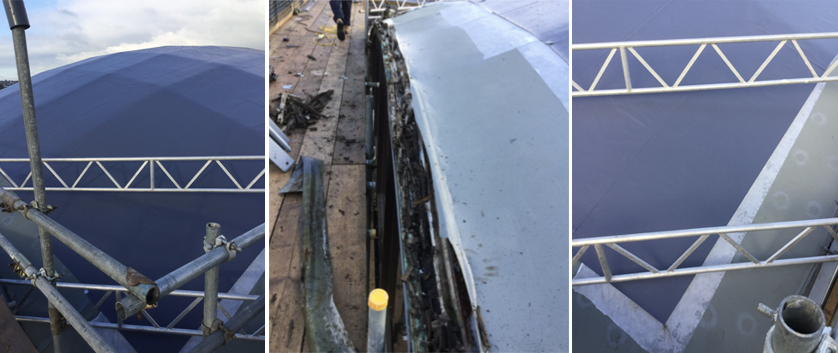 The overlay membrane is Armourplan P, a 1.2mm thick polyester-reinforced PVC single ply roofing membrane with enhanced mechanical properties. It is mechanically fixed over the existing membrane, with a fleece separation layer in between which protects against mechanical or chemical damage from the layers below.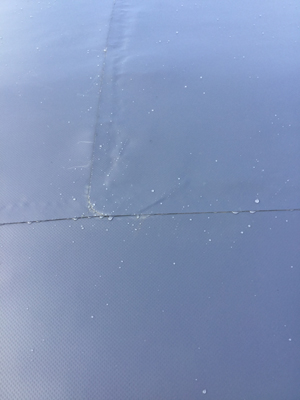 All the mechanical fixings are hidden with the next layer of membrane overlapped by a minimum of 110mm and heat welded in place. This allows the pressure plate of the fixing to be fixed and still allows 10-15mm beyond the end of the membrane, giving a 65mm overlap and a 60mm minimum weld.
During Jamie's visit the edge of the membrane was not yet installed and it was possible to see where the existing membrane had been cut at the perimeter details. This releases any possible tension within the existing roof area. At the perimeter of the roof the timber edging details had been stripped back and were being replaced.
This project is a good example of collaboration between SIG D&T as supplier and our manufacturers, in this case IKO. IKO developed a specification for the project and SIG D&T carried out the wind load calculation.
The roof is being installed by DATAC installers A J Lucas Roofing Contractors, who were called in by roofing contractors Trojan Rose due to their specialist expertise in complex waterproofing projects such as this.
Antony Lucas, MD of A J Lucas Roofing Contractors explained.
"This is quite a complicated roof to waterproof given the number of facets, and the roof is also quite elevated and exposed. We were happy to assist Trojan Rose in the project and pass on some of our expertise. We had our most senior roofer Glyn installed the roof, assisted by trainee Alfie, and Trojan Rose were invited to watch the installation process.

"This project had to be an overlay because the roof is so delicate and exposed. If we were to strip off the existing copper there would need to be a temporary roof installed over the whole dome, to protect the timber structure underneath from the weather.

"Whilst we haven't installed a roof of this type before, we do work on many more unusual projects, and we do a lot of single ply pitched roofing, often with standing seams which we offer as an alternative to metal roofing. It's nice to be called upon to do some of the more challenging projects and our clients rely upon us to do more complex work. Congratulations to Jamie for his win!"
More Information