Project: 59-65 Wells Street, (formerly Tasman House)
Sector: Retail & Commercial Office Development
Main contactor: Wates Construction Limited
Roofing contractor: EJ Roberts Roofing Limited
Main contract value: £19.5M
Roofing contract value: £116K

The challenge

59-65 Wells Street is an office development in Fitzrovia, London W1. It sits on the site of the former Tasman House and as a new build project will deliver 37,300 sq. ft. of commercial space including 4,500 sq. ft. of retail. Typical floors measure 5,140 sq. ft. (478 sq. m). There are terraces to the first and sixth floors and the development offers shared rooftop terrace with green roofing.

In September 2015, planning permission was granted for Great Portland Estates to demolish the existing building and replace it with a new building. The proposal included associated external alterations to include plant at roof level (with photovoltaics on top of plant). The demolition of the existing 1950s building at 59- 65 Wells Street was completed earlier in 2016.

Key points

As part of the 2nd stage tender process, Wates Construction Limited (Wates) needed to select a highly robust waterproofing system for the inverted roof covering system as detailed and specified by the architect.

The membrane system selected would need to accommodate heavily trafficked areas for following trades and routine maintenance once the building is in use. The design also features plant screen posts, glass balustrades, low door thresholds, low parapets, stone copings and linkages with adjacent buildings. Roof performance criteria specified that products be firmly adhered, free draining and completely watertight.

Wates reviewed the roofing specifications proposed by the design team and proposed IKO's PermaTEC liquid applied coatings (hot […]
Project: Centrepoint, London
Client: Almacantar
Architect: Rick Mather Architects
Roofing contractor: AC Plc
Waterproofing membrane: IKO Ultra PrevENT
Green roof: IKO Roofgarden

Standing an imposing 117 metres above the streets of London's West End, the iconic Centre Point's Tower  is an unmissable landmark and one of the capital's first skyscrapers. It's part of a wider complex which is used for retail and residential purposes.

Although it has long since been eclipsed in height by newer buildings, the brutalist 34 storey structure still cuts an impressive architectural figure. Sought-after residential accommodation in its rejuvenated tower – the tallest residential development in the West End – is priced at the exclusive end of the property market.

Built as speculative office space by property developer Harry Hyams in 1966, Centre Point building is the work of designer George Marsh of architects R. Seifert and Partners, with engineers Pell Frischmann and Wimpey Construction. Centre Point is now a Grade II listed building.

Once the headquarters of the CBI, its largest single tenant, developers Almacantar have recently been busy rejuvenating this outstanding building into a residential block, along with creating a restaurant and retail destination for the bustling West End.

The tower – the most visible part of Centre Point – will have 82 apartments when completed over 34 floors, with one, two and three-bedroom luxury apartments and a unique penthouse. The apartments will be serviced to the standards of a world-class luxury hotel, and the residencies will enjoy facilities including a 30-metre swimming pool, gym and fitness studio.

The Centre […]
Name of project:  Skara Brae
Location:  Orkney Isles
Client: Historic Scotland
Product:  FDT Rhepanol hg green roof membrane
Size:  30 sq m
Architect:  Historic Scotland
Installer:  Greg Lister of GL Contracts Ltd
FDT harnessed the most modern roofing materials and advanced 21st century technological know-how to help preserve one of Europe's most remarkable ancient monuments, 5,000-year-old Skara Brae.
The designated World Heritage Site, a fascinating commune of small interlinked stone dwellings, is one of the most-visited tourist attractions on the historic Orkney islands and offers up to 60,000 visitors a year an unparalleled taste of life in Neolithic Orkney.
With the site at the mercy of the fierce coastal elements, Historic Scotland, who care for the attraction, called on FDT to help overcome an unusual problem.
Neolithic carvings beneath the glass viewing roof of one of its famous domed homes were threatened by an unstable environment. Rhepanol hg was chosen to create a new watertight garden roof that blends in aesthetically and could be left undisturbed for up to 50 years.
Name of project:  Barking Riverside
Location:  Barking, London
Membrane:  Rhenofol CG
Contractors:  Albany Brent Ltd, Walthamstow
Green roofing forms a key part of roof design as part of a model for sustainable living in 21st century London. Barking Riverside is a joint venture project between Bellway Homes and the Homes & Community Agency. It is an element of the Mayor of London's plan to build 10,800 new homes, retail, transport links and new town facilities in the Barking region of East London.
Green roofing was specified for some 50 homes each with a green roof area of 20m2, plus a block of flats with a roof area spanning 2100m2 which comprises 1500m2 green roofing plus gravel margins.
SIG accredited roofing contractors Albany Brent Ltd of Walthamstow were chosen to undertake the green roofing works at Barking Riverside as they have substantial experience in both green and brown roof systems.
SIG Design & Technology designed an inverted roof, waterproofed in Rhenofol CG. Suitable for green roofing projects, the membrane system resists weathering, chemical oxidation and UV radiation, and retains its physical properties over a wide range of temperatures. The polyester fleece backing can be bonded or loose-laid when ballasted.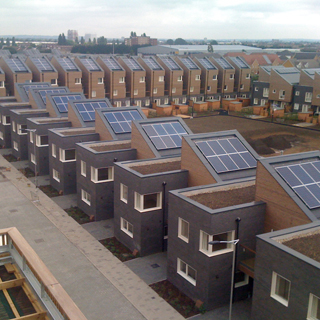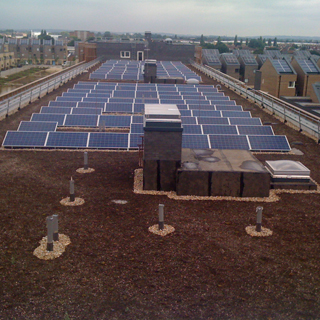 As part of SIG's recommended roof build up, a plug planted sedum roof system provides the green roof finish. Suitable for both new-build and refurbishment, the system comprises diverse species of hardy, succulent plug plants and native wild flowers which are installed at a density of 20 per m2 to provide a maximum of 10% plant coverage at installation.
This cost effective plug-planted installation method lends itself […]
Name of project:  Meydan Shopping Centre
Location:  Istanbul, Turkey
Client: Metro Group Asset Management
Product:  FDT Rhepanol hg green roof membrane
Architect:  Foreign Office Architects
Contractor: ICS Ic ve Dis Tic. Ltd. Sti Yukaridudullu-Umraniye/Istanbul
Size:  54,000 sq m
FDT played a key role in reshaping the urban landscape of Turkey's most crowded city.
The vast 70,000sqm M1 Meydan Umraniye shopping and leisure complex, in Istanbul, is the country's first shopping centre to feature a green roof – at 54,000sqm the largest of its kind.
Opened to the public in June 2007, the €34m Istanbul shopping centre has been hailed as one of the most exciting additions to Istanbul in modern times. The pioneering design won the process category of the 2008 European Business Awards for Environment for the geothermic technology used throughout the building.
FDT brought more than 30 years of technological expertise to the entire roofscape with its most advanced membrane, Rhepanol hg.
Rhepanol hg was specified because it provides a completely waterproof and root-resistant cover, allowing the roof to be planted up and thus offsetting some of the development's carbon emissions.
Some 35,000sm of flat and sloping roofs were planted with vegetation, providing a much-needed rooftop green oasis for the city's 14 million residents.
The remaining 20,000sqm is gravelled to provide a public square – complete with lush vegetation and a water feature which can be used as a skating rink in winter.
Installing the build up on 700  pitched areas – unusually high for green roofs – was a major success for FDT, who provided all the specification and technical support to the architect and owner
Name of project:  The Warrens Medical Centre
Location:  West Wirral
Product:  FDT Rhenofol CG with sedum green roof
A Rhenofol CG sedum green roof helped secure a silver Green Apple sustainability award for a West Wirral healthcare development, which also won the LRSA Design Award 2012. Built on greenbelt , the Warren Medical Centre was designed by BRP architects of Market Harborough. SIG Design & Technology designed and supplied the roof build up.
Sustainability was key to achieving planning consent and the curved plan form of the building over two floors reduced the scale and mass of the 2000+ m2 design and build project. The building was lowered into the ground by two metres to maintain the silhouette of the broadleaf woodland backdrop. Local materials such as such as natural stone, natural green oak cladding and three species of sedum were chosen as they will gradually mellow and harmonise with the backdrop. The building was designed and constructed to achieve an Excellent BREEAM rating.
There are two curved green roofs together covering some 1083m2. A built up green roof was chosen over a modular system as facets had been removed using plywood sheeting. The 150 m2 roof to the rear is waterproofed in Rhenofol CG only and houses photovoltaic panels and mechanical plant. Surface water run-off is facilitated through the green roof and permeable paving systems contribute to a SUDS drainage solution.
Suitable for green roofing projects, Rhenofol CG resists weathering, chemical oxidation and UV radiation and retains its physical properties over a wide range of temperatures. The polyester fleece backing can be bonded or loose-laid when ballasted.
The final testimony to the success of the building rests with the patients and staff of the West Wirral Group Practice […]
Name of project:  Goats on the Roof Cafe
Location:  Fontburn, Rothbury
System:  TPE single ply mechnanically fixed
Product:  Spectraplan SM120 light grey
Contractor:  Redhead Roofing
Size:  300m2
Rarely included in building contracts are specifications allowing roof top access for climbing goats.  But that is exactly what Newcastle-based contractor Redhead Roofing LLP faced after winning a contract to install the green roof system for a new build visitor centre and cafe, called Goats on the Roof, at Fontburn near Rothbury.
IKO Spectraplan SM120 dark grey was specified and installed to the 300m2 roof area, ready to receive a green roof system.  The system provides a sustainable green roof covering and provides the perfect playground for a rare breed of climbing goat called the Bagot, resident at Fontburn.
Fitting a system which allows goats to access and climb around the roof top certainly is a unique job and the most unusual challenge faced by Redhead Roofing in the company's 25 year history.
Spectraplan is only available in the UK from SIG Design & Technology and can only be installed by an IKO Single Ply trained and licensed contractor.
Name of project:  Sandbanks Court
Location:  Poole, Dorset
System:  TPE single ply
Product:  Spectraplan SM120 light grey membrane
Contractor:  Landmark Living Roofs
Size:  55m2
Sandbanks Dorset has become a popular location for the rich and famous and this one-time sand-dune shanty town is now being described as the UK's answer to Monte Carlo.  With its pristine golden sand beaches and its Mediterranean like climate, it has quickly established itself as a millionaires' playground.  Sandbanks Court apartments are situated within the expensive up-market area of this coastal peninsular and enjoy spectacular panoramic views across the sea.
A green roof system was selected for this project as the client required a roof that would complement and accommodate the step in levels to follow timber decking lines to the 55m² roof terrace areas.
IKO Single Ply's Spectraplan SM120 light grey single ply waterproofing system was overlaid to the existing roof and newly built sun rooms, ready to receive a green roof system. Offering exceptional mechanical strength, enhanced UV stability and long term waterproofing performance, the Spectraplan TPE system offers the most advanced polymer technology available in the industry. Safe, reliable welding characteristics make it the material of choice for complex roof structures and those requiring rapid installation.
The external roof area has proved a real success with its users and they can now enjoy the new found lease of life to their rooftop with a view of the Dorset Coastline.
Green roofs offer multiple benefits for both the environment and the building occupants including, improved air quality and aesthetic appearance, better thermal and acoustic performance and increased roof life expectancy.  These extensive systems can be installed on a wide range of buildings, including schools, houses and commercial offices.
Spectraplan is only available in the UK from […]
Name of project:  Plummerswood
Location:  Overlooking the River Tweed
System:  TPE single ply
Product:  Spectraplan SG120 dark grey membrane
Contractor:  Aim Develpments Ltd
Size:  300m2
A stunning new 'brown roof' is the crowning glory for a private dwelling overlooking the River Tweed.  The project has been designed to last 100 years and takes into account the requirements of future generations of the family.
The house is the first to be constructed in the UK with zero heating requirements using the mass timber Brettstapel technique. Passive technologies such as orientation for daylight and solar gain, super insulation and air-tightness levels have been utilised in order to achieve the internationally recognised Passivhaus standard.  The main superstructure was prefabricated in Austria and shipped to the site in the Borders area of Scotland.
For the roof, the client wanted to mimic the existing gorse land environment to lessen the visual impact and a brown roof system was chosen for suitability.  A brown roof, also referred to as a Bio-diverse roof, would provide a habitat capable of supporting wildlife as well as enhancing the appearance.
For the main flat roof area, Spectraplan TPE SG120 Light Grey single ply membrane was installed.  Spectraplan TPE membranes are free of halogens (Chlorine, Fluorine, Bromine and Iodine), softeners, (H)CFCs and heavy metals, fitting in with the green credentials on the property.  A brown roof system was laid on top of the single ply membrane.
Spectraplan is only available in the UK from SIG Design & Technology and can only be installed by an IKO Single Ply trained and licensed contractor.
Name of project:  British Horse Society Headquarters
Location:  Stoneleigh Deer Park, Warwickshire
Client:  British Horse Society
System:  TPE single ply loose laid
Product:  Spectraplan SM120 light grey, Spectravap 1200
Main contractor:  Hodge Single Ply Roofing
Size:  2200m2
Under the patronage of The Queen, The British Horse Society represents the interests of the 4.3 million people who ride horses or drive horse-drawn vehicles and represents the gold standard for the equestrian industry.
The headquarter buildings on Stoneleigh Deer Park were already past their prime when they were acquired by BHS in 1997, with two of the three buildings dating from the Second World War. As the years progressed, they came increasingly to represent a liability, being expensive to heat and maintain and impossible to keep cool in hot weather.  So in November 2009 the new 2200m2 HQ project commenced.
The British Horse Society headquarters is on a listed deer park with many protected trees.  The building's circular design posed key construction challenges.  The single storey office building was constructed in a doughnut shape, to ensure that a mature oak tree on site was preserved.  This tree now takes centre stage and, in keeping with its green surroundings, the European oak-clad building has a living sedum roof. Internally the building houses offices, a board room and conference room with floor to ceiling glazed wall partitions.
Spectraplan SM120 Dark Grey, a polyester reinforced TPE waterproofing system was mechanically fixed to a composite metal deck, ready to receive a sedum blanket.
A TPE Spectraplan SM120 Light Grey membrane was installed loose laid as to avoid contaminants entering the water which the tree feeds from.  Hodge Single Ply constructed the roof from the concrete slab upwards, with a 1 metre wide perimeter built from 18mm plywood on a […]