"In this issue, can I welcome and introduce to you Ian Dryden our National Specification Manager for Bituminous Membranes.
With some two decades of specialised experience, Ian has joined SIG Design and Technology and is responsible for the SIGnature range of Torch-On bitumen membranes which is now exclusively available from us. Also, joining our team is Daniel Campbell who is working alongside Ian and covering the southern half of England.
Why not use SIG Design and Technology's complete #PerfectRoof service. Remember that we design, supply and guarantee your roof 'from the deck up' to provide you and your client with peace of mind."

Mike Crook Trading Director

RW5alessonwelllearned

Not long after completion, the Foundation Stage and Children's Centre building at Layfield Primary School in Yarm started leaking. Water ran down internal walls and damp patches spread across ceilings."We had problems with water ingress. We had to replace carpets and lots of ceiling tiles," says school business manager Sarah Powell.
Fortunately, the problem has now been solved with the help of SIG Design & Technology and accredited SIGnature Installer, Roofix Ltd. Design & Technology specified its SIGnature Torch-On System to remediate the leaking roofs once and for all. By avoiding complete stripping of the failed roofs, this strategy provided significant cost savings.
The leaking roof area consisted of two pitched oval roofs with a flat roof below. SIG's investigation identified the cause of the problem as the oval roofs, where inadequate detailing around the perimeter upstands and at the intersection with the lower roof had allowed water to ingress and find its way through to beneath the flat roof and down the walls into the school.
"It was a constant battle for the school. Both flat and pitched roofs needed to be remediated. It was clear that the 450sqm flat roof was damaged beyond repair and needed to be stripped right back to deck," says Ian Dryden. A new roof was then added using the SIGnature system, specified with the self-adhesive SA VCL Vapour Control Layer, tapered insulation, SIGnature 25 Underlay and SIGnature AA Capsheet.
SIG managed to find an economical solution for the 250sqm pitched oval roofs. By leaving the original single ply roof in-situ saved an estimated £60+ per metre. SIG worked with Roofix Ltd to install the SIGnature system as an overlay. To address the issue of potential plasticizer migration between the old and new roofs, a 300g separation fleece was fitted on the original roof followed by a mechanically fixed SIGnature25 underlay and a fully-torch bonded layer of underlay and cap sheet. The second, crucial phase of the work was the correct detailing of the junctions with the flat roof and the upstands around the roof perimeter. 

"The roof has been 18 leak-free months since the repairs, says the school's Sarah Powell. "It's a massive relief to have had no further disruption."
RW5howroofixgotitright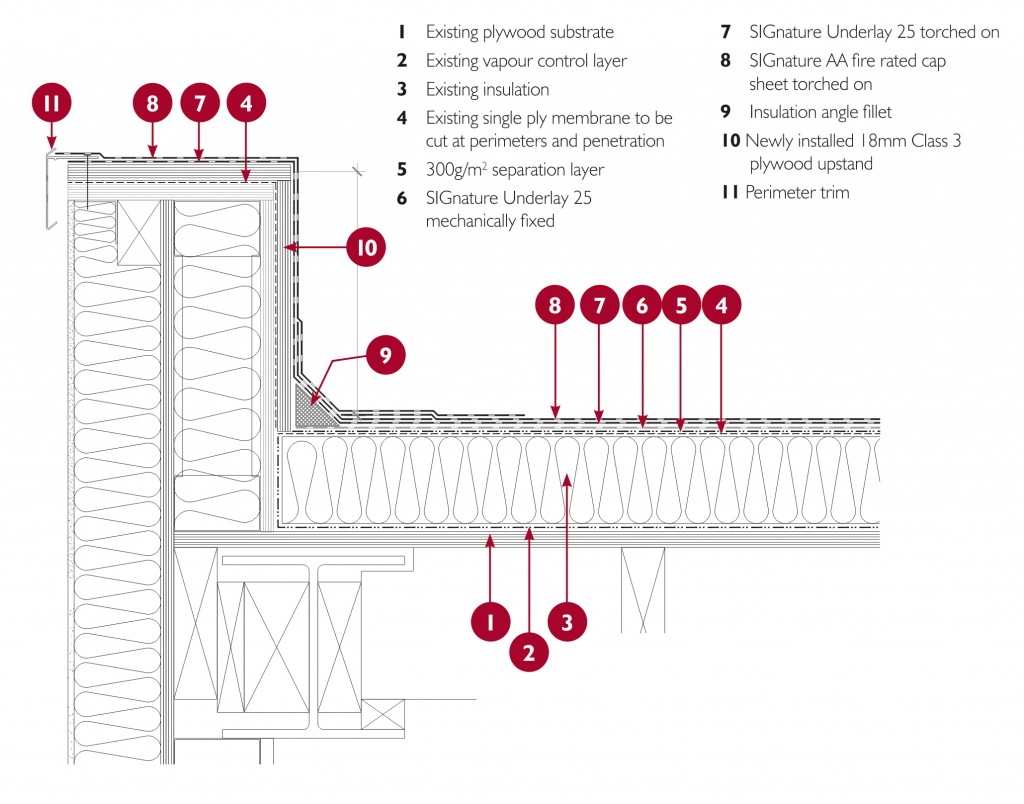 Our case study at Layfield School in the North-East reveals what can go wrong when a roof's detailing is badly installed and how it
was put right, backed up by the reassurance of a 25-year guarantee.
Before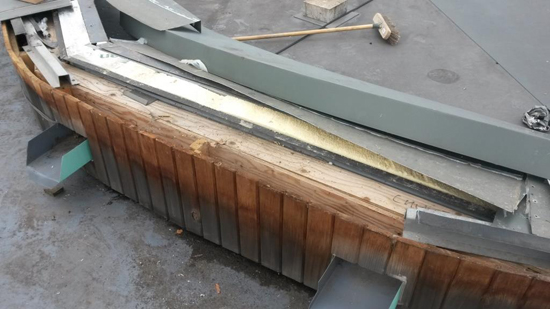 The external perimeter detail to this roof at Layfield was held together with mastic and the upstand was only 50mm high. Saturated with
rainwater, the insulation protruded into the parapet chute.
After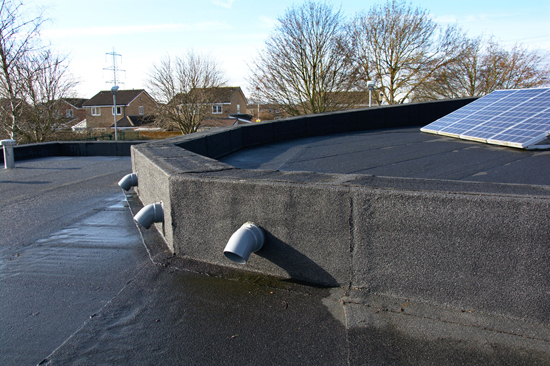 Now, a fully encapsulated upstand detail ensures a robust finish. Completed with parapet outlets, the insulation remains moisture-free.
Detailing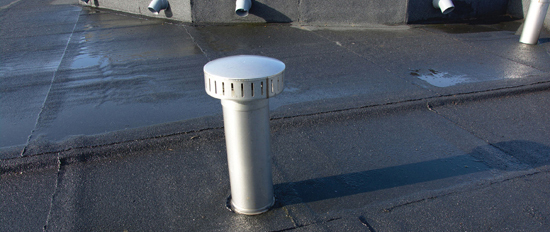 A factory-sealed SVP unit ensures a watertight seal which avoided
the need for complicated and time-consuming detailing around
circular penetrations.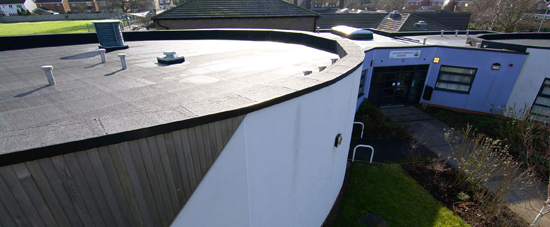 Roofix Ltd found a clever way to close mitre cut and bend the
GRP trim in-situ to fully encapsulate the upstand as an alternative
to the original failed metal capping while adding add an elegant,
aesthetic finish.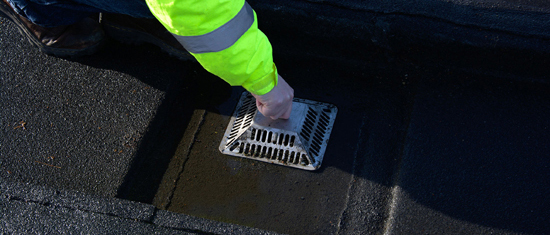 Outlets, complete with U-Flow seal, ensure that in the event of
a blocked downpipe, any rainwater is retained on the roof to be
dispersed to prevent water ingress inside the school.
RW5howtoavoidfailedroofs

Spend time getting the interfaces detailed correctly, particularly those between different materials and around perimeter upstands.
Use Design & Technology's design, supply and monitored installation service. Even the best products can fail if not designed and installed correctly.
Make sure all the products (and your workmanship) are covered by the warranty.
RW5signaturetorchonsystem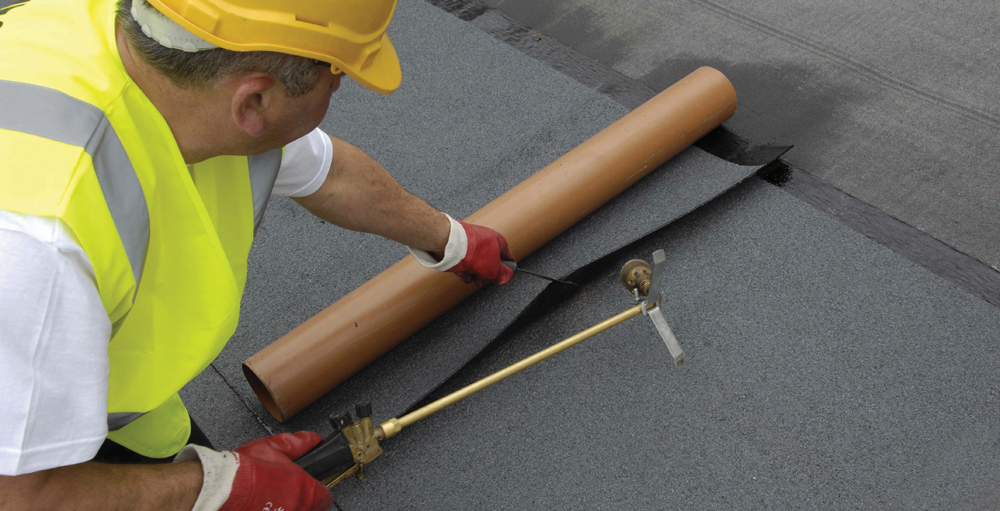 Designed for new work or overlays, this bituminous roofing system comprises fire rated torch-on cap sheet, underlay and vapour control layer and is suitable for warm or cold roofs. There are three underlay options with the potential for either 20 or 25 year warrantees:
SIGnature Underlay25 – polyester carrier, reinforced, SBS, torch applied intermediate or base layer. Twenty-five-year warranty when used with the SIGnature Fire Rated Cap Sheet.
SIGnature Underlay20 – A glass tissue carrier, reinforced, SBS, torch applied intermediate or base layer. Twenty-year warranty when used with the SIGnature Fire Rated Cap Sheet.
SIGnature Underlay SA (Self Adhesive) – An elastomeric selfadhesive, polyester fabric reinforced underlay, coated with SBS modified bitumen. Twenty-five-year warranty when used with the SIGnature Fire Rated Cap Sheet.
Become a SIGnature Installer
Experienced BUR installers are invited to join our Accredited SIGnature Installer scheme. Contact Sara Jelly at the D & T office [email protected]
RW5contacts

Daniel Bosworth, Design Manager
Jorge Bonet & Matthew de Jong, Technical Support Advisors
Sara Jelly, Roofing Academy Manager 01509 501 738
General enquiries: 01509 505 714
Technical help: 01509 501731
Email: [email protected] or [email protected]