Join more than 900 others and subscribe to the Roof Design Technical Blog to receive informative, impartial advice on roof design including flat roofs, green roofs, single ply and metal roofing and cladding.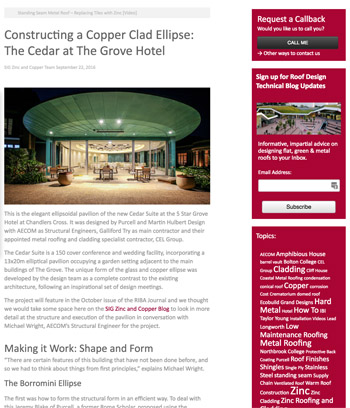 Help your roof designs perform efficiently, save energy and carbon and integrate with other technologies. With decades of experience, our blogging team give you confidence to make the right design decisions, backed up with a wealth of example projects you can use to satisfy your clients and insurers.
Get articles like this and more in your inbox when you subscribe:
How to design green roofs at pitches above 45 degrees
How to install an instant sedum roof (with video)
Why Zinc roofing and cladding is so popular with Architects
Avoiding Metal Theft from Roofs with practical alternatives
Comparing Single Ply roofing Membranes
How to prevent flat roof leaks and failures
Meeting acoustic performance standards in Schools
NEW: Natural Slate Knowledge Base posts also an option
Or subscribe via RSS using this link.
Please note, we will not use your subscriber email for anything else other than to send you the blog posts, we don't blog more than three times a month, and you can unsubscribe at any time.