What is the future for hotel design after Covid? Seminar Review and Recording
Last week Architecture Today and SIG Design and Technology hosted a webinar focused on hotel design and how it is changing under the COVID restrictions.
Three expert speakers, facilitated by architectural journalist Ruth Slavid, frequently concurred on the issues and their discussion was fascinating.
The Architects were Dexter Moren, Partner at leading hotel design practice Dexter Moren Associates, and Mark Kelly, Partner at PLP Architecture who recently led the team on the design for ONE Bishopsgate Plaza in the City of London. They were joined by Ross Finnie, sales director at SIG Design and Technology.
What does COVID mean for Hotels?
Mark Kelly summarised the message from both himself and Dexter Moren very well:
Hotels as a whole will have to
Increase confidence levels to maintain occupancy rates;
Diversify and increase their appeal to a wider audience;
Increase amenity space and allow for change in circulation;
Increase room sizes to allow for a variety of uses, and
Invest in new technologies for cleaning, materials and guest interaction.
New Hotels will have to carefully consider
Location constraints and opportunities;
Relationship to open space which is needed more and more;
Natural ventilation, balconies and localized air conditioning;
Greening and sustainability opportunities, and
Improving connection to the local community.
The length of the challenge
Mark began his talk by arguing that there will be long lasting effects of the COVID pandemic. The last recession created a long-term dip in business travel which took nearly a decade to recover. It will take some years for vaccines to show their effect in communities, and even assuming a vaccine is deployed early in 2021, PWC's research predicts that it could take four years for UK hotel occupancy rates to return to pre-Covid levels.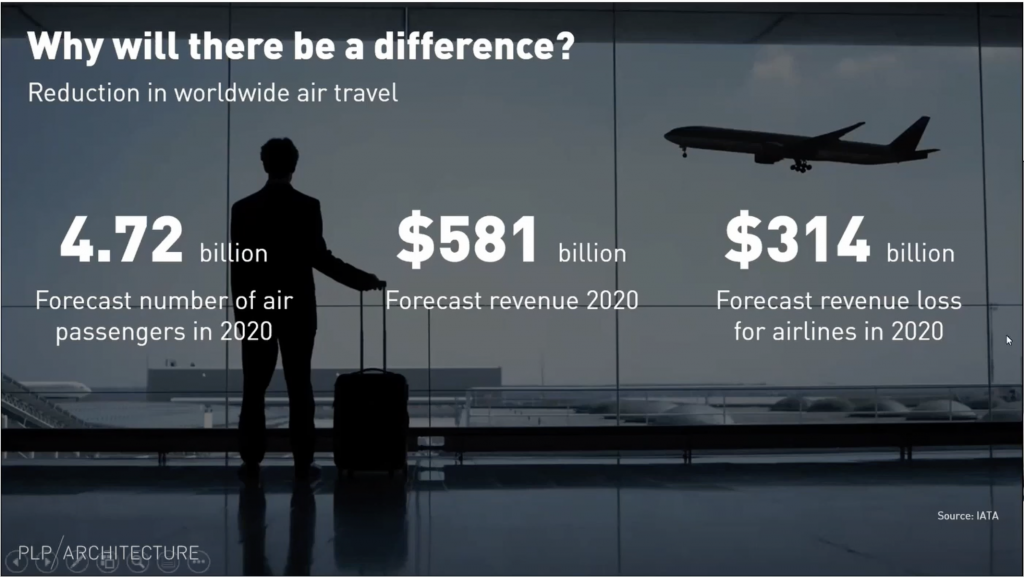 Mark believes that the guest of the future will be more likely to be a business traveller, tourist, GenZ or Millennial than before COVID. He believes guests will be looking for extended stay periods, security and private spaces for work, as well as the opportunity for contained social interaction.
Hotels are already changing
Dexter pointed out that hotels were already reinventing themselves as active neighbourhood facilities before COVID, attracting people to their lobbies to meet and work even without booking a room.
This is expected to increase in the coming years because hotels have a huge brand advantage in being seen both as a destination in themselves and a secure, safe place to stay.
You can already find a place to work in a hotel lobby by buying a coffee. Creative hotel developers and designers are working on making these spaces less like furniture showrooms and more like memorable, enjoyable places to be. Hotels are no longer a home from home; rather they offer a different experience where you can get out of your home and experience new surroundings. The new Westin City of London  which opens next year on the riverfront is an excellent example of this.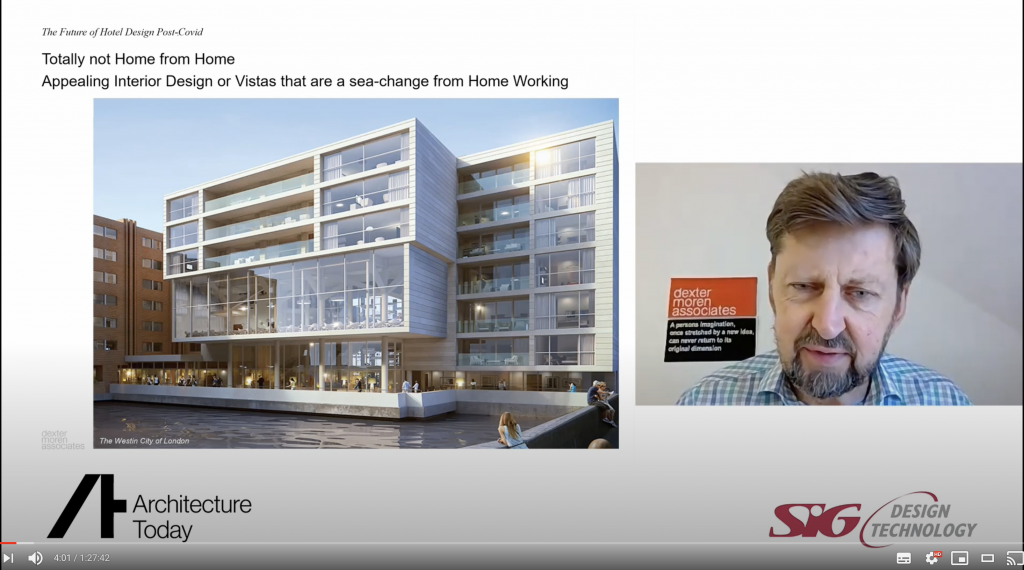 Mark believes hotels need to hybridise, offering a greater mix of facilities such as business support and leisure.  Both speakers focused heavily on the changes which evolve from two very particular audiences: people who want to work somewhere, and people who want to meet others safely. Hotels, aparthotels and private rented facilities can all offer great social spaces to work, eat and meet.
This idea spilled out into the Q&A with a discussion about informal spaces and how they can add revenue for hotel operators, with retail in particular an opportunity.
The Lobby
Being a 24-hour business makes hotels ideal to support a local economy. Local people can pop in and buy freshly baked bread or croissants for breakfast, or artisanal goods for dinner, whilst stopping for a glass of wine or a coffee. Local businesses can be showcased in hotels which act as a hub of the community.
In the short term, social distancing has been enforced through 'duct tape' solutions but now designers are moving forward by creating naturally socially distanced space.
Events will still happen, but they will need more space. This is why Mark Kelly argues that amenity space will need to increase in proportion to room space, which will adapt to fewer, larger rooms. People will still want to organise events from shareholder meetings to wedding celebrations. More space will be needed for these activities, with more flexibility such as active partitions and moveable walls. This has implications for safe circulation.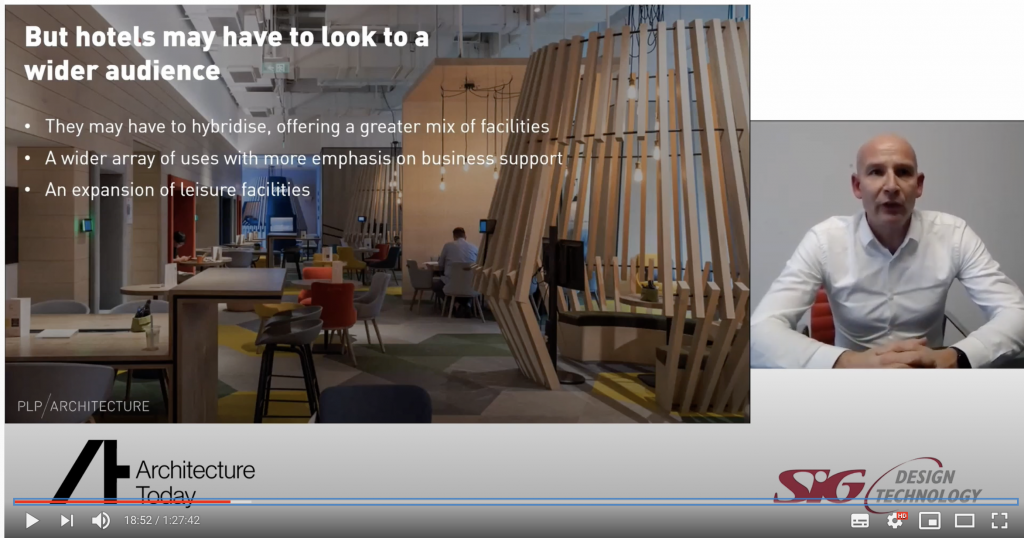 Exclusive gym, swimming, spa and leisure facilities will be even more important attractors for guests. In New York, private club membership has been soaring in recent months as private clubs provide very attractive secure spaces for work and escape for discerning members.
Flexibility is also key for dining. Hotels need to cater for a wide range of dining needs. Private dining will be more important, as will both internal and external dining options, and Mark recommends that designers consider greater connectivity between kitchens and dining areas.
The way hotel design is evolving might just be a catalyst for change in the whole travel industry and local communities. Before COVID, Dexter argues that hotels were already the lifeblood of a dying high street, and now they are becoming an extension of the traditional concierge service.
Smart technology is becoming more important to hoteliers, both for social distancing and convenience reasons. Guests can check in like they check in for a flight, requesting food via an app. There are also new ways of communicating with buildings that weren't available just a few years ago. PLP are working on apps that help you to interact with buildings in a wide variety of ways, incorporating sensors, density monitoring to help social distancing and localised air conditioning systems.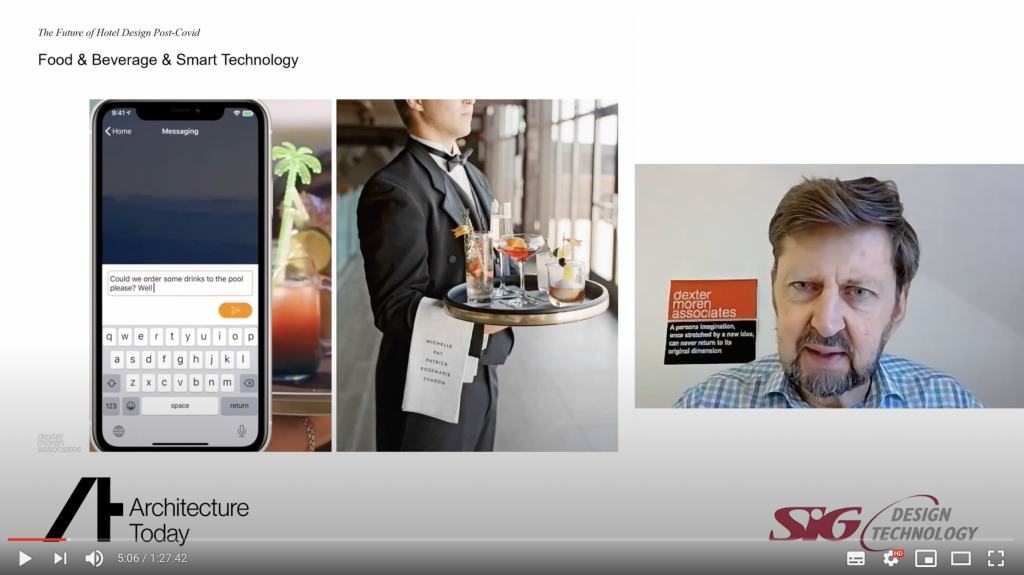 This injection of technology doesn't mean a reduction in personal service, simply that a personal service becomes more concentrated into those human interactions that we can have.
Mark described the hotel he's working on at ONE Bishopsgate Plaza. It's a brand-new tower which includes a frontage onto an existing listed shopping street. The front door is no longer just the entry to a hotel but part of a city ecosystem, offering retail, restaurant and other services which are part of the perception of the whole brand.
The Room
Bedroom design has also evolved into a touch-free, sanitized, safe environment, and hotels can build upon an existing brand image that gives the customer confidence.
Hotels are uniquely placed to create this sense of security. Rigorous cleaning regimes are being increased and they have taken to promoting good hygiene. Initiatives include leaving rooms fallow, deep cleaning between stays, making housekeeping on request rather than daily, staff health checks, employee bubbles, and the use of UV light and other cleaning techniques.
To promote these initiatives many are partnering with medical organisations to offer Hygiene Excellence Standards. Mark addressed a question about whether the sector is overreacting before sufficient information is available, by inviting hoteliers to investigate the benefits of community interaction and sustainability which have been addressed by other sectors already.
Hygiene begins in the lobby but also reinforces at the threshold to the room. Dexter Moren Associates have recently designed a hotel room access point which includes an inbuilt, plastic-free hand sanitizing device and options to interact digitally with hotel services.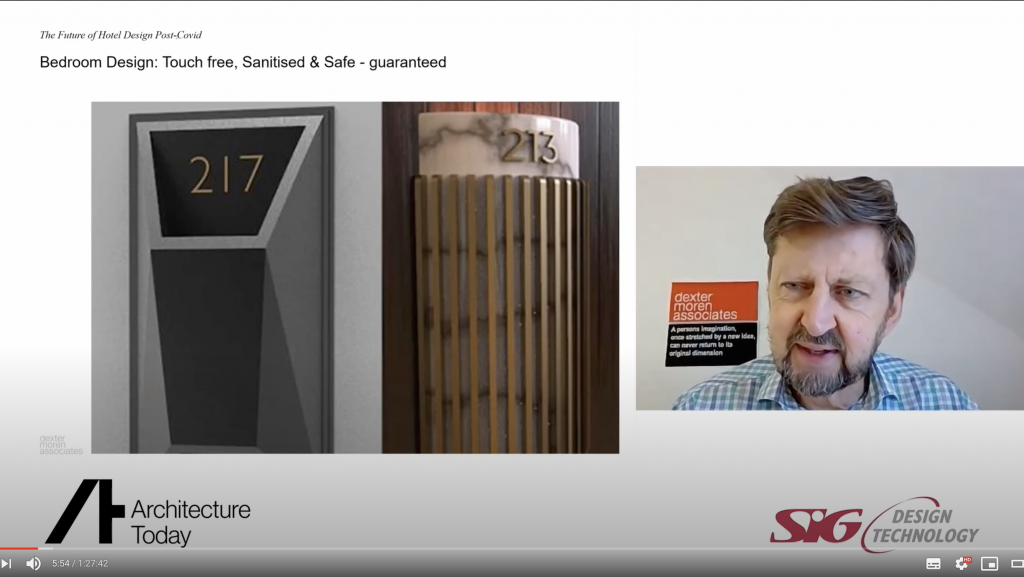 Working in a hotel room has always been important for business travelers. Dexter explained that design offers differentiation opportunities for work, even to the extent of renting out flexible rooms separately for work during the day and sleep at night. Hotels are increasingly offering in-room exercise space, kit and technology, and other working environment initiatives such as 'zoom booths'.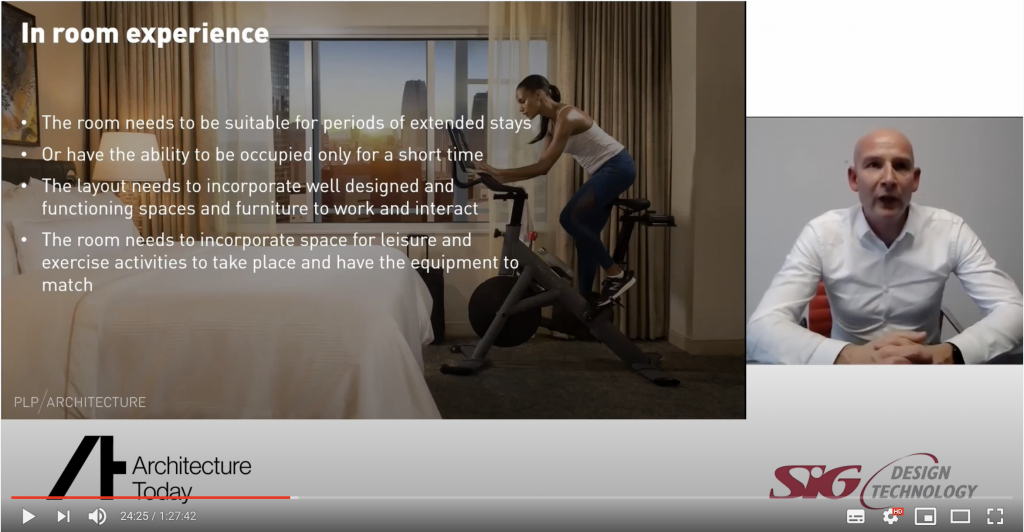 Material choice is also changing. Mark mentioned self-cleaning materials, and Dexter discussed the viral surface retention of different conventional materials; Copper and paper have very low retention compared to stainless steel, glass or plastics, so this will affect surface design.
Fresh Air and Outside Space
Both architect speakers talked about air handling changes and the importance of more, flexible outside space. Dexter believes that there is a move away from totally contained air handling units to more individualized systems such as DMA's concept design for 'popped out' window seats with their own air handling and individual control.
Alongside a need for personal control is the need for outside space. Local planning increasingly stresses the need to incorporating nature, and hotel designers could benefit from incorporating inside/out and transitional spaces with nature included.
Whilst exclusive rural hotels have a huge potential to attract guests post COVID, an urban hotel needs to offer a broad range of amenities to business and tourist guests, and plenty of use of external spaces. Mark believes the design and integration of managed external spaces will be crucial to help a hotel survive in a post COVID world.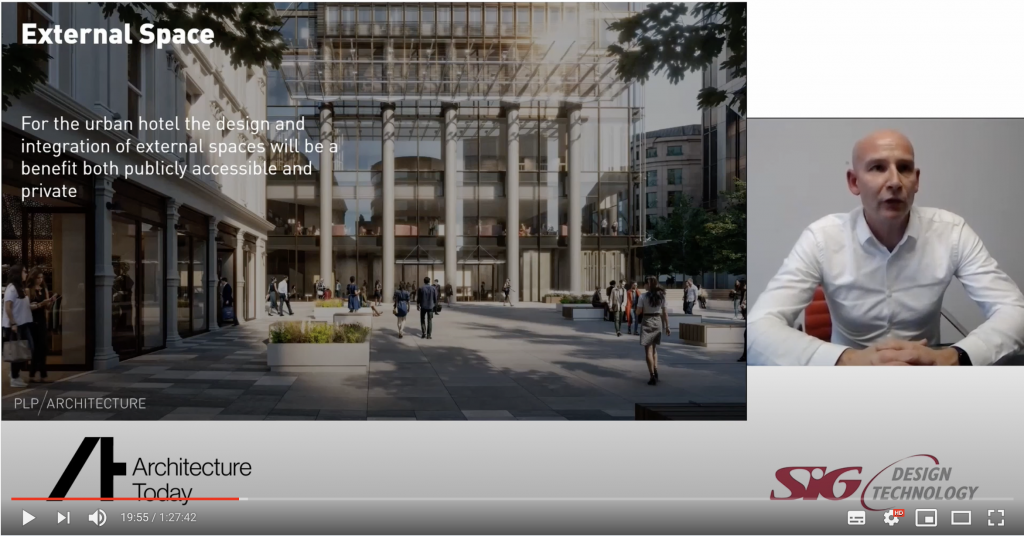 This focus on better air handling and more use of outside spaces could also have the positive effect of improving the sustainability of hotel design. There may be a reduction in air conditioning energy and chemical use overall, passive cleaning techniques will reduce the need for using harmful materials, and there will be a reduction in consumables and laundry requirements.
One of our questioners asked about applying some of the adaptations of urban hotels to rural hotels. Mark explained that country hotels still have to adapt to new technologies such as contactless check-in and other guest interfaces, upgrade the in-room dining facilities and ensure that room sizes are not too small and are made more flexible.
Making use of the Hotel Roof
The discussion of outside space provided a useful transition into the presentation by Ross Finnie, Sales Director at SIG Design & Technology. Ross provided an overview of the opportunities of using roof spaces more effectively – maximizing the roof whilst minimizing the risk to designers and their clients. With the increase in the cost of land and need for external space Mark and Dexter described, flat roofs are an opportunity for useable and functional space:
Useable: such as Sky bars, roof gardens and terraces
Functional: such Blue roofs, Green roofs and other greening opportunities.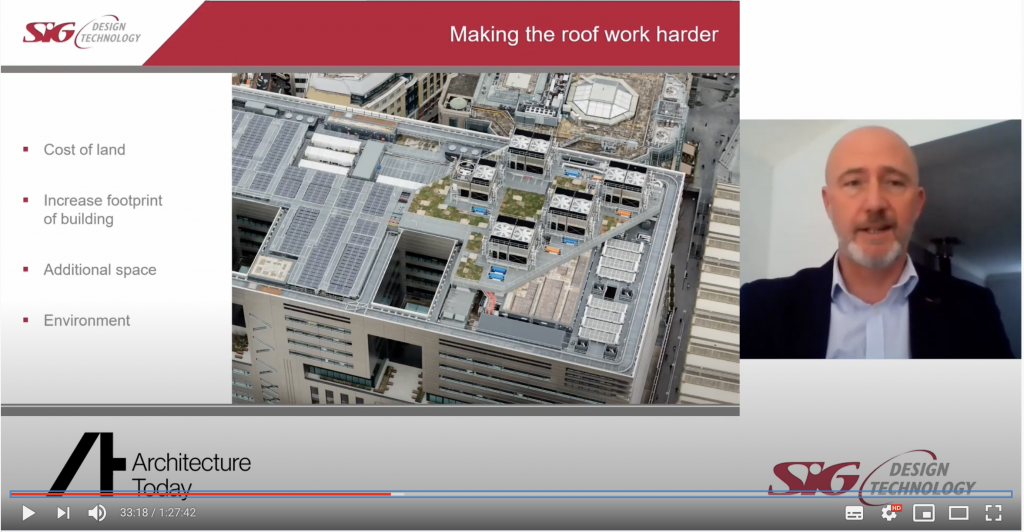 A blue roof can combine the functionality of storing water and complying with urban drainage requirements, whilst including a green roof element can provide aesthetic and environmental benefits together with terraces and paving to provide useable space.
Ross continued by giving advice on product choice, design factors, buildability and guarantees. For example, loading calculations are very important when considering retaining water or growing media on a roof. Blue and green roofs do take up more depth and it's important to consider this in regard to any planning constraints. Ross advised that architects talk to specialists early to ensure that all the requirements for insulation, fire protection and the impacts of height restrictions are considered in good time.
Ruth asked Ross about the adoption of Blue Roofs. They have been around for a long time but take up has increased. Ross wrote an article seven years ago about what he didn't like about blue roofs, but the technology has improved considerably to meet the requirements of urban infrastructure planning, and they are much more popular as a result, particularly for hospitals and hotels.
One of our audiences raised the opportunity of making useable roof spaces mandatory and this was welcomed by the speakers. Mark described how MEP design is often a blocker for other roof uses – plants not plant. Dexter agreed, but emphasised the importance of considering the location of the hotel, considering the noise emissions close to residential areas, for example.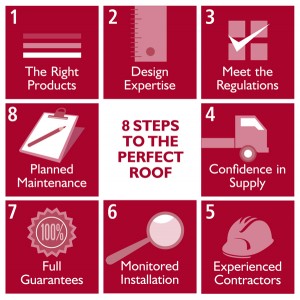 Product choice is also important. SIG recommends a full design, specification, product choice, installation and maintenance package. This can give you a single system guarantee, which will give your client confidence and reduce the risk of issues with the roof or disputes about responsibility. Sequencing of the work on site is essential to avoid using the roof as an inappropriate 'working platform', leading to damage.
SIG Design and Technology works with a range of manufacturers to help recommend the correct products and systems for specifiers and their clients. We complement this advice with a design and compliance service, a team of accredited contractors, inspection and maintenance. You can find out more about our services here.
We've also produced a flat roof checklist which takes you through the questions to ask and answer about your roof design. Download it here: http://bit.ly/flatroofchecklist
If the review above piques your interest, you can watch the video with the wide ranging Q&A session here: