What is the future for hotel design after covid? #ATHotels
Next week we'll be taking part in the Architecture Today seminar "What is the future for hotel design after covid?" which takes place on Thursday 26th November.
The worldwide pandemic has changed people's priorities and the hotels sector is exploring opportunities to adapt to the requirements of a post-pandemic world and reinvent itself to reconsider and reactivate existing spaces to cater for new demands, expectations and customer behaviour.
Even prior to the pandemic, the serviced apartment and aparthotel sector witnessed the largest year-on-year growth of all UK serviced accommodation and the demand for self-contained, spacious accommodation provided by a specialist operators, guaranteeing high standards of hygiene and clean lines will provide tough competition for the homestay market.
Overall the industry is grappling with a range of new expectations and demands. How will this impact development and design decisions and the role of the hotel?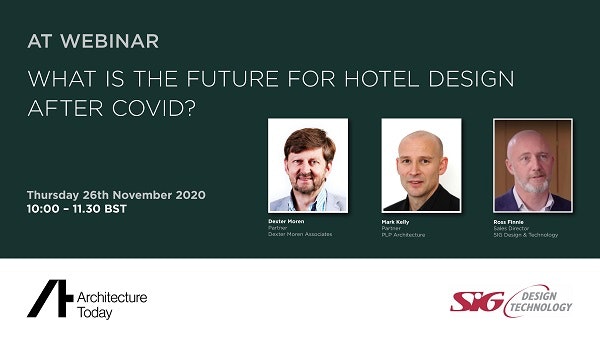 The event will explore the following topics :
How will hotels reinvent their model to cater for the new demand in remote working and meeting space?
What is the opportunity for the Serviced Apartments and Aparthotels sector?
Can hotels reinvigorate the high street by providing new spaces to meet and work?
How will guestroom design change to cater for multiple activities within the same space?
What role will smart technology play to regain guests trust?
How will materials feature in creating robust and cleanable surfaces?
As always this Architecture Today event will include experienced architects as speakers who will showcase particular projects, alongside experts in hotel design who will provide genuine actionable advice to the attendees.
Speakers include:
Dexter and Ross spoke at last year's hugely popular Hotel Design Seminar which you can check out on our live blog here.
How to Join Us
The Architecture Today Hotel Design Seminar takes place on the morning of Thursday 26th November between 10am and 11.30am. The format will be a combination of short, informative presentations, plenty of opportunity for audience Q&A and a panel discussion with all the speakers. You'll be able to ask questions of the speakers and you can also join us on Twitter using the hashtag #ATHotels for a wide open chat opportunity.
You can find out more about the Virtual Seminar and book to attend here.
As well as live tweeting the event we will be writing an article outlining the key points each presentation. If you want to be notified when we publish it, subscribe to receive our blog posts here.