Video: Working with SIG Design and Technology – an introduction to the 8 Steps
SIG Design and Technology are a specification arm of SIG Plc. We've produced a video to explain how we work with specifiers, architects and building owners on roof design to deliver the 8 steps to a Perfect Roof.
The video features our sales and technical team with input from two long term partners: Neil Davies, Principal Architect at Neil Davies Architects and Steve Scottorn, Senior Design Manager at Wates Construction.
'The ongoing relationship I have with SIG makes it a really efficient process – to be able to get the best advice and good specifications. That creates peace of mind."

Neil Davies, Neil Davies Architects
In the video sales director Ross Finnie takes you through our "8 Steps to the #PerfectRoof" service, which we developed to enable the marketplace to know how to deliver a roof in good condition. Whether you're designing a new roof or dealing with an existing one, the same principles apply, and we can help you on your journey.
Step 1 – Choosing the right Roofing Products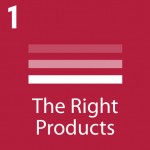 Many manufacturers will have you believe that they produce solutions for every eventuality, but this is unlikely. The roofing industry is changing and what might have been perfectly suitable in the past may have been superseded by a much better, more appropriate and more cost effective alternative.
Design & Technology was created to provide the industry with a deck-up design, supply, installation and guarantee service that is product-agnostic. This means we can look at your project with fresh eyes and recommend the right products for the job from a broad portfolio, rather than push you into a product choice that may not be the most appropriate for your project. Representing so many different manufacturers, we can give the best impartial advice on products.
"For Wates, when we select a supply chain partner it is important that we choose a trusted partner, so that we have impartial and unbiased advice."

Steve Scottorn Wates Construction
Step 2 – In House Design Expertise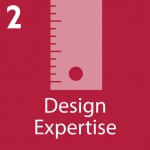 Good roofing design reduces risk and extends the lifespan of your roof; but it isn't simple, and it needs careful co-ordination. Be it a simple re-roof of an existing building or an inhabited roof with renewables, making the wrong design decisions can be costly, and the architect can be left carrying the can.
We offer the correct design advice at an early stage, ironing out all the problems commonly experienced with flat roofing. Our design service gathers the components needed to provide detailed specification optinos including surveys, design ideas, structural implications, safety at height considerations, plus the calculations required to meet your obligations.
"It is really important to engage with the client, get to know them. What are they after? That way we can offer a design solution that fits the bill and is fully guaranteed."

Daniel Bosworth, SIG Design and Technology
Step 3 – Meet the Regulations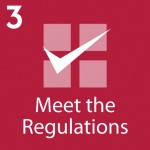 If you're relying on manufacturers to design your roof, they may not have enough technical expertise and experience to keep up to date with changes in regulations for the building types you work with.
Our design team can provide much of the information needed to ensure the roof's design and the performance it is expected to deliver, and our service doesn't stop until the roof is completed. We look at U-values and fire regs, but also drainage calculations, wind uplift and more. The aim is to deliver a robust and compliant design and specification package, so that when put out to tender the roofing contractors can all tender on the same package.
"Surprisingly for a big business, SIG are easy to deal with."

Steve Scottorn, Wates Construction
Step 4 – Confidence in Supply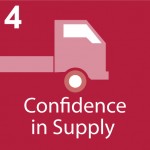 When you're selecting products for your roof, the most appropriate product is of no use at all if you can't get guaranteed delivery within your project programme.
SIG Roofing, the SIG division of which we are a part, is the UK's largest supplier of roofing materials. With over fifty years trading experience, SIG Roofing knows exactly what's important when it comes to supplying a building project and has built an enviable reputation for providing a smooth, trouble-free delivery service. You might not have heard of us, but your contractor will!
SIG Roofing has over 100 networked branches across the country. We can stock these branches with over 40,000 products for use in every sector of the roofing industry, enabling local supply to fulfil your project locally. This brings many benefits from reduced mileage and speed of delivery, to a range of vehicles to deliver to even the most inaccessible site.
Step 5 – Experienced Contractors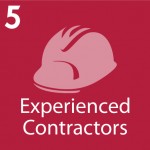 We have our own in-house training school in Loughborough, where we train the contractors in the materials we are suppling. We certify our contractors and monitor their work to be sure they are experienced enough to deliver the specification advice we are giving to the architect. This means that the roof will be fulfilled and delivered to the end user by a team of experienced installers to the design and specification we recommend.
Step 6 – Monitored Installation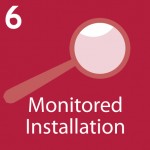 To support our experienced contractors in our DATAC accredited scheme, we also monitor the installation of the products through an independent team of highly skilled field technicians. They inspect the works making sure the products are installed as per manufacturers recommendations, backing this up with photographic evidence. This evidence is used to support the roofing contractor to evidence and give confidence to the client that the project has been delivered to specification.
Step 7 – Full Guarantees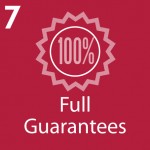 To be able to offer reliable guarantees is essential to a successful project. SIG Design and Technology work with so many different manufacturers, so we can be honest with the end customer about the advantages of different manufacturer guarantees and help them make the correct decision on that basis.
Wates as a business is very risk averse. What D&T offer us is a very thorough design service which is supported by SIG's PI. What we have is a consistently robust specification.

Steve Scottorn, Wates Construction
Step 8 – Planned Maintenance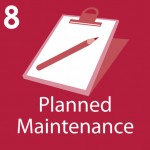 The final step of the process. There is no such thing as a magical flat roofing product that delivers a roof you never have to maintain, and the British Standards require that flat roofs are maintained at least twice a year.
If you want to deliver a flat roof that performs, then a planned maintenance schedule needs to be introduced.
At SIG Design & Technology, years of experience designing, re-roofing and handling flat and green roofs can be brought to bear on your project, so that the roof is designed for appropriate maintenance that suits the client.
Work with Us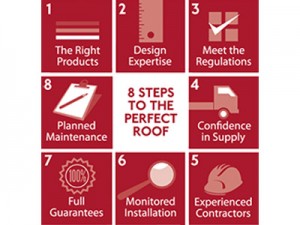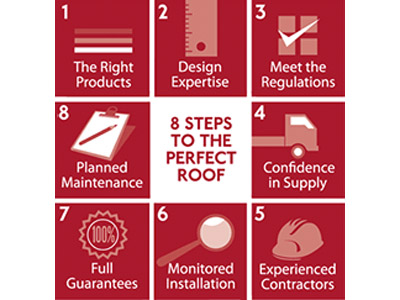 With all these steps we are supporting the specifier to deliver what they specified, every time. Each step in the process removes or minimizes the risks associated in delivering a flat roof, so that we end up with a perfect roof and installation.
The 8 steps are very relevant to designing and installing a roof that won't give you any future problems.

Steve Scottorn, Wates Construction

I think the exciting thing about SIG is the relationship that we have built up. We can grow in our own separate ways, but we can grow together.

Neil Davies, Neil Davies Architects
If you'd like to work with SIG Design and Technology on your project, get in touch.