When to use VIP Insulation – Vacuum Insulated Panels
This article introduces VIP (Vacuum Insulated Panel) Insulation, explains the benefits and the risks of using them and looks at some typical applications. We also explain why we recommend a particular VIP product.
We've been writing about the challenges of flat roof design for many years and one of the constant themes is to design them early. Flat roofs often become the recipient of other decisions earlier in the process, leading to problems with upstand heights, lack of adequate falls and low door thresholds. This is why we encourage architects to both design 'from the roof down' and "from the ground up". You don't want to run out of space.
That said, there will always be situations, particularly in roof refurbishment projects or conversions, where you might not have enough height to meet the requirements of the building regulations, no matter how diligent you are.
This is where VIP insulation can come in.
What is VIP Insulation?
Vacuum Insulation Panel, also known as VIP, is a new kind of insulation material for construction, used to meet very high thermal requirements. This high performing insulation is achieved by wrapping a rigid fumed silica core within a high barrier envelope from which the air has been evacuated. The combination of a specialist core material and a vacuum achieves a step change in performance when compared to traditional forms of insulation.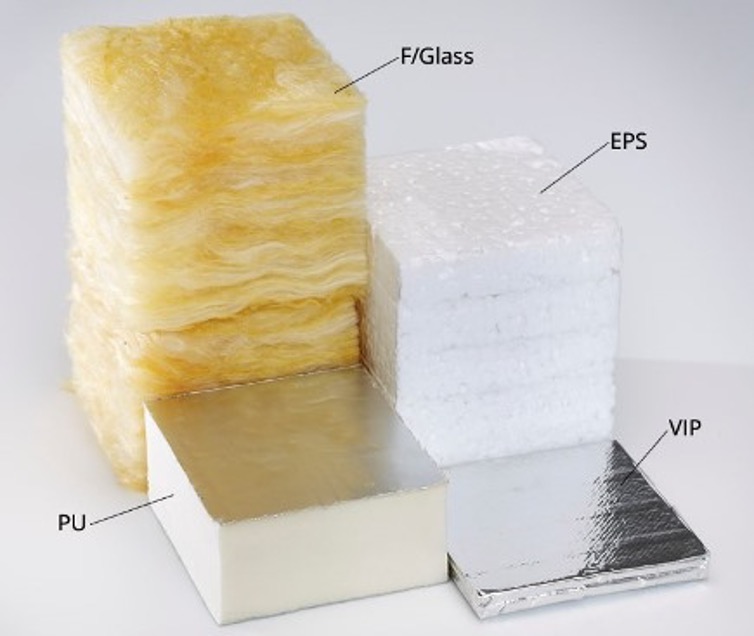 Typical Lambda values for insulation types:
Fibreglass  –        040 W/mK
EPS             –        038 W/mK
PIR             –        022 W/mK
VIP             –        006 W/mK (core only)
This huge decrease in Lambda value means that a much smaller depth of insulation can achieve the necessary U-values.
Benefits of Vacuum Insulated Panels
VIP insulation offers many benefits to the designer and specifier. In new build projects it can enable a level or minimal threshold whilst still maintaining U-values. The product generally allows designers to achieve their performance targets within thinner construction build-ups when compared with traditional insulation approaches, thus reducing construction costs and giving greater design flexibility.
In renovation projects there are more benefits. Upgrading the insulation value of flat roofs and terraces can create increased costs due to having to maintain upstand heights, for example by adapting windows, doors and rooflights. By using VIP many of these additional costs can be avoided, while keeping the thermal design highly efficient and ensuring that gutters and thermal bridges can also be properly insulated.
When to use VIP Insulation
VIP insulation really comes into its own when used to insulate terraces. Here are some examples.
Insulating a roof terrace with limited height
As VIP insulation allows low U-values with limited insulation buildup, it is ideal for insulating terraces on existing buildings, or where there is limited threshold height available. The video below shows how VIP insulation can reduce the height needed for an insulation scheme or upgrade.
Gutter Insulation on a Terrace with limited height
VIP insulation is also suitable for situations where limited height is only an issue across part of a roof, for example when there is sufficient height for conventional insulation generally, but not enough depth for insulating a gutter properly.
The video below shows how VIP insulation can be used to form a properly insulated gutter on a terrace where height is an issue, ensuring the gutter can achieve the same U-value as the rest of the terrace, thus avoiding a loss in thermal performance.
Tapered Insulation Schemes
VIP insulation can be used in tapered insulation schemes, either under the tapered insulation to reduce the overall depth, or over a screed. We offer a design service and a team of surveyors to assist you with tapered schemes and produce customised installation plans for all your insulation projects, so designing an insulation scheme doesn't have to be a struggle.
What to Consider when using VIP
The greatest challenge to using VIP is that if the vacuum is broken, then the additional lambda value provided by the vacuum is lost. If the vacuum is lost in a VIP panel the resultant Lambda value can increase to around 0.02W/mK, similar to PIR. It is therefore imperative to avoid VIP damage.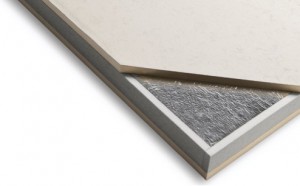 Conventional VIPs which are provided without protection can be vulnerable to puncture during handling and installation, needing extra protection layers, with material and cost implications. Installers need to be trained to know not to cut, drill or nail into VIPs and how to handle them correctly.
However, there is a solution to this problem. The best way to ensure the high insulation value VIPs offer is retained, is to ensure they have been fully encapsulated and protected at manufacturing stage, thus reducing the risk of puncture during installation and use.
With the right choice of VIP manufacturer this protection can be provided without losing thermal performance.
Why we recommend Deck-VQ VIP Insulation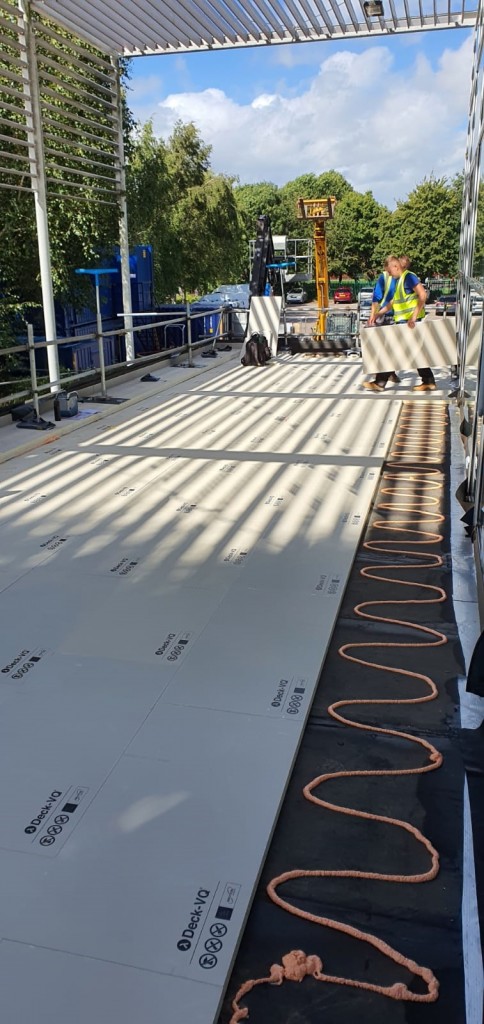 Our partners Recticel Insulation developed Deck-VQ as a specific solution to issues of VIP vulnerability on site.
Deck-VQ protects the core with high density PIR boards on all surfaces. These boards also provide insulation value, which means that using Deck-VQ insulation board at 60mm you can achieve a Lambda value of 0.008W/mK.
Deck-VQ can be walked on with no fear of puncturing the VIP within. They are easy to handle and easy to lay, and provide the thermal efficiency required.
Alongside the obvious benefits of a practical product to install, Deck-VQ also offers better U-values than other products on the market, four standard sizes and two depths, and we at SIG provide a free design service for standard and tapered schemes.
Deck-VQ is available in 45mm and 60mm depths which makes it particularly cost effective and very useful for challenging projects where height is at a premium.
More information