Vacancy – Design & Specification Engineer, Flat Roofing
[UPDATE: This vacancy is filled]
Where: Shepshed, Leicestershire
Salary: £Competitive Plus Private Health, 25 Days' Holiday + Bank Holidays, Company Share Incentive Plan, Pension Scheme, Child Care Vouchers
Due to continuing expansion we are recruiting a Design & Specification Engineer to join our technical team at Shepshed.
If you are a technical flat roofing specialist with great knowledge of the roofing industry and the associated regulations, this is a superb opportunity to take on a newly created role within an expanding company. We offer the ideal platform on which to build your career and prospects.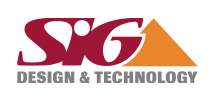 SIG Design and Technology is part of SIG Roofing & Roofline, a division of SIG plc, a FTSE 250 company, is a leading supplier of insulation, exteriors, interiors and specialist construction products. SIG Design & Technology provides a complete and impartial design and supply service built around its flat roof products, including single ply, zinc and green roofing systems, enabling the roof to work harder.
The Vacancy:
As a Design & Specification Engineer, you will be responsible for supporting internal and branch Sales Teams with technical information for our client's roofing solutions.
Dealing with general technical queries, you will undertake wind uplift calculations for both single ply and zinc offerings and condensation risk analysis and taper schemes. Providing advice and technical feedback to DATAC (our accredited contractor scheme) and main contractors and to design and specification organisations, you'll also liaise with suppliers to ensure the compatibility of designs and the maximisation of potential opportunities.
Additionally, you will directly manage one other member of staff and undertake, source and co-ordinate technical calculations and CAD detailing to support contractors.
Your other duties will include:
Providing system specific solutions which support the Sales Teams
Co-ordinating queries with suppliers and manufacturers
About You:
To be considered for this role, you must have:
Previous experience of technical specifications and designs for flat roofing
A good working knowledge of the roofing industry, specifically flat roofing
A good working knowledge of the standards and regulations associated with flat roofing
As a Design & Specification Engineer, you must be comfortable engaging with a wide variety of design and construction professionals and possess excellent presentation and IT skills. You must also be able to field queries from different parties from across the project spectrum utilising your superb problem solving and interpersonal abilities.
CAD training would be highly beneficial to your application.
How to Apply
[UPDATE: This vacancy is filled]
Additional Keywords: Job Vacancy, Careers, Design & Specification Engineer, Flat Roofing, Roofing Specification Engineer, Specification and Design Engineer, Roofing Design Engineer, Flat Roofing Specialist, Technical Roofing Specialist, Technical Roofing Engineer.