Our Top Ten Roofing Design Blog Posts of 2019
It's December and as per tradition, we're counting down the top ten blog posts from the last twelve months. Which are the most popular posts we've written on our roofing design blogs this year?
This year we are covering four blogs, including the new SIGA Natural Slate Knowledge Base which launched earlier in the year. Will they come out on top?
Here is the first half of the top ten roofing design blog posts, in reverse order. Next week we'll share with you the top five. Have a look at what you missed, tell us what you want to read about, and maybe you can help us write about what you want to know in 2020.
So wind up the gramophone, cue the music and lets started!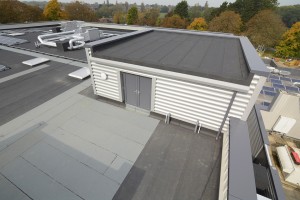 Towards the end of 2018 the British Standard BS 6229:2018 Flat roofs with continuously supported flexible waterproof coverings was updated, and we siezed the opportunity to update our hugely popular post about upstands on flat roofs.
True to form this new post which covers not only the answer to 'how high does a flat roof upstand need to be' but also explains why we need upstands, how to deal with level thresholds, and what to do if you don't have the magic 150mm, together with plenty of example details for you to use, has made it to the No.10 spot.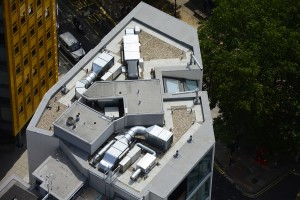 Pipping our Upstands post to the post, so to speak, is our introduction to the changes brought about by the new BS6229. This interview with Daniel Bosworth looks at all the key changes, how they affect different types of flat roof, the effect on zero falls roofs, rainwater disposal and thresholds, and the implications for architects on the design, specification and construction of flat roofs.
We are generally in favour of the changes brought about by the new British Standard, particularly in how they relate to interstitial condensation risk analysis and hybrid roofs.
The changes were also welcomed by many industry bodies including the NFRC, SPRA and LWRA, and you can see statements from their technical representatives in the post.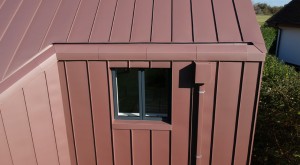 The first post from our SIG Zinc and Copper blog to make the top ten is this case study of a house in Bedfordshire clad in pristine elZinc Rainbow Red, expertly worked by master installer Richard Laver and his team from RFL Metal Roofing.
We talk to the client, Niel Shepherd of Fairfield Homes, about this four bedroomed house, the choice of cladding finish and details, and the experience of seeing a house to showcase your company ethos come into fruition.
We also begin a conversation about the excellent gutter and ridge details – more about those later.  Read about the zinc-clad demonstration house and check out the fantastic photography by Terence Smith.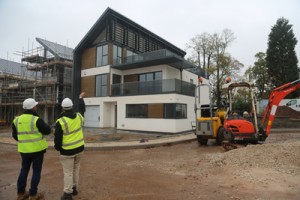 This one is a bit of a surprise, it's a post about a development of 25 luxury homes that were being built on the former garden site of a School of Mission in a village in Nottinghamshire. Baxter Green features distinctive single pitched standing seam metal roofs, but they aren't metal, they are Armourplan PSG Membrane.
The article features an interview with Nigel Fields, Midlands Area Technician for SIG Design and Technology, who describes the detailing of the project. Nigel, who won two of our 'best roofing photo of the month' competitions last year, went on to be highly commended in the 'Best Trainer of 2019' category at the SPRA awards.
Read about Baxter Green here. There are also plenty of photographs and link to the development on Leonard Design Architects' website.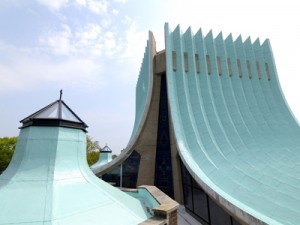 Topping out this half of our Top Ten of 2019 is this article about Liquid Roofing featuring an interview with Daniel Bosworth and Chris Page, who are Design & Technical Manager and Product Manager at SIG Design and Technology.
In recent years the variety of liquid waterproofing suitable for roofing projects has exploded and there are all sorts of products available. Dan and Chris look at the main types, describe the advantages and disadvantages of liquid waterproofing and provide some valuable advice about choosing a system, designing the roof and what to ask about guarantees.
Since this article was written a new improved version of AH-25 has been launched, AH+. Be sure to contact us for advice and support on the most appropriate approach for your project, be it new build or refurbishment. Read the post on Liquid Roofing best practice here.
So with that, we wind up the first five of the top ten. We'll reveal the top five next week – and there are a few more surprises to come.  It's always fun to find out which post has won, and there are plenty more useful blog posts on the way there. Don't forget to subscribe to see future posts in your email inbox as they are published.
In the meantime, let us know in the comments below, on twitter at @SIGDesignTech and @SIGZincCopper or via our myriad of contact options, what you'd like us to blog about in 2020. We're here to help.
[UPDATE: Read the top 5 here.]