Our Top Five Roofing Design Blog Posts of 2018
Last week we kicked off our top ten roofing design blog posts published in 2018 with numbers ten to six. Here are the top five most read roofing design blog posts this year – is your favourite at the top?
Cue Fluff Freeman…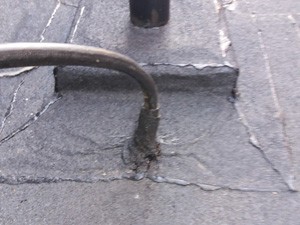 We often visit roofs after installation, as part of planned maintenance services. Once in a while we come across a change or two. Flat roofs are very popular for keeping things on, and often those things require electricity supplied from down below. So it isn't surprising that once in a while you'll need to put a cable up. In this case we came across this cable that had been put through the flat roof.
This post was published on our FixMySchoolRoof.com blog, where we talk with school business managers, academy folk and architects about how to look after their flat roofing. This post was particularly popular because it was shared on social media and attracted quite a few comments from roofers! In the post we look at why people put cables through flat roofs, why it can invalidate your warranty, and what you can do instead – including what to do if you have allowed someone to make a hole in your roof, knowingly or not. Check it out here, and if you like our plain speaking you can subscribe to get updates to this blog via a form on the page.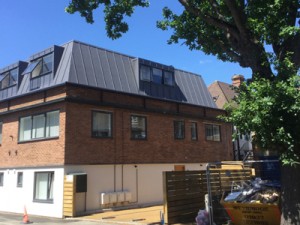 Field Technician Jamie Dunsmore wins our 'best of the best' competition for Roofing Photo of the Month – his June entry of a mansard roof in West Byfleet, Surrey is the highest ranking of the posts by pageviews. The building was formerly a commercial property and had been refurbished to provide residential accommodation, so appearance (or 'curb appeal') was important. For this reason the roof was specified in the very cost effective Armourplan PSG and Armourplan P and fitted with Armourplan PVC Standing Seam Profile which gives the very attractive appearance of a standing seam metal roof.
The project was executed by two DATAC accredited contractors, Brix Limited and All Seasons Roofing Group Limited. Take a look at the post to find out why two different types of membrane were used on the roof and how the membrane was mechanically fixed to take account of the wind load calculation results.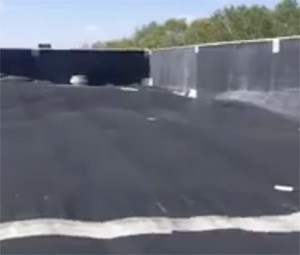 Talking of wind load… this incredibly popular post by our business development manager Andy Wells was inspired by a truly shocking video he spotted on Linkedin which showed a flat roof membrane which had been damaged by wind uplift to such an extent that it was billowing like an unruly tablecloth!
Andy looks at what wind uplift is, how it happens and what can be done to mitigate against its effects. He talks about wind load calculations for flat roofs and how they can help specify the number and type of fixings required for the exposure your roof is likely to encounter. He also talks about adhered membranes and some things to consider there.  Read the post about flat roof wind uplift, and check out the scary video which we have embedded there. It is very short but quite entertaining – certainly proves the point that designing a flat roof should also take into account the environment in which you're installing it.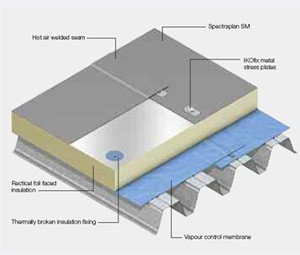 When you're designing a flat roof, cost is often a major factor, and you may think that the membrane, given that it must withstand all weathers, would be the costliest element. However, insulation is by far the costliest material in a flat roof – as much as 50% of the material cost in some cases, or even higher if tapered schemes are involved. If you're concerned about the cost of your flat roof, it is important to get the insulation right.
In this interview with Christa Coe we talk about insulation, why it is important and some things to consider when designing a roof to make sure you manage the cost implications of the insulation. We look at different types of insulation and some of the key things to avoid if you want to stop costs getting out of control. Take a look at the post here. Well done Christa for your helpful advice!
So without further ado, here's our number one: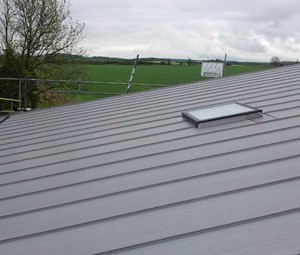 Returning to our tradition of having a metals blog post at the top of the pile after the blip last year, we wind up our top ten with a hugely popular post about the lowest possible pitch that you can safely install a zinc standing seam roof. This blog post polled twice as many page views as Christa's one on insulation! One of the most common questions our technical team get asked, and one of the most common enquiries via our website, is "How low pitch can you make a standing seam zinc roof?" so this post was always going to be popular.
We don't just answer the question "What is the minimum pitch for a zinc roof?" we also look at what is wrong with pitching your zinc roof too low, and what our advice is on how to manage low pitch zinc roofing so that you don't come a cropper. Check out our answers here over on the SIG Zinc and Copper blog.
And don't forget to subscribe to get our posts in your inbox two or three times a month. We won't spam you, and you can unsubscribe at any time. You can also sign up to FixMySchoolRoof.com if you're into school roof design, repair and maintenance.
Tell us what you want to read
So we've shared our top ten most popular post this year. We love answering architects' questions about flat roofing, metal roofing and all types of roofing challenges, so why not ask yours? You never know, we might write a blog post about it next year.
Drop us a line using the contact form with your suggestions, or if you're feeling brave, why not write a comment on this post? We always reply.
It only remains for us to wish you a Merry Christmas and a Happy New Year. See you in 2019.