Our Top Five Roofing Design Blog Posts of 2016
Last week we kicked off our top ten roofing design blog posts with numbers ten to six. Here are the top five most read roofing design blog posts this year – is your favourite at the top?
Cue Fluff Freeman…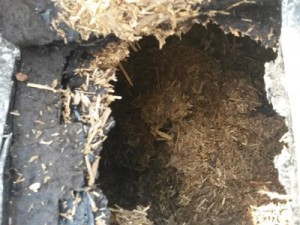 Back in July we spoke to Ian Dryden who spends much of his working life inspecting flat roofs. He described to us an increasing concern he has for flat roofs built in the 1980s and early 1990s, and incorrectly refurbished roofs which appear to be leaking, but they aren't. Ian has been coming across more and more of these roofs requiring refurbishment, and some of them have been repeatedly re-roofed. However, the fact is they aren't leaking at all; instead they are suffering from a condition which has been misdiagnosed for years – Interstitial Condensation.
In this post we talk to Ian about what interstitial condensation is, what damage it can do, and how to find out if it is causing the 'leaks' in your client's roof. This post has been hugely popular with our readers. Read the post here.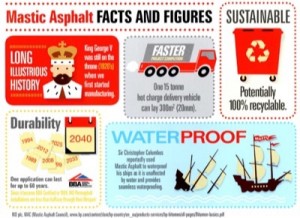 In this post we introduce mastic asphalt, a centuries old roofing material that is still in use today in both traditional and more modern forms.
We set out the qualities of this fascinating product and explain how Polymer Modified mastic asphalt (PMA) has been developed in the last 20 years to provide better durability, increased flexibility at lower temperatures, and greater stability at higher temperatures. These improvements, combined with a monitored supply chain, accredited contractors and specification services enable IKO to provide 20-year guarantees on their Permaphalt PMA, whereas BS Mastic Asphalt installers may only be able to guarantee for 10 years. Read the post here, and also check out our other Mastic Asphalt posts.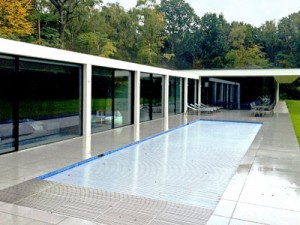 Our DATAC accredited contractors are always getting involved in projects on TV; whether it be taking part in DIYSOS projects which we support with free materials, or working on exemplar houses which appear on Channel 4 Grand Designs. In this example, the flat roof which at 600m2, was one of the largest elements of this huge house, hardly featured in the TV show at all.
Flat roofs are often out of sight, out of mind. But for that very reason they need to be well designed. In this case this Michael Manser and Mies' inspired pavilion also involved an "invisible edge" effect which was achieved with a powder coated bespoke fabricated aluminium edging detail that specialist subcontractors A J Lucas custom-made for the project.  Take a look at the photographs and check out more about this house, including a video of Kevin with his mouth open, here.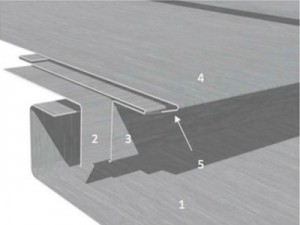 We've covered standing seam zinc projects quite a lot, from angled cladding to bandstands. This is because double lock standing seam zinc roofing is such a popular and attractive method for covering a surface. It is used on a wide range of building types from leisure and commercial to housing and religious buildings.
In this post our colleagues at elZinc provided an introduction to the topic and looked at the design considerations; What is standing seam zinc roofing? What does it look like? How do the principal joints and cross joints work and what are the options? elZinc also looked at tray sizes, roof fixings and installation, and didn't leave out rainwater drainage. With a great set of helpful illustrations, this post comes in at No.2 in our Top Ten of 2016. Check it out here.
So without further ado, here's our number one: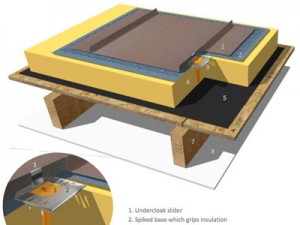 This year the metals blog posts have triumphed again, so yes, the video installation of Waitrose Aylesford's Distribution Centre roof, which was last year's No.1, was just a blip in the five year triumph of metal roofing popularity.
Following on from the success of the introduction to standing seam zinc roofing, this second in a series of three posts by elZinc came out top in this years' rankings, scoring 50% more pageviews than its second placed rival, as well as beating all the blog posts we've written this year on flat roofing and green roofing. Why is that?
Since we wrote this post in April it has got more and more traffic, and we think, like the other popular posts we've written in recent years, it is because it provides simple, practical advice to often-asked questions, in plain English. You can check out our winning blog post here on the Zinc and Copper Blog, and don't forget to subscribe to get our posts in your inbox three times a month. We won't spam you, and you can unsubscribe at any time.
The success of metals once again… of course that doesn't mean we will stop writing about leaky roofs, single ply and warrantees; popularity isn't everything. And if you want us to write about the topics you're interested in, why not…
Tell us what you want to read
So we've shared our top ten most popular post this year. Were they what you expected? Was there a post you found useful which didn't make the top ten? Or have we not written that post you'd like to read yet? We'd love to hear from you, and hope to include your suggestions in our plan for 2016 which already includes yet more new product choices, and many more useful and technical posts.
Drop us a line using the contact form with your suggestions. And don't forget to  subscribe to the blog so you don't miss all the technical advice, comparison tables, checklists and case studies we'll be sharing with you.
It only remains for us to wish you a Merry Christmas and a Happy New Year. See you in 2017.