Tapered Insulation and BS 6229 – what you need to know
Tapered Insulation is growing in popularity in roof designs. We investigate how it has changed with the new BS 6229 requirements.
What is Tapered Insulation?
Tapered insulation is a popular method of creating both thermal performance and falls within a roof, all in one go. Rather than applying screed, firrings or tilting the deck, tapered insulation is a cost and time efficient method achieving the same effect.
On new build flat roofs, falls can be placed in the structure, in a screed or using firrings, or in the insulation itself – a "tapered scheme", also known as 'cut to falls' insulation. Tapered schemes can also be used in refurbishment projects such as overlays, as long as there is an assessment and survey of the existing roof to establish how best to work with the existing conditions.
The benefit of using a tapered scheme for introducing falls is that unlike screed or firrings, there is no additional labour required on site and no additional time for screed to cure – which is generally accepted as 1mm per day. With a timber or concrete deck in particular, tapered insulation can be more cost effective. Removing wet trades or an additional joiner makes the process simpler, quicker and more reliable.
How has BS 6229 Affected Tapered Insulation Schemes?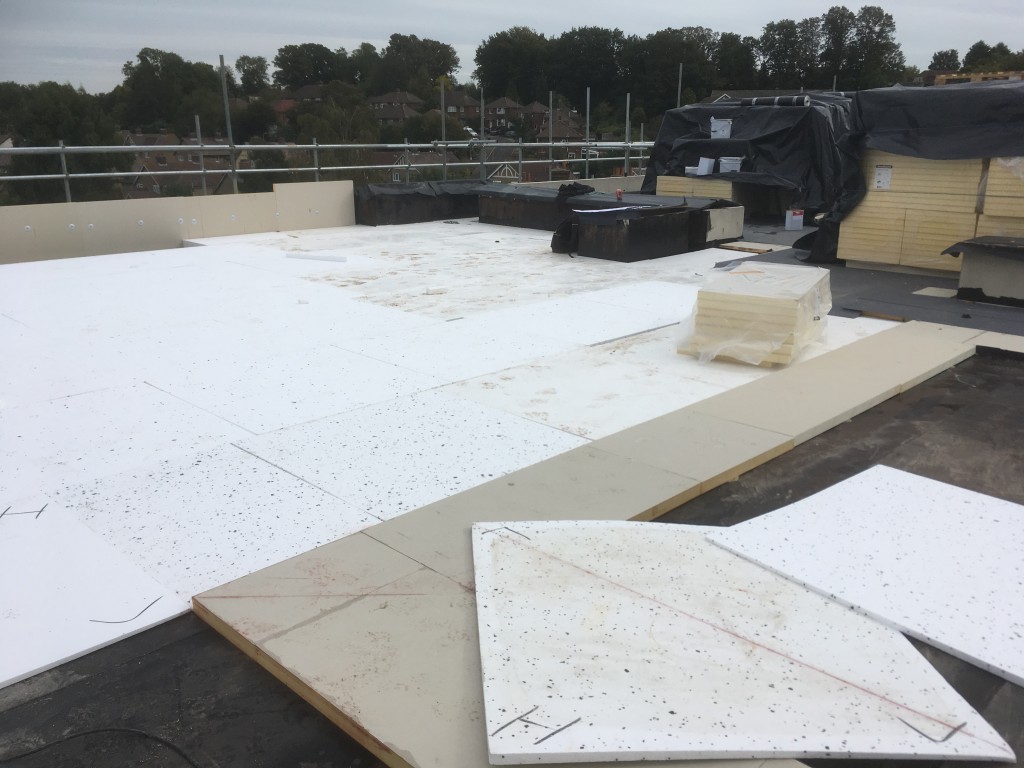 In November 2018 the revised BS 6229, 'Flat roofs with continuously supported flexible waterproof coverings' was introduced. It made some significant changes to the requirements for flat roofing, some of which we outlined here at the time.
In the past, insulated gutters without falls were generally accepted within the industry; now they are not. Under BS 6229:2018, a minimum 1:80 finished fall is recommended to both the general area of the roof and to any formed internal gutters. Compliance with BS 6229:2018 may be a requirement of your roof warranty, including third party warranty schemes such as NHBC.
"Ponding water adds a dead load to the roof structure and in exposed warm roofs increased stresses in the waterproofing layer, therefore, a minimum 1:80 finished fall is recommended to both the general area of the roof and to any formed internal gutters.

BS 6229 recommends that all flat roofs should be designed with a fall of 1:40 to ensure a 1:80 fall is achieved once the roof is completed. This design criteria includes internal gutters and should take account of construction tolerances, settlement, and for deflection under load, both during and post construction."

NFRC BS 6229: Summary of Changes
Tapered insulation is traditionally produced at 1:60 falls, and because it is manufactured the tolerances are very tight. However, where two 1:60 falls meet, in a valley for example, the valley fall will be shallower, running the risk that the scheme will potentially fail to meet the recommended 1:80 across the whole roof.
Contractors therefore run the risk of failing to comply with BS 6229:2018 if they use a 1:60 tapered scheme, causing difficulty for their clients, themselves and the design team as a whole.
In addition, BS 6229:2018 requires that no part of the roof should exceed 0.35 W/m2K:
To prevent surface condensation within heated buildings, the minimum thermal performance (U-Value) permitted anywhere on the roof, including internal gutters, must not exceed 0.35 W/m2K

NFRC BS 6229: Summary of Changes
On tapered schemes this requires that the thinnest part of the scheme is set at a minimum 0.35 W/m2K U-Value.
How SIG D&T support Architects and Contractors
SIG Design and Technology provide a fast turnaround of tapered schemes having a unique and respected position in the UK market.

Our design team enables us to offer
Advice to architects and contractors on tapered schemes
fully BS 6229:2018 compliant tapered schemes in a range of insulation materials, including annotated drawings for building regulations and construction purposes;
1:40 falls to main roof areas, enabling full compliance in valleys;
1:40 falls to tapered gutter areas;
No part of the roof including gutters, sumps and outlets, to exceed 35 W/m2K.
Where clients don't have space for 1:40 scheme, adjustments can be made as required to the original design, subject to compliance with the necessary warranties.
Our partnership, as with our full design service, is offered free of charge to specifiers.
Find out More
If you'd like to know more about our design service and how we can help with your tapered insulation schemes and other flat roof projects, please contact us.