SIG Roof Lines: The RIBA Journal October 2016
This week the October 2016 issue of RIBA Journal is published, complete with our ninth technical guide: SIG Roof Lines.
SIG Design & Technology partner with the RIBA Journal to help supply architects with impartial, useful advice on designing flat, green and metal roofs.
This issue features the amazing Copper-clad ellipsoidal pavilion at The Grange by Purcell, Best Practice in Standing Seam Roofing, and making sure your 'leak' is not in fact Interstitial condensation.
In this post you will find additional resources to help you in your roof design choices.
It's Got to be Green – Verdigris Copper Cladding
The RIBAJ interviewed Jeremy Blake and Kags Alexander-Cahill of Purcell and Interior Designer Martin Hulbert about the use of Copper on this intriguing structure, a Borromini Ellipse glass and copper pavilion at the 5 Star Grove Hotel in Chandlers' Cross [More Pics Here]. This project was a real team effort between designers, engineers, contractors and specialist subcontractors and suppliers, resulting in an elegant space for wedding receptions in the courtyard of the hotel. The 2.5m tapered, cantilevered eves and amazing 6.5m cantilevered garden entrance are clad in KME TECU Patina, supplied by SIG Zinc and Copper, supported on a timber and steel portal frame structure.  Click here to download the article.
Extra Resources:
Joined Up Thinking on Standing Seam Roofing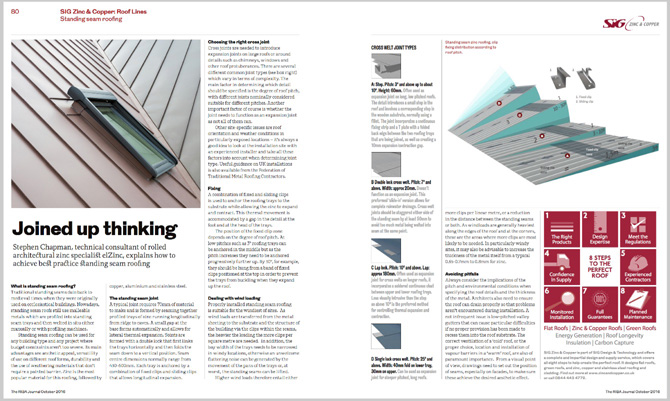 Our double page spread this month looks at metal roofing. Stephen Chapman, technical consultant of rolled architecural zinc specialis elZinc, explains how to achieve best practice in sanding seam roofing. He looks at what standing seam roofing is, how the joints work, and illustrates a number of different ways to achieve suitable cross joints with different aesthetic and performance characteristics. The article also looks at fixing issues, how to deal with wind loading and gives some great advice on how to achieve the best standing seam metal roof. Use this article to get some idea about the basics, before you get in touch. Another article you might want to share –   Click the image to download a pdf.
Extra Resources:
Finding the Real Culprit: Interstitial Condensation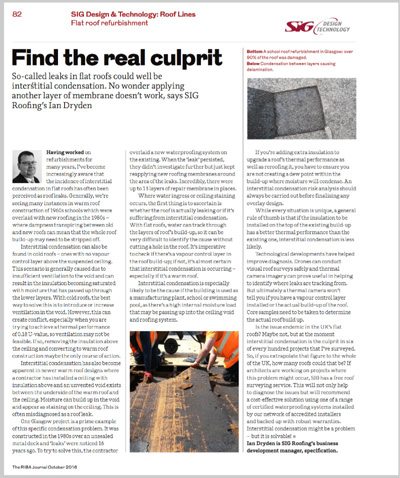 The back page this month features an interview with Ian Dryden of SIG Roofing who spends much of his time inspecting failed flat roofs. Ian has been noticing an increase in a particular type of flat roof failure in recent months, and particularly in schools. Read the article to find out what to look out for and what to do if you're not quite sure what type of 'leak' you've got in a flat roof you come across. It could save your client hundreds of thousands of pounds.
Extra Resources:
8 Steps to a Perfect Roof
Designing a perfect roof has never been more challenging, but SIG Design and Technology have put together an 8 step guide to identify the challenges and ensure your design meets your client's requirements.
Here are our 8 steps to the Perfect Roof.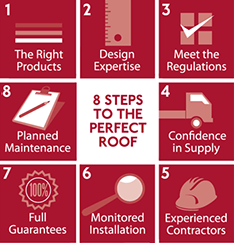 Click the links to find out why they matter and how you can tick them off your To Do List.
Keep in Touch
We hope you enjoyed the eighth SIG Rooflines edition and look forward to sharing more roofing advice in a couple of months, alongside some truly inspirational buildings. You can read the earlier issues here:
Issue 1: Green roof hobbit-house, best practice with Single Ply roofing and avoiding Metal Theft.
Issue 2: British Tobacco HQ in Bristol, best practice with Metal roofing and cladding and two zinc-clad houses in Hertford
Issue 3: Mario Botta's CorTen Steel clad chapel in the alps, best practice in Green Roofing and odourless roof repair.
Issue 4: Angled zinc cladding on Bolton College's new STEM Centre, a case study on liquid waterproofing and preventing leaks in flat roofs.
Issue 5: Waterproofing Balconies with Stanton Williams, Zinc Shingles on the Amphibious House  and learning about Guarantees.
Issue 6: Peppa Pig World Green Roof, Hot Melt at 5 Broadgate with Make Architects and Acoustics in Schools.
Issue 7: Zinc Shingles at Northbrook College Worthing, Best Practice in Metal Shingles and Collaborative Working at Arnold Hill Academy.
Issue 8: Re-roofing of Westminster Cathedral by St Ann's Gate Architects, Best Practice when Choosing Flat Roof Waterproofing, and timing is everything when Installing a Green Roof.
Here's a full list of SIG Rooflines blog posts.
On 23rd November we'll be running another technical seminar in London – mark the date in your diary and make sure you're signed up to the blog for notification of when tickets are available.
We'll be continuing to publish technical advice and information here on our blog in the meantime, so do also  subscribe to our blog for free roofing design advice and information as we publish it.
Any questions? Please do ask them below or get in touch with us.