SIG Roof Lines: The RIBA Journal October 2015
Today, 1st October, as we hold our second annual #PerfectRoof seminar, the October 2015 issue of RIBA Journal is published, complete with our sixth technical guide: SIG Roof Lines.
SIG Design & Technology partner with the RIBA Journal to help supply architects with impartial, useful advice on designing flat, green and metal roofs.
This issue features a Wildflower Roof at Peppa Pig World by HPW Architecture, the Hot Melt Roofing at 5 Broadgate by Make Architects, and advice about meeting BB93 guidance on noise levels in schools.
In this post you will find additional resources to help you in your roof design choices.
Wildflowers Rule OK
The RIBAJ interviewed Gary Wilburn, Director at HPW Architecture about the huge wildflower roof at Peppa Pig World, part of Paultons Family Theme Park in the New Forest. After four years the roof remains in excellent mature condition.  Click here to download the article.
Extra Resources:
Walk on the Wild Side: Case Study: 5 Broadgate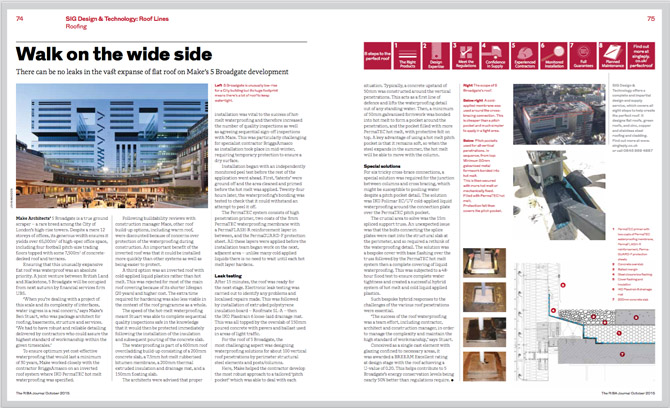 Make Architects chose IKO PermaTEC Hot Melt to waterproof the huge complex roof at 5 Broadgate. Not only was it a more sustainable solution and made in the UK; it also would work out considerably cheaper than a cold applied liquid alternative. The RIBAJ interviewed architect Ben Stuart about the experience of working on such a complex roof full of plant and structure, and looked in detail at some of the challenges the team faced.  Click the image to download the article.
Extra Resources:
Lets have some Hush: BB93 and noise in schools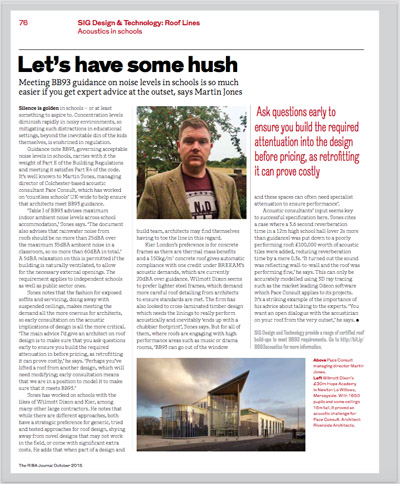 We've been working with our partners in manufacturing and contracting to help specifiers and contractors meet the particular challenges of the recent Building Bulletin 93 (BB93) which explains minimum performance standards for the acoustics of school buildings.
On the back page this month, RIBAJ interviews Martin Jones of acoustic consultancy Pace Consult about the guidance, and his advice to architects on roof design.
Extra Resources:
8 Steps to a Perfect Roof
Designing a perfect roof has never been more challenging, but SIG Design and Technology have put together an 8 step guide to identify the challenges and ensure your design meets your client's requirements.
Here are our 8 steps to the Perfect Roof.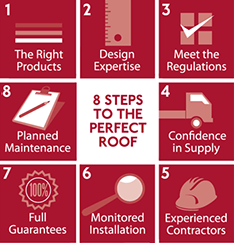 Click the links to find out why they matter and how you can tick them off your To Do List.
Keep in Touch
We hope you enjoyed the sixth SIG Rooflines edition and look forward to sharing more roofing advice in a couple of months, alongside some truly inspirational buildings. You can read the earlier issues here:
Issue 1: Green roof hobbit-house, best practice with Single Ply roofing and avoiding Metal Theft.
Issue 2: British Tobacco HQ in Bristol, best practice with Metal roofing and cladding and two zinc-clad houses in Hertford
Issue 3: Mario Botta's CorTen Steel clad chapel in the alps, best practice in Green Roofing and odourless roof repair.
Issue 4: Angled zinc cladding on Bolton College's new STEM Centre, a case study on liquid waterproofing and preventing leaks in flat roofs.
Issue 5: Waterproofing Balconies with Stanton Williams, Hot Melt at 5 Broadgate with Make Architects and learning about Guarantees.
Here's a full list of SIG Rooflines blog posts.
Don't forget you can check out our technical seminar 8 Steps to a #PerfectRoof today on the live blog!
We'll be continuing to publish technical advice and information here on our blog in the meantime, so feel free to subscribe to our blog for free roofing design advice as we publish it.
Any questions? Please do ask them below or get in touch with us.