SIG Roof Lines: The RIBA Journal April 2017
This week the April issue of RIBA Journal is published, complete with our tenth technical guide: SIG Roof Lines.
This issue features the complex roofing challenge at Birmingham New Street Station, a salutary tale about Flat Roofs on Schools and an introduction to our hugely popular Flat Roof Specification Checklist.
In this post you will find many additional resources related to these topics, to help you in your roof design choices.
Above Your Station – Birmingham New Street
The RIBAJ interviewed Stephen Ashton of Atkins and Tony Lawther of commercial roofing contractor Briggs Amasco, to tell the story of the extremely complex alterations and refurbishment of Birmingham New Street Station. The project involved not only the arching atrium roof and stainless steel cladding that have become so well known in recent months since the project opened, but also the skillful combination of new and existing structures, and all the many waterproofing challenges that went with that. Click here to download the article.
Extra Resources:
Ashton and Dave Maginnis, MD of Briggs Amasco, spoke about the project at our 'Quality in Flat Roofing' seminar in November.  You can check out the live blog here to see what they said and hear more about the project.
View Stephen Ashton's slides and Dave Maginnis' slides with many more illustrations of the project from a technical perspective embeded below.
Find out more about the Participants:
The project involved Single Ply membranes, Hot Melt, Mastic Asphalt, Built Up Roofing amongst other waterproofing products. Click the links to find out more about these products.
A Lesson Well Learned: Fixing a Leaking School Roof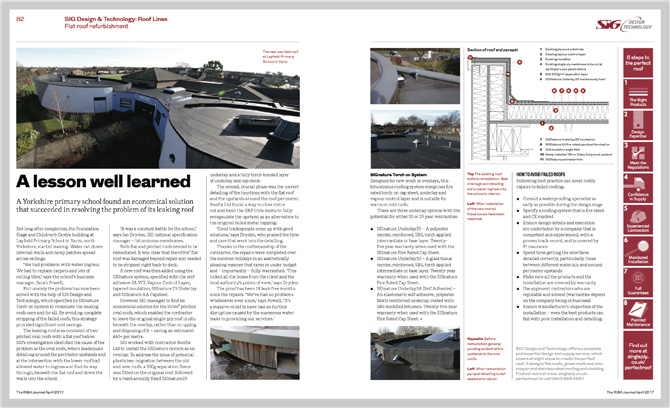 Our double page spread this month tells the story of a school in Yarm, north Yorkshire, and how after many problems with the flat roof, an economical and smart solution was found to stop the leaks once and for all. Interviewing the school business manager and SIG Roofing's Ian Dryden, the RIBAJ looks into what the problems were, and how by avoiding stripping the whole roof before reroofing, SIG D&T were able to save the school approximately £60+ per square metre on the cost of the re-roofing. The article includes a detail and advice on how to avoid failing flat roofs on your own school projects.  Click the image to download a pdf.
Extra Resources:
On Top of Your Subject: Flat Roof Specifier Checklist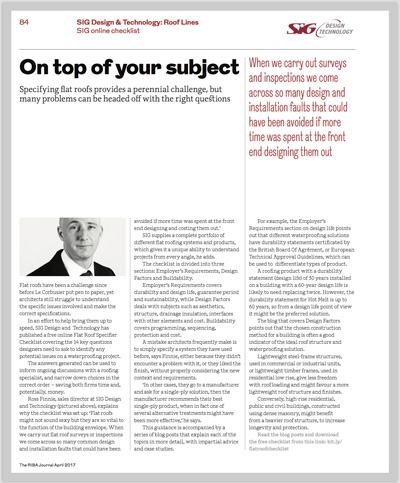 The back page this month features an interview with Ross Finnie about our Flat Roof Specifier Checklist and why we created it. The checklist, which features 14 key questions the specifier needs to ask, has been featured recently on this blog. Ross explains how the idea for the checklist came about and why answering the right questions in the right order can save so much time, money and stress in the long run.
Extra Resources:
8 Steps to a Perfect Roof
Designing a perfect roof has never been more challenging, but SIG Design and Technology have put together an 8 step guide to identify the challenges and ensure your design meets your client's requirements.
Here are our 8 steps to the Perfect Roof.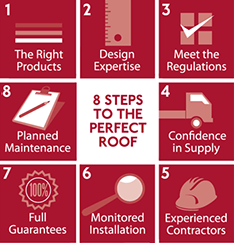 Click the links to find out why they matter and how you can tick them off your To Do List.
Keep in Touch
We hope you enjoyed this edition of SIG Rooflines and look forward to sharing more roofing advice in a couple of months, alongside some truly inspirational buildings. You can read the earlier issues here:
Issue 1: Green roof hobbit-house, best practice with Single Ply roofing and avoiding Metal Theft.
Issue 2: British Tobacco HQ in Bristol, best practice with Metal roofing and cladding and two zinc-clad houses in Hertford
Issue 3: Mario Botta's CorTen Steel clad chapel in the alps, best practice in Green Roofing and odourless roof repair.
Issue 4: Angled zinc cladding on Bolton College's new STEM Centre, a case study on liquid waterproofing and preventing leaks in flat roofs.
Issue 5: Waterproofing Balconies with Stanton Williams, Zinc Shingles on the Amphibious House  and learning about Guarantees.
Issue 6: Peppa Pig World Green Roof, Hot Melt at 5 Broadgate with Make Architects and Acoustics in Schools.
Issue 7: Zinc Shingles at Northbrook College Worthing, Best Practice in Metal Shingles and Collaborative Working at Arnold Hill Academy.
Issue 8: Re-roofing of Westminster Cathedral by St Ann's Gate Architects, Best Practice when Choosing Flat Roof Waterproofing, and timing is everything when Installing a Green Roof.
Issue 9: A Copper-clad ellipsoidal pavilion at The Grange by Purcell, Best Practice in Standing Seam Roofing, and Interstitial condensation.
Here's a full list of SIG Rooflines blog posts.
We'll be continuing to publish technical advice and information here on our blog in the meantime, so do also  subscribe to our blog for free roofing design advice and information as we publish it.
Any questions? Please do ask them below or get in touch with us.