"RoofWise Issue 3 focuses on the work of our Roofing Academy at Shepshed which is managed by Sara Bexley. This training facility is now in its 10th year; we train over 400 delegates and run about 100 courses every year.
Technical Manager Steve Cleminson shows you a practical way of getting the correct coverage rates for adhesives and liquid waterproofing when you're up there on the roof. We reveal how building contractors are looking to acquire new skills as a Scottish contractor/trained roofer learns how to install IKO Armourplan for a 250m2 job near Glasgow.
As our business continues to grow, we introduce our latest field technician, Jamie Dunsmore. And we offer a timely reminder about our Bid Support Pack to help you work over 500m2.
 
Mike Crook Trading Director

RW3traintogain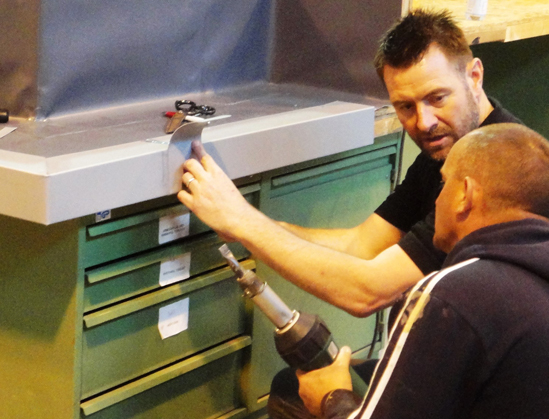 SIG Design and Technology's commitment to improving the skills of the roofing workforce is part of the nationwide initiative, Build UK. SPRA's training manager, Gary Walpole explains: "As part of a joint programme between SIG UK Exteriors, CSCS, SPRA and Roofing Industry Alliance, D & T's single ply courses for IKO Armourplan and Rhenofol are now recognised BCP (Basic Competency Programme) courses.
"Trainees who have passed one of D & T's BCP courses plus the Working at Height test can now apply for a non-renewable, three year Experienced Worker red CSCS card. The three-year period (formerly 12 months) allows trainees to complete the NVQ or SVQ within the three years and they must register for the formal qualification within 18 months of the single ply course. CSCS expects that the card will be replaced by a blue skilled five-year card when qualified."
Courses are also available for FDT's Rhepanol and Hydrostop AH+ Liquid Waterproofing. More specialist courses can be arranged for IKO's Spectraplan TPE and hard metals through the FTMRC.
RW3coveragerates

By Steve Cleminson, SIG Design and Technology's Technical Manager.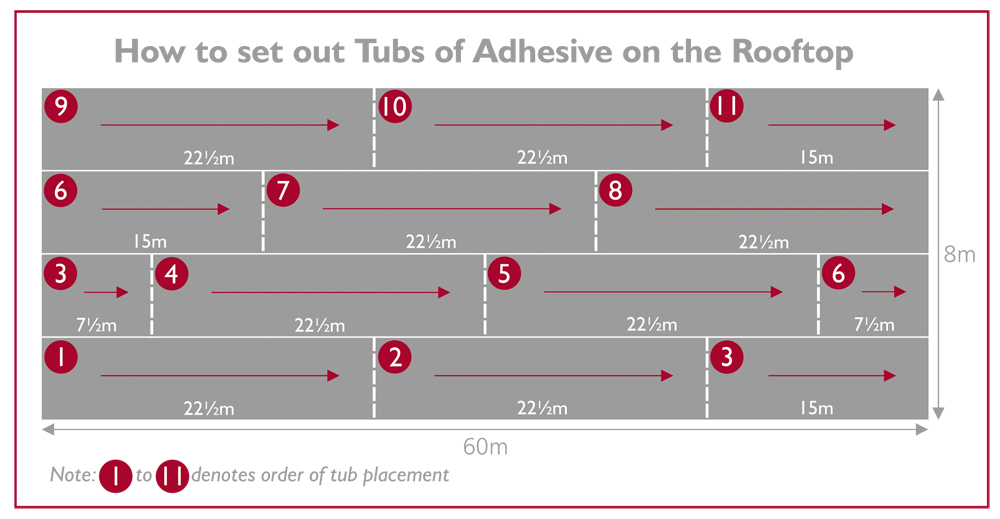 Our Technical Manager, Steve Cleminson shows you a practical way to get correct coverage rates for adhesives and liquid waterproofing right. We are using IKO Armourplan PVC single ply as an example but you can use the same principles for other membranes and liquid waterproofing projects.
First job is to check that the deck is down correctly which is normally installed by the main contractor. So if this is the case, then still check that it's suitable, constructed to the correct falls and complete. There is probably a clause in your subcontract that says "you've accepted it" as soon as you start laying, so you should really give it a good going over to make sure it's OK.
Mechanically fixed roofs must have a wind uplift calculation provided that you just follow. It's easy, as there's a plan and a number of fixings per m2, or the distance between them along the seam is identified for the corner, perimeter and field areas.
Best Approach
But what's the best approach when you're bonding? Coverage rates for PU, solvent or acrylic adhesives can vary depending on the smoothness or otherwise of the substrate you are installing to. If it's an existing BUR covering or a particularly absorbent surface then consumption rates can increase. If the membrane is going straight on to a smooth insulation board (e.g. Enertherm); then a tin of adhesive will go further. Again, adhesive rates can vary according to temperature and do remember that there is normally a minimum temperature at which adhesives should be applied which will ensure good bond strength and also avoid "improper set" due to frost etc.
Where To Start
So where's best to start installing finishes to a roof? Whether it's a single ply, liquid Hydrostop AH+ or IKO Permatec hot melt, it's always a good idea to start at the furthest distance from your access point to minimise both foot traffic or loading out damage to finished areas. Consideration should be given to falls, night joints and the location of outlets, so if there's downpour overnight, water doesn't get into the system.

Setting Out
So how do we set about making sure the right amount of adhesive is applied and that you don't run out? Use some basic maths and a tape to work out how far a tin, tub or bucket of adhesive or liquid should go. A simple, practical tip is to measure it or even pace it out and set another container at the place you expect you will need it. This technique will help gauge the correct usage.
Achieve the correct coverage for liquid waterproofing by using the same methods as with adhesives.
Monitoring Usage
You don't need to be Einstein to know that if you are a quarter of the way towards your next container and you've nearly used all of the adhesive, then suppliers will be happy to sell you more but you're not going to make a great profit on the job. If you've reached the next container that's been laid out and you're only half way through the first one then there is a possibility you either need new batteries in your calculator or you're putting it down too thinly and one good breeze might have the membrane in the carpark.
Most adhesives come with a guide to coverage rates on different substrates and or at different temperatures.

Refurbishment Work
In refurbishment work, it's also generally a good idea to undertake a bond check. Existing roofs may need cleaned down or even a specific primer used before applying adhesives or liquid systems. It's just common sense to make sure that you are happy with the levels of adhesion right at the beginning of a job.
There is an example of a simple 60m by 8m (not drawn to scale) roof. Assuming we are laying IKO Armourplan SG or PSG (depending on warranty requirements) onto an existing aged and patched BUR surface.
The substrate is not smooth and may be quite absorbent, so using the published guide of 45 m2 per tin, the plan shows how far each tin should go and where the next one should be placed on the roof to help gauge application rates.
This method's should help ensure correct and economic application of the adhesive required.
RW3armourplantraining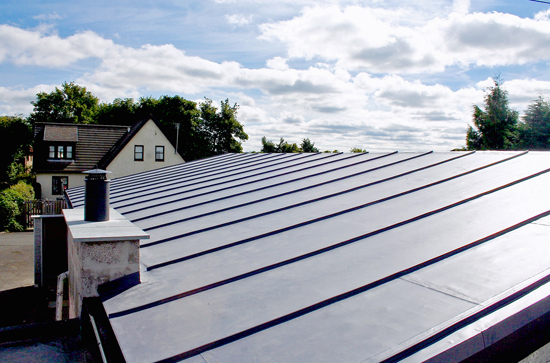 Building contractors, William Gilchrist came to Specification Manager Cameron MacAndrew for help on reroofing an architecturally designed 1960s villa with two mono pitched roofs which are adjoined by an interface to the middle. IKO's Armourplan was the optimum solution for the 250 m2 job so Cameron recommended using either a DATAC contractor or Bill, who is already a qualified roofer, undertaking the training himself.  He leapt at the chance to learn new skills and promptly joined the two and a half day course. Bill subsequently e-mailed; "Just like to say thanks for the hospitality at Shepshed. I thought the course was fantastic as was our instructor and trainer Nigel Fields. I went away feeling satisfied with my training and confident in using the product and can now approach other architects for IKO Armourplan roofing contracts. My first order will be with you on Monday and my DATAC application is certainly work in progress!"
RW3newfieldtech



Jamie Dunsmore is our new Area Field Technician, bringing the number up to seven. The team visit sites to monitor and inspect workmanship; and they train installers at the Academy.  Feel free to ask questions. They've all been installers in their day so their timely intervention can prevent problems in the future.
RW3bidsupportpack

Don't forget that SIG Design and Technology offer accredited DATAC members extra contract support to help them win work. For key projects over 500m2, we will produce a 'Bid Support Pack' which contractors can present to their client when bidding for a project.  The pack will contain the specification required for that project, for example:
NBS specifications
Wind up lift calculations
Technical drawings
Cut to Falls scheme
SIG plc backed guarantee sample
Recommended maintenance contract
Relevant BBA certificates
Relevant product information
RW3contacts

Daniel Bosworth, Design Manager
Jorge Bonet & Matthew de Jong, Technical Support Advisors
Sara Bexley, Roofing Academy Manager 01509 501 738
General enquiries: 01509 505 714
Technical help: 01509 501731
Email: [email protected] or [email protected]