Iconic Listed Gilbert Scott Church shortlisted in #Roofingawards19 – Vote For it to receive the Industry Choice Award #RA19YouDecide
This year everyone once again gets a chance to vote for their favourite project in the 2019 Roofing Awards, an industry-wide event that recognises and rewards outstanding standards of workmanship and safety within the UK roofing industry.
We're delighted that one of our very special refurbishment projects has been shortlisted in the 2019 finals, a project which has a fascinating history and a great story too.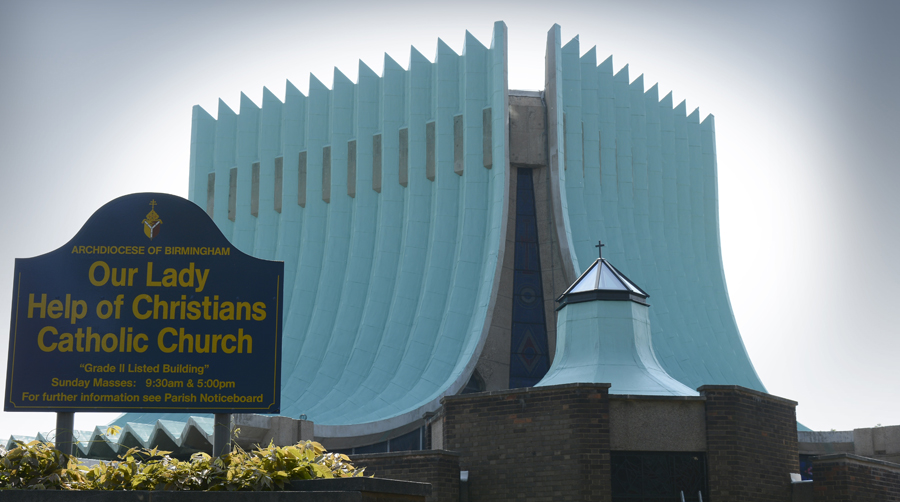 Our Lady Help of Christians Catholic Church in Birmingham is one of only three churches designed by Richard Gilbert Scott to achieve Grade II listed status, and you can see why. As well as having a striking appearance, it is recognised by the 20th Century Society as a notable example of the radical rethink of the planning of Roman Catholic churches brought about by the Second Vatican Council.
The original copper roof of Our Lady Help of Christians was resurfaced in 2000, however the fabric had deteriorated in recent years and the covering had reached the end of its useful working design life.
Project leaders, APEC Architects, conducted extensive research on the church's original roofing and detailing, which included a visit to the RIBA Archives at the Victoria & Albert Museum to determine the most appropriate restoration approach. APEC specified a new covering for 'Our Lady' that will achieve a longer design life to better protect the fabric of the building.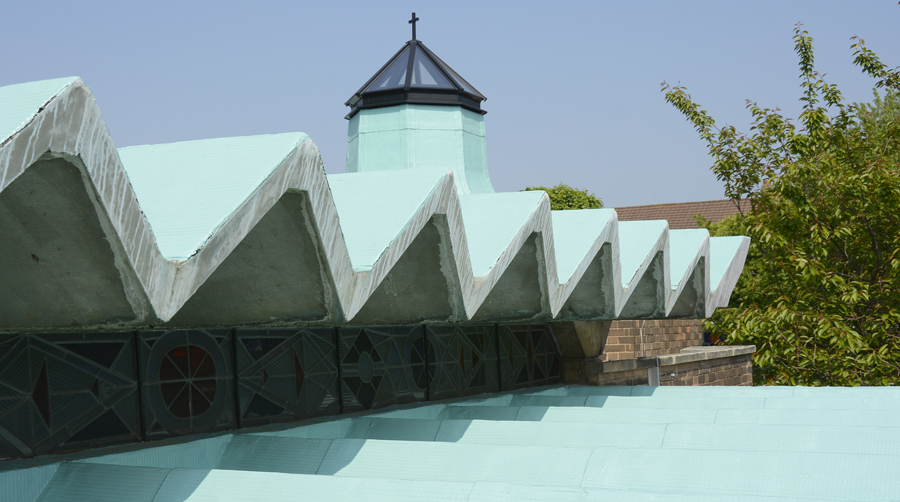 Due to the church's architectural status, Historic England took an interest in the restoration and specified that the roofing finish should match the colour and texture of the original copper membrane of the 1960s in appearance.
With the in-depth product knowledge of suitable conservation methods for listed buildings, SIG Design & Technology played a vital role in the material choice, a long lasting resilient liquid waterproofing which could provide an exact colour match to the original finish.
The cold applied Repoma liquid the team chose was installed by expert specialist waterproofing contractors, The Rio Group, who are SIG DATAC accredited and are recognised in the prestigious shortlisting at the Roofing Awards for their excellent workmanship.
Vote for Our Lady Help of Christians Church to win the Industry Choice Award
The Roofing Awards have invited everyone to vote for their favourite project to receive an Industry Choice Award. We'd like to invite you to vote for Our Lady Help of Christians, which is a worthy winner – a project which will give a thriving community church many more decades of useful life.
Will you vote for it?
HOW TO VOTE
To vote for Our Lady Help of Christians Church please
look for "Our Lady Help of Christians RC Church" in the right hand column,
check the button next to it and cast your vote by leaving your email address as validation and hit 'SUBMIT'.
Make sure you vote now – voting closes on 29th March. And why not encourage your colleagues to vote too?
We hope you'll join us in wishing all shortlisted projects the best of luck – all the awards will be presented at a Gala Dinner on 10th May.
Credits:
Project: Our Lady Help of Christians Church, Kitts Green, Birmingham
Client: Archdiocese of Birmingham
Architect: APEC Architects
Main contractors: Midland Conservation Limited
Roofing contractor: The Rio Group
Liquid waterproofing system: Repoma Rapid Cure in patina green