Roofing Contractors – What does it mean to be DATAC accredited?
In this post we're going to look at the SIG DATAC Accredited Roofing Contractors Scheme, how it works and why it is an essential 'third element' of our roofing design, specification and supply service.
Accredited Roofing Contractors are just one of the ways that SIG Design and Technology is able to support end users of our roofing products. To ensure that the roofing solution you choose will meet your client's requirements and perform as required throughout its life, your project will require:
A registered and monitored Installation Contractor;
Good detailing appropriate to the conditions;
Technical backup during the design process;
On site support, including inspections and quality checks;
Product guarantees.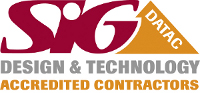 Founded in 2009, our accredited contractors scheme, DATAC (Design and Technology Accredited Contractor), ensures that designers, clients and main contractors deal with financially credible, trained specialist roofing contractors who have an on-going relationship with the products they work with and are supported on site to deliver high quality projects.
Only DATAC contractors can install roofing systems that have been designed, supplied and guaranteed by SIG D&T.
How the DATAC Roofing Contractors System Works Step by Step
Roofing Contractors apply to become DATAC members and are vetted before training. They must be trained before we will supply roofing products to them ("blue status"), and then they enter a process of on-going support, training and evaluation to ensure their work is consistently of a high standard, after which they may be upgraded to the "green status".
The Application Process
We only invite roofing contractors to join DATAC if they want to build a relationship with the products and with SIG D&T, not simply to be registered for a one-off job. This has benefits for all parties – the contractor develops and maintain skills and gets accredited quicker, the designers can rely on their expertise, and the end users know that their roof has been installed by a committed, competent team.
Roofing contractors must supply evidence of insurances including Public Liability and a minimum cover of five million pounds Employers Liability.
Training
We offer DATAC members product specific training in accordance with the SPRA approved criteria, and manufacturers recommendation.
We train them in the following products, and we also recognise FTMRC members hard metal training.
FDT Rhepanol PIB
FDT Rhenofol PVC
IKO Armourplan PVC
Training can be also arranged by SIG for
IKO Spectraplan TPE, and
IKO PermaTEC Hot Melt.
Once trained and certified in the use of our products, DATAC installers will be issued with a 'Blue Status' Installer Card. This is valid for a period of twelve months during which time, a minimum of three projects must be completed and inspected by one of our Area Field Technicians, alternatively, one project of over 500m2 should be completed and inspected.
Assuming an acceptable workmanship level, the installer card may then be recommended for an upgrade to the green status for a period of three years during which time, Area Field Technicians carry out regular inspections. At the end of the three year period, the card may be further extended or installers may be recommended to attend a one day refresher course to ensure an up to date knowledge of products and processes.
Technical and On Site Support
Training is just the start of a DATAC installer's journey. A dedicated team at Shepshed provides full technical support including wind uplift, thermal and interstitial condensation calculations for all projects using our products. Meanwhile a network of experienced Area Field Technicians provide advice and support on site, working with contractors to ensure that installations conform with the product requirements and regulations.
Guarantees
SIG D&T is able to guarantee the roofing installations of its DATAC installers, providing end users with peace of mind and a single point of contact. Details of our guarantees are provided here.
In Conclusion
The SIG D&T service consists of three key elements.
An independently selected, comprehensive range of waterproofing alternatives for any roofing project;
A team of highly experienced roofing specialists who select, design, specify, train, monitor and guarantee roofing solutions, and
Our DATAC contractors, who install these systems to the required quality – with monotonous regularity!
The DATAC scheme is a gateway for roofing contractors into a relationship with our portfolio of roofing products, our support network and our complete roofing system guarantees.
More Information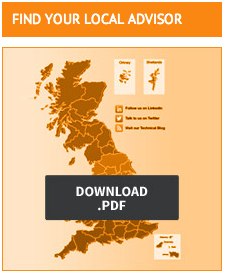 If you'd like to know more about the DATAC scheme or find an accredited contractor in your area, visit our dedicated website www.accreditedcontractors.co.uk, call us on 01509 501731 or speak to your local specification manager.
Several of our DATAC contractors are on twitter, and we're looking for more. Why not join the conversation with us here?