RIBAJ Morning Seminar: Quality in Flat Roofing – Sharing What we Know
Wednesday 23 November, 08.50 to 11.45am
The Building Centre, Store Street, London WC1E 7BT
Join us at this free-to-attend RIBA Journal and SIG Design & Technology morning briefing as we share our expertise and discuss key issues in roof specification, design, installation and guarantees.

This is our third #PerfectRoof seminar, and this year we're delighted to be looking at sharing what we know about Quality in Flat Roofing. As usual we're welcoming speakers to showcase some excellent projects and supporting their experiences with technical advice you can implement in your specification of flat roofs.
The seminar will cover
What is the problem with quality in flat roofing?
What does the client need from the architect, and how can the team assist?
A step by step guide to specifying a flat roof (with a checklist to take away)
The role of better installation, skills and training for installers
Independent quality control, inspection and guarantees – what the architect needs to consider.
Birmingham New Street Station

This year we have two excellent case studies. A year on from its opening, Atkins and Briggs Amasco provide a detailed look at the challenge of integrating the old and new structures at Birmingham New Street Station, and how the team was able to deal with the quality/profit conundrum and deliver such a major project during a recession.

Phil Hayden, technical director of Barratts London will look at the waterproofing at Victoria Street apartments in SW1 and explain their choice of low-odour liquid waterproofing.
We also will be launching a checklist for flat roof specification – a useful guide that you can use on any of your projects.
Confirmed speakers on Roof Design include: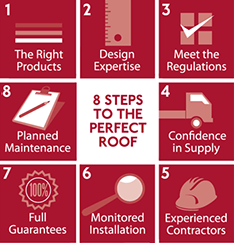 Ruth Slavid, Architectural Writer (Chair)
Mark Jackson, Director, Building and Land Guarantees Ltd
Phil Hayden, Technical Director, Barratt London
Stephen Ashton, Engineering Director, Transportation at Atkins
Dave Maginnis, Managing Director, Briggs Amasco
Ross Finnie, Sales Director, SIG Design and Technology
Mike Crook, Former Chairman, Single Ply Roofing Association and Trading Director, SIG Design and Technology
More Information and How to Book
Follow this link to find out more and book your FREE ticket to the event on 23rd November. We look forward to seeing you there.

Not sure if you want to come? Check out or previous seminars