RIBAJ Morning Seminar: 8 Steps to the #PerfectRoof
Wednesday 22 October 2014, 08.50 to 11.30am
The Building Centre, Store Street, London WC1E 7BT
Join us at this free-to-attend RIBA Journal and SIG Design & Technology morning briefing as we explore the differing techniques in contemporary roof design and installation.
Hear from three top architectural practices on three very different roofing challenges – from green roofing a subterranean home in Devon, through to zinc cladding an office block at Imperial Tobacco's HQ Bristol, finishing with hot melt flat roof for UBS bank's new premises at 5 Broadgate in the heart of the City of London.
Learn what the specific and unique challenges in design were and how specifiers circumnavigated them. Find out what products they used and the benefits derived from them. Also, hear from experts at SIG as they guide you through the maze of roofing design and system selection and outline the 8 steps to achieving the perfect roof.

Confirmed speakers include: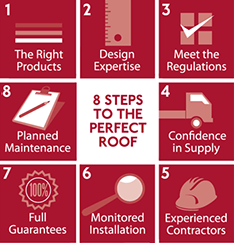 Ruth Slavid, architectural writer (Chair)
Peter Hall, director, Van der Steen Hall Architects, talking about waterproofing Manaton, a spectacular earth sheltered green roofed subterranean home in Devon.
Andrew Boardman, associate, AWW Architects, talking about Zinc cladding on the new Headquarters for Imperial Tobacco in Bristol.
Ben Stuart, architect, MAKE architects talking about waterproofing the roofs of 5 Broadgate, the new 'groundscraper' home for financial services firm UBS in the City of London.
Ross Finnie, sales director, SIG Design & Technology, introducing the 8 steps to a #PerfectRoof
Andy Wells, specification manager, SIG Design & Technology on covering a wave form roof in a RAL colour on a sensitive site in the Peak District.
Steve Scottorn, key account manager, SIG Design & Technology on the challenge of mixing various roofing materials at the Waldegrave School for Girls, Twickenham.
More Information and How to Book
Follow this link to find out more and book your FREE ticket to the event on 22nd October. We look forward to seeing you there.


Can't Attend? View the Live Blog Here