#PerfectRoof Seminar 2015 – Ideas and Resources
It's a week since our seminar on 8 Steps to a Perfect Roof, hosted at the Building Centre by the RIBA Journal. We thought we'd look back at the highlights and share some additional resources with you. Towards the end of the post we look at the Q&A session and revisit some of the discussions that happened on the day.
The Audience
Attendance was excellent – over 50% higher than last year – with a large number turning up for breakfast pastries and coffee followed by a swift canter through talks illustrating different aspects of roofing (and cladding) design. In addition to the delegates in the room, a large audience joined us online thanks to the live blog and tweeting by Su Butcher and our accounts at @SIGDesignTech and @SIGZincCopper.
You can find out more about this online audience and the reach of the seminar by looking at this twitter report. The 34 people tweeting with the #perfectroof hashtag (both in the room and elsewhere) shared our seminar with over 175,000 twitter users, including sharing all the links and slides, sparking conversations between participants online and offline. You can also search an archive of all the tweets that have used the hashtag.
Live Demonstration
One of the most popular elements of this year's seminar was a live demonstration of the innovative liquid waterproofing product AH-25. During refreshment periods the odour-free liquid was applied to a test rig in the foyer, and delegates were able to learn more about the process of applying liquid waterproofing.
Demonstration of odour free liquid waterproofing at #PerfectRoof seminar http://t.co/mif3ZOFpU9 pic.twitter.com/Nt5Uecajh1

— Su Butcher (@SuButcher) October 1, 2015
The Speakers
We were blessed with a great line up of speakers, ably facilitated again this year by Ruth Slavid. Here we provide additional links to their materials and contact details, and in the coming weeks we'll be blogging in a little more detail about some of the presentations. Subscribe via email if you'd like to receive these updates when they are published.
Zinc Shingles on the Amphibous House
After Ruth's quick introduction to SIG Design and Technology and the SIG Plc family, first to speak was Robert Pattison of Baca Architects, who took us through the process of designing and constructing the Amphibous House on the Thames in Buckinghamshire.
Robert showed us the site for the Amphibious House – an island in the middle of the Thames, and then explained how the design allowed them to develop a 200m2  house where an 85m2  house had previously stood, and make it resistant to flooding. Robert then went on to describe the experience of working with the shingles which cover the roof and two walls of the house, how the practice worked closely with SIG Zinc and Copper and Kinglsey Roofing the installers, to get a high quality finish even around the dolphin uprights, which required a bespoke detail.
We'll be writing more on the Amphibious House in a case study soon. Subscribe to the blog to be notified when its published.
Watch Robert's colleague Richard Barker speaking on BBC News about the Amphibious House here:
Specifying hard metals: choosing the right product for the project
Our second speaker was SIG Zinc and Copper's category manager Simon Walker. "People think using hard metals is complicated and expensive," he said, "I hope I'll show you it isn't." Simon covered plenty of ground including some key issues specifiers should be aware of when looking at hard metals – in summary:
High capital cost – so you must look at whole life cost to get a proper comparison with other systems,
Compatibility issues (particularly with copper)
Vapour Control Layer specification – often a cause of issues later on
Hard to retrofit penetrations – so plan ahead
Limited design standards
Specifiers confused by the range of market offers
Varying product quality, and
Conflicting advice from manufacturers
'Copper on a church in Liverpool was replaced four times in six months' – get advice to choose the right product @baldysimon at #PerfectRoof

— Su Butcher (@SuButcher) October 1, 2015
As a supplier rather than a manufacturer, SIG Zinc and Copper are in a position to offer impartial advice to specifiers and help them choose the correct product for their projects, and their budget. The audience were particularly interested in the samples available in the foyer!
Don't forget you can always ask questions on the SIG Zinc and Copper Blog as well.
Green roofing at Peppa Pig World
For our next case study, Ruth introduced us to Gary Wilburn of HPW Architecture, the firm behind buildings at the most successful theme parks in the country, Paulton's Family Theme Park, home of Peppa Pig World.
Gary introduced us to the first building HPW designed for the complex which houses an indoor play area and cafe and boasts a 10,000sft wildflower green roof. He took us through the design and construction of the roof but more importantly how the whole building was built around concepts of passive solar design so that the entire building requires no air conditioning.
Whilst there is additional loading to be factored into a green roof, particularly of this type, Gary pointed out that the cost of the additional structure is not as much as many assume, and of course there are considerable advantages of taking a strategic approach to the M&E requirements of the building.
How to Avoid Leaky Roofs
Our next speaker was Jim Hooker, Technical Director at SPRA, the Single Ply Roofing Association. SIGD&T have a long standing association with SPRA, the UK authority on Polymeric Waterproofing. SPRA is a membership association covering manufacturers, distributors and specialist roofing contractors. Our Trading Director Mike Crook is currently SPRA Chairman and we were delighted to welcome Jim to talk about leaky roofs, though he would have preferred a more positive topic!
Jim began by listing many well known buildings which use single ply roofing including the Cheesegrater, Walkie-Talkie and Heron Tower in the City of London. He also pointed out that roofs are not just to keep the water out – there are at least 15 performance requirements. However the main part of his talk was to set out the key roles each participant in the process plays in ensuring that roofs perform as designed. You can see the summary points in his slide above.
Jim is a passionate advocate of a holistic approach to roof design and believes that manufacturers should be taking that approach too, something that we've written about here.
Hot Melt Roofing Solution to Hiscox's new headquarters by Make Architects
We were delighted to welcome Make Architects back to the #PerfectRoof seminar. This year we were joined by Robin Gill who is working on Hiscox's new Headquarters building in the historic city of York.
After a quick tour of the challenges of building in such an historic site, Robin introduced us to the new building with its fantastic woven brick facades and elegant curtain walling, before going on to describe how Make worked with the contractors to ensure a successfully waterproofed roof deck and terrace.
As we are aware from Ben Stuart's talk last year about 5 Broadgate, Hot Melt is a tried and tested system, which has considerable advantages over other liquid waterproofing in projects like this. However Robin also pointed out that using Hot Melt was around 25% cheaper than cold applied liquid waterproofing on this project. He also stressed the sustainability credentials of Hot Melt. IKO Permatec Hot Melt is manufactured in the UK (in Chesterfield) and contains 43% recycled content, helping the roofing build up contribute to a Very Good BREEAM rating for the building.
Robin then took us through a series of details showing how the team used Hot Melt on the stepped deck, curved edges and a number of different substrates.
How to Guarantee your Roof is a Success
Our final speaker was Ross Finnie, Sales Director at SIG Design and Technology.
We asked Ross to pick up on a topic that surfaced at the #PerfectRoof seminar last year – guarantees. Ross has been doing his research and took us through the different types of guarantees available and some of the many issues that specifiers should be aware of in this area, no matter what type of roof they are designing.
Ross reiterated the points we made in our post last year about holistic roofing design. If you get the rest of the process right, of course you won't ever need to call on the guarantee. If you'd like to know more about guarantees for your roofing project and how we approach the problem please get in touch with us.
The Questions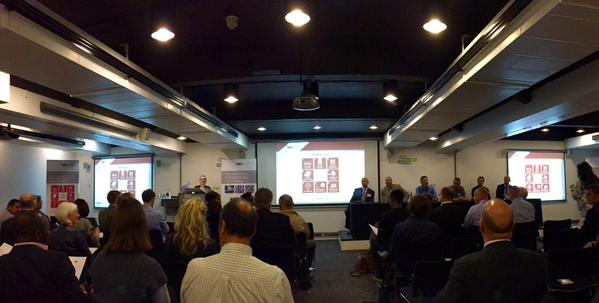 The enthusiasm of the audience appears to be one of the charactaristics of #PerfectRoof seminars. This year there was a great deal of interest in the Peppa Pig green roof project – so much so that it was a little embarrassing for Gary Wilburn who kept being asked the next question, and the next!
Questioners asked about the heat loading challenges of the Peppa Pig World project. Gary explained that thermal modelling of the project helped to ensure that even extreme temperatures were managed without resort to cooling. He also answered questions on maintenance – the roof is strimmed twice a year rather than once, and as Peppa Pig World has a team of dedicated gardeners it isn't difficult to have experts on the roof to ensure the right rogue species are removed and the important ones left to grow. We also learned about irrigation and nesting skylarks and squirrels. It is clear that green roofs built in the right way truly can be biodiverse.
There was however time for other questions. Robin Gill was able to explain more about the benefits of Hot Melt, and Simon Walker answered some pointed questions about the cost of zinc roofing and causes of failure.
More Information
Did you attend the seminar? We hope you found it useful, do share your thoughts with us.