SIG Design & Technology bids farewell to successful Trading Director
SIG Design & Technology have bid a fond farewell to Trading Director Mike Crook who has retired after 10 years with the company. Mike has a wealth of commercial experience and expertise having worked in the roofing industry for the last 35 years. He has been a champion of the industry standing as chairman of SPRA for four years and current Chair of the NRFC Suppliers Group.
Mike joined SIG Design & Technology in March 2009 and during his time has seen the company grow five-fold with year-on-year improvements in both turnover and profitability. He has seen the company evolve from a single ply roofing business to one encompassing a range of products including flat and pitched roofing solutions, green and blue roofing and metal roofing and cladding.
At the core of Mike's approach has been SIG Design and Technology's '8 steps to a perfect roof' formula which covers product selection, design and regulatory compliance. Mike has also been instrumental in growing the DATAC accredited roofing contractor scheme, supporting contractors with monitored installations and offering reliable guarantees.
This is Your Life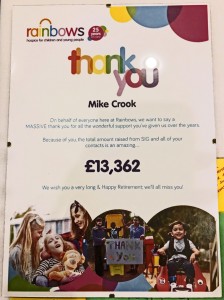 Friends, partners and colleagues came together to celebrate Mike's retirement with a surprise 'This is your life' style presentation. At Mike's request a fundraising page has been set up to raise money for Rainbows Hospice in lieu of retirement gifts. SIG & SPRA have jointly sponsored the Rainbows Children's charity since 2013 and have helped raise over £13,000. Rainbows is a Loughborough based Hospice that supports children and young people with life limiting illnesses across the East Midlands.
"Working with the team at SIG Design & Technology has been the most rewarding period of my career and our success has been due to everyone I have worked with in this company. You can only make things happen when you have the right people. The time has now arrived, however, for me to move on to my retirement for which I have great plans."
Duncan Winter will take over the position of Trading Director at SIG Design & Technology. Duncan holds over fifteen years of experience within the roofing sector.