Mastic Asphalt – an Introduction
In this post we introduce mastic asphalt, a centuries old roofing material that is still in use today in both traditional and more modern forms. In the next post we'll introduce some build-ups and describe some applications for the product.
What is Mastic Asphalt?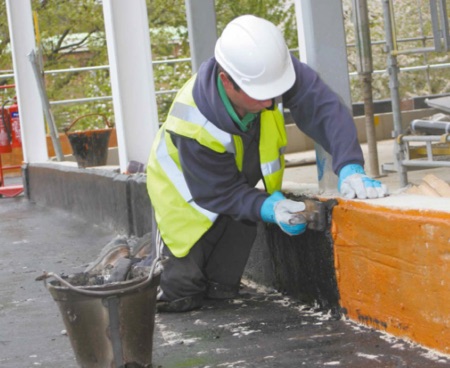 Mastic Asphalt is one of the oldest construction products, and the oldest waterproofing membrane system, in use for centuries. It consists of a graded limestone aggregate, bound together with asphaltic cement (i.e. bitumen), heated to 210 degrees C and applied by qualified installers with a wooden float. A relatively simple product, it has an illustrious history and a reputation for reliability, durability and long life.
British Standard or Polymer Modified Mastic Asphalt?
There are two types of mastic asphalt available for roofing: British Standard and Polymer Modified. British Standard is the type of asphalt supplied to small roofers across the country and is a traditional material for smaller domestic applications, but a modern improved product called PMA has superseded it for most uses.
Polymer Modified mastic asphalt (PMA) has been developed in the last 20 years to provide better durability, increased flexibility at lower temperatures, and greater stability at higher temperatures. These improvements, combined with a monitored supply chain, accredited contractors and specification services enable IKO to provide 20-year guarantees on their Permaphalt PMA, whereas BS Mastic Asphalt installers may only be able to guarantee for 10 years. Local Authorities and other large clients will use PMA as standard.
Qualities of Mastic Asphalt
So what makes Mastic Asphalt such a useful material that there is still a market when modern membranes are available? Here are some key qualities of the product.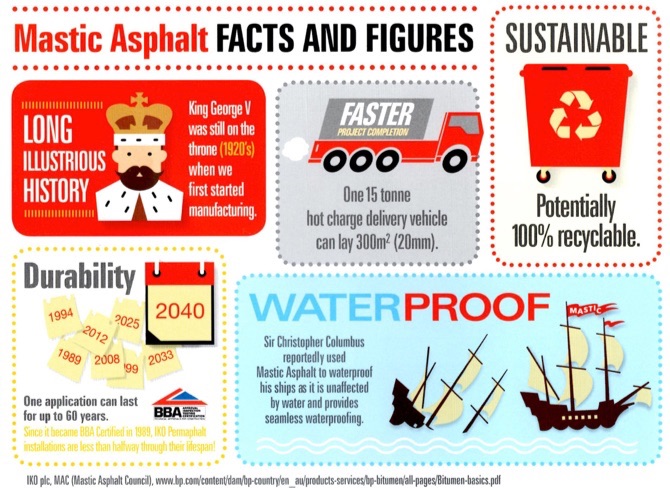 1. Long Life Span
Mastic Asphalt has an extremely long life span. In 1972 the BRE reported that, "Asphalt roofing, properly design and laid, should prove capable of lasting 50-60 years". [BRE Digest 144 Asphalt and built-up felt roofing] The life span of the product and its long pedigree mean it is commonly used to waterproof listed buildings and churches. Unlike lead and copper it doesn't have a resale value, so is not a victim of opportunistic theft.
2. Flexibility and Durability
Only a certified, trained operative can install mastic asphalt. In a typical roof specification the product is applied with a wooden float to a depth of 20mm in two 10mm passes, and the surface is then sand rubbed to reduce crazing as it cools. The product is dense without voids, and cannot be compacted, and when laid produces a monolithic membrane with sufficient flexibility to cope with the normal movement of a well-designed roof.
The surface is sufficiently durable to accept limited foot traffic and light concentrated loads associated with installation and maintenance. Greater traffic can be managed with stone chippings or promenade surfacing, and solar reflective paint can provide additional protection in exposed areas.
3. Speed of Laying
One advantage of mastic asphalt is that it can be laid very swiftly. IKO's Permaphalt can be delivered to site from their manufacturing plant in Grangemill near Matlock using hot charge transporters. One 15 tonne hot charge delivery vehicle can supply sufficient to cover 300m2 to a depth of 20mm, which can be laid and finished in a matter of hours. This makes it particularly suitable for larger roofs where it can be applied over insitu or precast concrete, timber or metal decking. It is worth noting that the application of mastic asphalt does not require any naked flames.
4. Detailing Upstands and complex shapes
The craft skills of a mastic asphalt spreader make use of the flowing characteristics of the material to guide it around penetrations and along upstands. Where roof surfaces are complex, stepped or contain several outlets and penetrations, a mastic asphalt spreader can negotiate these with ease; unlike a roofer applying a felt or sheet membrane waterproofing where detailing is more complex and at greater risk of failure. Because it is applied as a molten product, the finished mastic asphalt roof membrane is seamless. Whilst a felt roof may be lighter (up to 10kg/m2 compared with 50kg/m2 for two coat mastic asphalt) detailing upstands and penetrations is more involved and expensive, so the installed cost overall may be more. Talk to us about your roofing challenge and we'll compare the best products suitable for your specific requirements.
5. Sustainability and Sourcing
A product based on bitumen might not be considered sustainable, but mastic asphalt does have some characteristics that would be attractive to the specifier interested in sustainability:
Carbon Neutral – In 2008 UK Mastic asphalt became the first industry in the world to achieve the CarbonZero standard. You can find out more about the programme here.
Manufactured in the UK – IKO Permaphalt PMA is manufactured at Grangemill in Derbyshire using 85% locally quarried limestone aggregate. The 13% bitumen content is sourced from the Ellesmere Port bitumen refinery.
Recyclable – the product has the potential to be 100% recycled, for example into road surfacing, which is made of very similar constituents. IKO are currently developing a recycling programme.
Uses skilled workers – traditionally asphalting was a skill passed down through the generations through time served apprenticeships. Today all mastic asphalt spreaders have to complete an NVQ training scheme. Currently the only course available in the UK is at Hackney Community College that funds trainees from all over the UK.
Long Lived – With such a long lifespan, mastic asphalt will not need replacing for more than a generation, which can make it very cost competitive as well as attractive for the lifespan of many buildings.
More Information
Whilst Hot Melt has replaced some of the mastic asphalt market (particularly for new build concrete decks), mastic asphalt remains popular for some applications. Next week we'll talk about when you might come across mastic asphalt and which types of roofing and other projects it should be considered for.