Liquid Waterproofing Options
Liquid waterproofing systems provide one of the most cost-effective methods for making a new or existing roof waterproof. Correctly installed and maintained they can provide a long-term life often in excess of 25 years, and in refurbishment situations liquid systems can provide considerable savings on roof replacement costs. Liquid Waterproofing Systems are definitely worth considering in your project.
Let's find out more. This article covers:
When to use Liquid Waterproofing;
Our Liquid Waterproofing Advice for Architects;
Options for Liquid Waterproofing Products;
Case Studies of example projects;
Where to go for More Information.
When to use Liquid Waterproofing
When would you choose a Liquid Waterproofing system in preference, to say single ply membrane or hot melt? Here are our suggestions.
1. Refurbishment – when a roof is coming to the end of its life
Liquid applied waterproofing is seamless and fully bonds to the substrate, so is ideal for use over existing roofing, including single ply membranes, profiled metal or fibre cement.
2. Repair – where an existing roofing material has failed
If an existing membrane has failed, for example a single ply membrane, applying a simple liquid waterproofing overlay can be a very cost-effective solution, and its bonding characteristics can make it a much more reliable option.
In both repair and refurbishment projects, access can often be a problem. Liquid also works well with projects where there may be difficulties getting power onto the roof, or where there is limited or no available storage. The contractor only needs to bring what they need onto site each day, and there is no need for noisy generators or cabling.
3. Complex Roofs – including new build
Cold applied liquid waterproofing is also suitable for new projects, particularly those with complex detailing, upstands, edge details, penetrations and terminations. For example, on a roof with a lot of roof-mounted plant, or on balconies where a single ply solution would be difficult to detail neatly, liquid waterproofing makes the job that much easier.
4. Inverted Roofs
Liquid waterproofing is also a useful option to consider with inverted roof systems where the membrane is laid under the insulation and ballast, including on roof gardens. Some liquid waterproofing (such as Hydrostop AH+ which we introduce below) is root resistant and FLL approved, so can be used for green roofs.
5. Pitched and flat roof applications
Hot Melt is a great solution to complex roof waterproofing, but unlike Hot Melt, cold applied liquids can be applied above pitches of 15 degrees, so are suitable for roofs with a combination of flat and pitched areas. Unlike many single ply and felt roofing systems, liquid waterproofing can also be used below 5 degrees pitch, so projects with a combination of pitches and curved roofs are good candidates for liquid solutions.
Liquid Waterproofing Advice
Our advice on liquid waterproofing covers three points:
Consult a specialist;
Make your specification project specific, and
Follow the 8 Steps to a Perfect Roof
1. Consult a specialist
If you are looking to refurbish an existing roof, consult a roofing specialist. They can help you
identify the existing roofing material, to avoid any issues with non-compatibility, and
choose the right product to suit your needs and your clients' pocket.
If your project is a newbuild, a specialist can assist in helping you decide whether liquid waterproofing is the ideal solution, or if an alternative or combination of materials is more suitable or cost effective. Read our article about multi-material roofs here.
With a new build project, the whole roof design should consider every component in the build-up and how they interface with other building elements. A roofing specialist can help you make the correct design decisions whilst providing you with the range of options.
2. Make your specification project specific
Whist manufacturers' standard specifications are available, the key to any successful project is getting both the specification and the product choice right at the outset. Every project is different, so don't rely on what you've used before; there may be a better solution available.
If the project is a refurbishment, the state of the existing substrate will have an effect on the choice of materials used, and the necessity of treatment of the existing surface. That treatment of the existing surface will have an effect not only on the success of the waterproofing but also on the amount of waterproofing required.
The liquid you specify will need to be approved by all manufacturers for a particular purpose. For example, the liquid manufacturer and the manufacturer of the insulation board you may want to use it on will both need to be approved for use. Your specialist can help design a suitable system.
Some projects need to be carried out whilst the building is in use. In these cases, you may need to use liquids with a low VOC content or avoid those of certain chemical compositions.
3.  Follow the 8 Steps to a Perfect Roof
Designing a perfect roof has never been more challenging, but SIG Design and Technology have put together an 8-step guide to identify the challenges and ensure your design meets your client's requirements. Whether you're designing a new roof or dealing with an existing one, the same principles apply, and we can help you on your journey.
Here are our 8 steps to the #PerfectRoof.
Click the links to find out why each step matters and how you can tick them off your ToDo List.
Liquid Waterproofing Options
SIG Design and Technology are able to recommend a wide range of liquid roofing products for your projects. Each one has its particular benefits, and we can even seek out other specialist products if required on your behalf – view our case studies below.
We provide not only a wide range of premium liquid waterproofing systems to choose from, but also the dedicated support before, during and post install that helps ensure a successful outcome.
SIGnature PU Liquid Waterproofing
The SIGnature PU Liquid Waterproofing System is a revolutionary, fast curing, pure elastomeric, hydrophobic, polyurethane flat roofing system available in two product formats.
SIGnature PU-20 Liquid Coating Kit comprises two components which when mixed together create a single coat application, rapid curing liquid roofing membrane which can offer a 20-year guarantee.
SIGnature PU-10 Liquid Coating is a single component liquid membrane, single coat application with a 10-year guarantee.
Both SIGnature PU Liquid Coatings can be applied as a single coat with only localised reinforcing as required, creating a bubble-free and durable liquid applied roofing system.
SIGnature liquids can be applied all year round above 5°C and are cold applied – no heat or flame required. They offer excellent elasticity and tensile strength and guarantees up to 20 years (product specific) when installed by a DATAC Contractor – a member of our accredited contractor scheme.
Hydrostop AH+ Liquid Waterproofing
Hydrostop AH+ is an innovative, one-component system that can be guaranteed for up to 25 years. It is solvent, fume and isocyanate-free, making it ideal for 'occupied' refurbishment projects, such as hospitals, offices and residential buildings. Conceived as an evolution of AH-25, SIG's new liquid waterproofing system, AH+ is designed with ease-of-use and flexibility in mind.
The non-solvent-based system can be installed in successive coats without the need for primers or abrasion. Furthermore, it can now also be applied to tissue-faced insulation boards. Other benefits include fast curing, price flexibility (due to warranty options of 15 and 25 years), as well as green roof compatibility.
Vulkem® Quick System
The Vulkem® Quick System is a crack-bridging, UV and wear-resistant waterproofing system with aesthetic appeal.
The different components that make up the Vulkem® Quick System cure to form a highly-elastic, foot trafficable waterproofing system which is suitable for installation on old or new concrete, tiles, metal, wood, epoxy and other types of existing deck coatings.
Typical applications include use on areas where there will be frequent pedestrian traffic including balconies, terraces, pedestrian bridges, stadium decks, entrances and exits, staircases etc.
Example Projects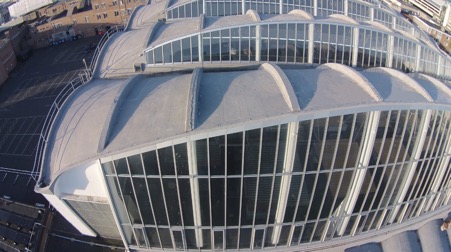 The curved and vaulted roof to Grade II listed, Plymouth Market was refurbished using the Hydrostop AH+ Liquid Waterproofing System by DATAC contractor, Clegg & Shortman. At SIG's request, Hydrostop AH+'s manufacturers created a special colour, Weathered Silver, specifically in keeping with English Heritage's requirements. Read the case study.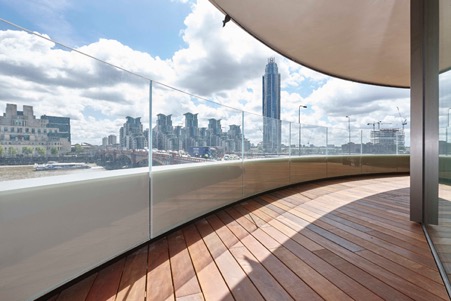 Riverwalk in London is a multi-storey scheme of 170 crescent-shaped balconies which required careful waterproofing without the use of scaffolding. Hydrostop AH+ provided an ideal product which contractors could apply in tight areas to waterproof prefabricated steel elements as well as the cast concrete surfaces. Read the case study.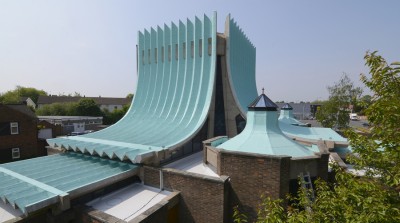 This Grade II listed church in Birmingham by Richard Gilbert Scott was refurbished with a new roofing liquid designed to return the spectacular roof to its peak appearance in 1968. SIG Design and Technology helped the architect select an ideal solution by Repoma with a bespoke colour matched finish. Read the case study.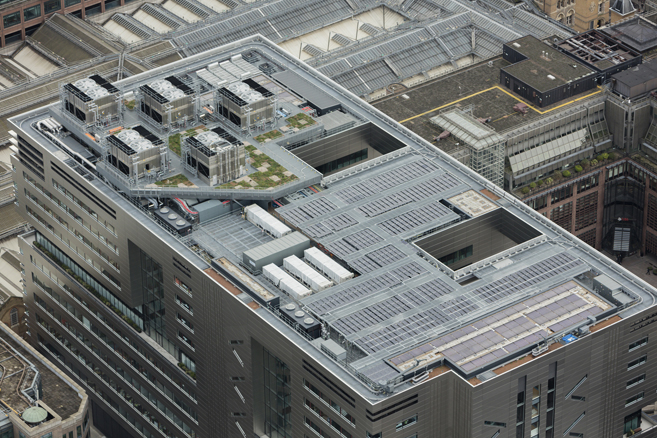 Designed by Make Architects, 5 Broadgate comprises more than 65,000 square metres of office space over 12 floors in the City of London. As well as IKO Permatec Hot Melt, IKO's Polimar EC/UV cold-applied liquid waterproofing was used to manage six tricky cross-brace connections within the busy roof structure. Read the case study.
More Information
Inspired to find out more? Contact us for access to advice about your project and dedicated support before, during and post installation.
Alternatively you can also