A Poor Industrial Finish: Who's to Blame?
A guest post by Sam Jones, Category Manager SIG Industrial Roofing
This article examines the issue of poor installation on industrial roofing projects and looks at who's really to blame.
Choosing a one-stop-shop expert will help take the sting out of an Industrial Roofing project. As well as reaping the benefits of an unrivalled product range from a variety of leading manufacturers, it will help generate peace of mind and added value for both the project and the customer.
Industrial Roofing Problems
By the very nature of an industrial or commercial unit, poor installation techniques or the use of inferior materials are especially noticeable – a poorly fitted column casing, or badly-made downpipe can be picked up easily by even the most un-trained eye.
Unfortunately, over recent months, industrial roofing has been in the spotlight for all the wrong reasons, with poor installation and bad workmanship the hot topics of debate. In some cases the blame has been laid at the door of third party distributors for having supplied inexperienced roofing contractors with the materials necessary to complete the project without following through with the advice, support or technical guidance required to ensure a quality finish.
The complexities of multi-sourcing materials (and coordinating deliveries from multiple suppliers) can be vast, so naturally more contractors are turning to distributors for help and support. By choosing a one-stop integrated solution, contractors can reap the rewards of a cohesive supply chain from distributors that provides peace of mind. So if a job supplied via a third party goes wrong, is it really fair to blame the fact that a distributor features in the supply chain?
Third Party Distributors of Industrial Roofing
As with most things in life, occasionally there will be things that don't go according to plan. Not all third party distributors are reputable, experienced or ethical in their approach – and even those that are of course can be guilty of occasional slip-ups.
However, most distributors who trade within the industrial sector not only excel at sourcing the best and most competitively priced products suitable for use on industrial roofing and cladding projects, they are also experts in providing advice and support.
It must never be assumed that the addition of a third party distributor to the equation will make matters worse. A good distributor can be worth its weight in gold in guiding inexperienced contractors through their early projects and for adding value to the project, not detracting from it.
Large or Smaller Industrial Roofing Projects
With very large or prestigious commercial projects, it is unlikely that a distributor would become involved at any stage in the process – unless it is simply to assist with providing additional managed credit facilities or some smaller element of the job, such as fixings, rooflights or flashings. In these instances, a good distributor would recognise that the manufacturer or key supplier should always be heavily involved in any technical provision or site support on a high end project, specifically to ensure that the job is finished correctly.
Distributors of industrial roofing and cladding products naturally tend to get involved primarily with small to medium sized contracts – and yes, a lot of the time this can be with experienced industrial contractors. These may be installers who are more experienced in other elements of roofing (for example pitched or flat) but are looking to diversify, or a startup organisation that has yet to establish a relationship with any one manufacturer.
In such instances, it is often the case that these customers are likely to obtain a much better level of service, guidance and support from a distributor than they ever could expect from a larger manufacturer. A good distributor of should excel in 'hand-holding', providing an extra level of service not available elsewhere.
Choose an Experienced Distributor
Irrespective of the size of project, poor installation or the use of inferior materials can never be guarded against fully. But this is true whether materials are supplied direct from various manufacturers or via a third party. The only thing for sure is that with the added focus and responsibility now placed upon roofing and cladding contractors to hand over (at speed) a finished unit that delivers high performance, longevity, and quality aesthetics, it's an issue that won't go away.
When it comes to industrial roofing, the moral of the story is to play it safe – if you prefer to use a distributor, make sure you choose one with experience of the industry, that not only sources quality products, but excels in providing tip-top advice and training, as well as sound technical support – all backed up by reputable suppliers that the industry knows and trust. All you then need to worry about is adding value to your project and to your customer.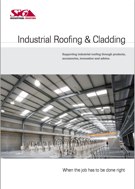 This article originally appeared in Roofing Today Magazine issue 52.
Download SIG's Industrial Roofing and Cladding Brochure.