Helping the industry to Select Natural Slate
SIGA Natural Slate, one of the largest suppliers of natural slate in the world, has launched a new website with a unique Product Finder feature which helps select the right slate options for any project in the UK.
The ambition of the new website is to make natural slate products easy to understand through simple and quick selection methods.
Following interviews with customers, the specification team and in-depth interviews with architects we've developed a site that makes it as simple as possible for both the novice and the experienced professional to use.
The new SIGA Natural Slate website includes
A Product Finder for Natural Slate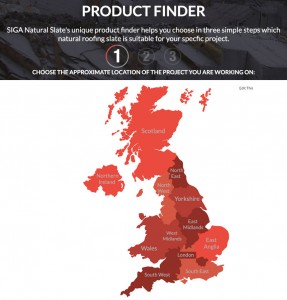 We believe that SIGA's new Product Finder for Natural Slate is unique, helping both the specifier and installer to narrow down their slate options for a project, no matter what their understanding of the material.
Slate is a natural product which varies dramatically in quality, so choosing the right product can be challenging, particularly as there is no European or Industry benchmark to allow specifiers to compare grades of slate between quarries.
SIGA Natural Slate was formed over ten years ago to help this process, developing its own selection process on which specifiers and contractors can always rely. Each natural slate product is named using a SIGA number which specifically defines the quarry and selection of slate, guaranteeing traceability and consistency that is second to none. SIGA is now one of the largest suppliers of Natural Slate in the world, sourcing direct from the quarries.
SIGA supplies over twenty different natural slate products in three different ranges. The Product Finder allows the correct slate options for any project to be identified in three simple steps.
Location – choose the approximate location of the project the slates will be used on
Project – choose the type of building or project the slates will be used on, and
Filter – by Texture, Colour, Size and Warranty length.
"The SIGA Natural Slate Product Finder will be incredibly useful for contractors and specifiers alike," says Natural Slate Sales Director Rob Edwards. "By making it possible for anyone to see what slates are available for their project in a few clicks. Users are then able to compare products, order samples or make an enquiry about the slates returned, or they can contact a stockist directly, armed with the information they need."
Accessible Knowledge Base of Information about Natural Slate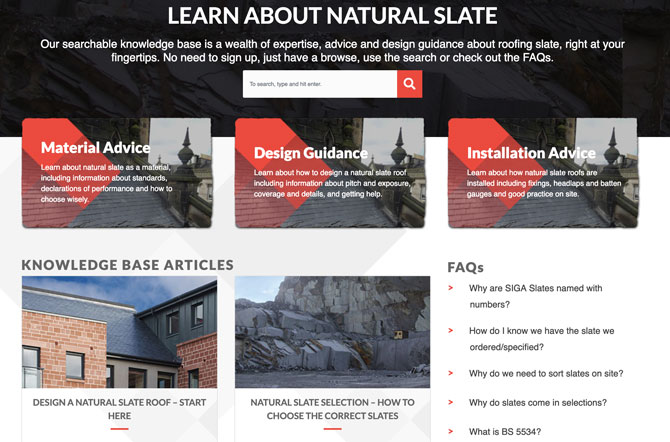 Another feature of the new SIGA Slate website is the Knowledge Base, a growing resource of information about natural slate and other SIGA products for the specifier and contractor. The Knowledge Base already features a guide to designing a natural slate roof, information about slate selection and testing, headlap tables, batten and holing gauges and coverage advice, fixings and best practice on site. Over the coming months this will grow to a comprehensive guide to natural slate from quarry to roof.
Visitors to the site are invited to search the Knowledge Base and Frequently Asked Questions, comment on any article they wish, and sign up to a Knowledge Base roundup of all the latest articles to keep them informed.
Initial feedback on the new SIGA Natural Slate website has been positive. We hope you like it too.
More Information