Green Roof with Carbon Negative Substrate and Single Delivery System
This week we're launching a new Green Roofing system called Verdiroof by Verdico. Two things make it special: the whole system comes in a single delivery, and the growing medium is carbon negative in production. As a result, these new products offer advantages to the specifier the contractor alike.
The Single Delivery Green Roof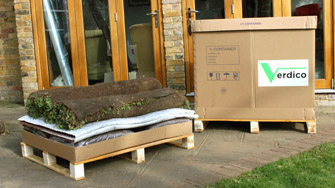 Verdico is a new company but its directors have decades of experience between them in green roofing, contracting, recycling, manufacturing and landscaping supplies.
Verdico Green Roof systems are UK sourced, prepared and delivered from Verdico's depot in Kent. The entire system can therefore be delivered in one go, rather than arriving from various sites in parts. This saves on site time, labour and crane hire. Whether you want a 10-15m2 'Green Roof on a Pallet' or a major area of planting, our single delivery system can save time and money.
The Carbon Negative Growing Medium
The growing medium for Verdico's Verdiroof is UK sourced and comprises pumice, bark compost, and a unique carbon capture pellet, which is a by-product of the UK aggregate and waste industry.
Nigel Wraxall, Verdico Director, explains:
"The Verdico carbon capture pellets 
are produced using an innovative, patented process called Accelerated Carbonation Technology (ACT). ACT is a controlled accelerated version of the naturally occurring carbonation process, which results in an improvement in the chemical and physical properties of the treated materials. Very large volumes of CO2 are permanently trapped or captured in the resulting pellets. This prevents significant amounts CO2 being released through landfill.

"When carbonation is used in the recovery and recycling of waste in this way, an end product with real value is created. The resulting pellets are inert, lightweight, with irregular surfaces which offer water absorption and attenuation, and are therefore ideal for use in green roof substrates.

"The University of Greenwich tested the Verdico growing medium and concluded that it is carbon negative due to the large volumes of CO2 captured in the pellet production. 

Each cubic metre of extensive substrate was calculated to have a CO2 footprint of minus 7kg.
"
The carbon negative quality of the Verdico growing medium makes it particularly attractive to specifiers who want to reduce the carbon footprint of their developments overall, with the UK origins of the product being an additional bonus. Over 1000 tonnes is already growing roofs in London.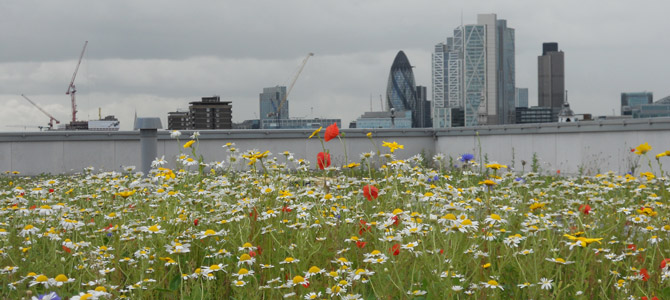 The VerdiRoof Package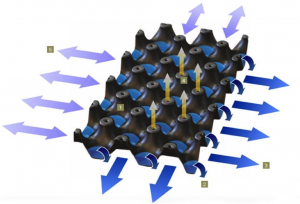 VerdiRoof Green Roofs are available in
Extensive – both Sedum or Wild Flower
Biodiverse – as Brown Roof or plug planted Living Roof to enhance on-site ecology and support particular species, and
Intensive – to provide an amenity function, roof garden or terrace.
The system may also benefit from an innovative drainage board, Verdi-Drain25 that protects the waterproofing whilst ensuring that water is both retained to help sustain plant life and rapidly drained to avoid water logging.
Benefits of Green Roofing
These additional features combine with other benefits of Green Roofing to make a compelling case for green roofing:
Aesthetically pleasing;
Making good use of space;
Practical and easy to install using our network of DATAC trained contractors;
Improved air quality by absorbing airborne pollutants;
Providing additional green space for wildlife and encouraging biodiversity;
Increasing the life expectancy of the roof's waterproofing membrane;
Improving energy efficiency in a warm roof construction;
Improving sound insulation (by as much as 8dB compared to conventional roofs);
Reducing rain water runoff, assisting in storm water attenuation and contributing to a SUDs strategy;
Reducing heat build-up in urban areas
Reducing the carbon footprint of your building.
Read more about the benefits of green roofing.
More Information
Any questions? Feel free to ask them below or via our Contact Page.